Below you will find some testimonials and reviews that our wonderful clients wrote about their experience with us.
Hannah and Alexander - Sandals Royal Caribbean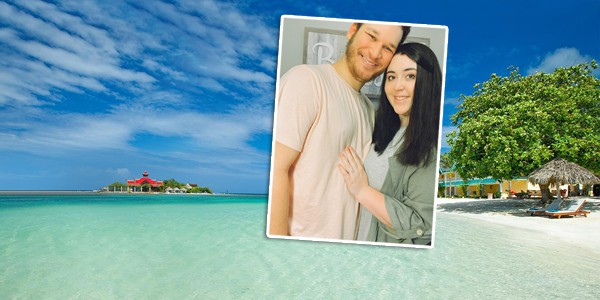 We just booked our honeymoon with one of your agents and she has been amazing!
Our agent is Jennifer, and she's answered so many questions and kept us up to date with all the options that are available.
We also love the extra emails she sending that include more information about our vacation and all the amenities. Can't wait to work with her for the next year! 
Jade and Matthew - Sandals Ochi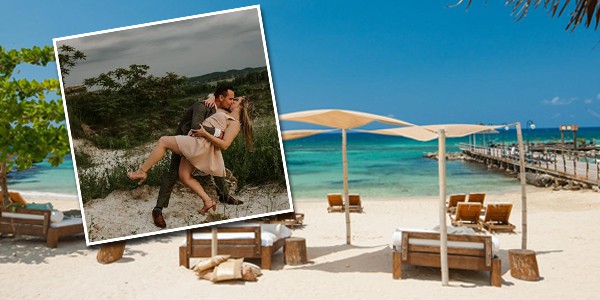 I was skeptical about using this service.
What could they do for me that I couldn't on my own? We are using Beth and she is AWESOME.
I've called her 3 times already this week with questions and she has been so incredibly helpful. She also is keeping an eye out for different room options that come up!
She's helping with flights and making sure we know everything before we get there. What all the different options. What we can book before we get there. How to best use our first day.
I would 10/10 recommend! We will use her again!
Rebecca and James - Sandals Grande St. Lucian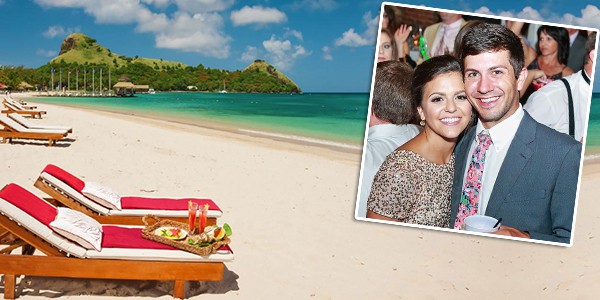 We recently just booked our honeymoon to St. Lucia, and Beth was so helpful in the process. She had an answer for the MANY of questions we had about each resort/room. I could not have picked a honeymoon location without her! You definitely can tell her knowledge about each resort is extraordinary! Thank you Wedding Vibe and Beth for all of the help! I know our trip will be perfect because of yall! 
Maegan and Bradley - Sandals Ochi Beach Resort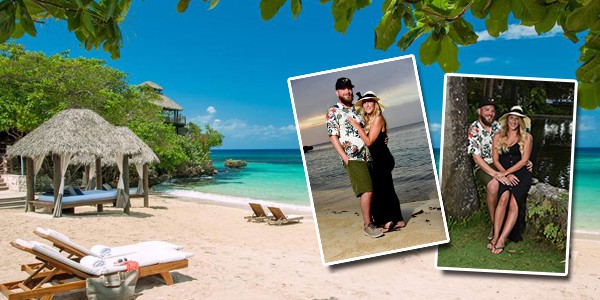 Jenni is awesome! I have never planned a trip before, much less, been out of the country. I had no idea what I was doing so it was so nice to have someone to help us along the way. She is SO knowledgeable and was super helpful with getting everything together for our honeymoon. She was prompt with responses and even gave us some tips to use while we were there. We ended up having the best time of our lives and we rebooked. We will be using Jenni again and for any other vacations we plan in the future!
Tori & Samuel - Destination Wedding Sandals Negril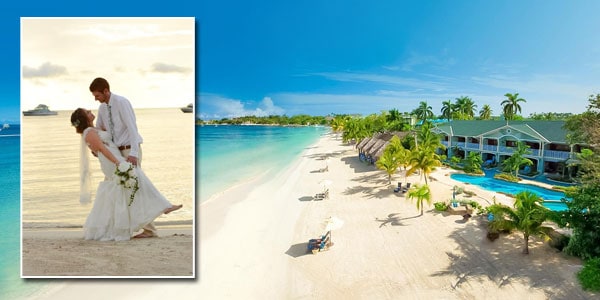 If it weren't for Beth with WeddingVibe I don't know what I would have ever done. In the beginning I was chatting with a few people from different groups trying to plan our destination wedding and there was just something about Beth that stood out and I'm so glad I decided to continue forward planning my wedding at Sandals Negril with her. From helping us decide on a resort to helping us communicate with Sandals wedding planners she was there. Even after we returned home she checked in to be sure everything went smooth because she knew I was worried about everything not coming together when we were there. It did though, more than I ever imagined it could have. Not only did she help us, but most of our 28 other guests that traveled to help us celebrate, and they had nothing but nice things to say. We will forever be grateful to her for helping us pull together our dream wedding!❤️
Shian & Elijah - Sandals Negril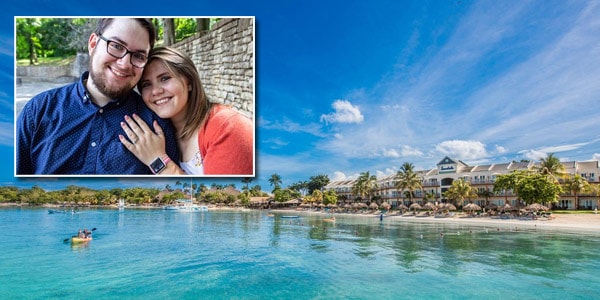 My fiance, Elijah, and I are in the process of planning on our wedding for June 2019! WeddingVibe Honeymoons found me through my account on their website with tons of great giveaways and contacted me via email! Jenni Hicks has been an absolute blessing to work with and helped us find the perfect Sandals location and the most beautiful room that opens up just yards from the beach! Booking through WeddingVibe has also saved us a TON of money, with the most expensive part of this process being saving up for our flight to Jamaica. We will be staying at Sandals Negril and we are so anxious and ready to go now! Can't wait to see the real thing instead of photos!
Hannah & Ryan - Sandals Regency LaToc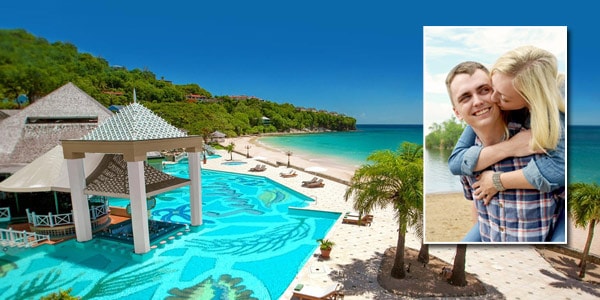 My fiance, Ryan, and I received amazing service from one of Sandals agents, Trish Anderson!
She made the whole process, which seemed like an overwhelming amount of research and work, easy and approachable! We are so grateful for her services because without it we would have postponed booking our honeymoon, and now we're just excited to live it! 🙂
Adrain & Ryan - Sandals Royal Bahamian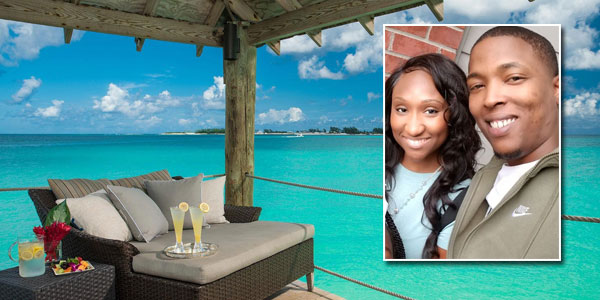 My fiance and I've been working with Jenni to plan our Honeymoon in May of next year. So far I must say she has been so amazing with answering questions and keeping us updated on flight prices, she has truly been a pleasure to work with so far and I would highly recommend her to anyone planning their honeymoon!e kept in consistent contact with us, kept me up to date on deals until we decided. He even booked our flights. Would definitely recommend.
Sarah & James - Sandals Royal Caribbean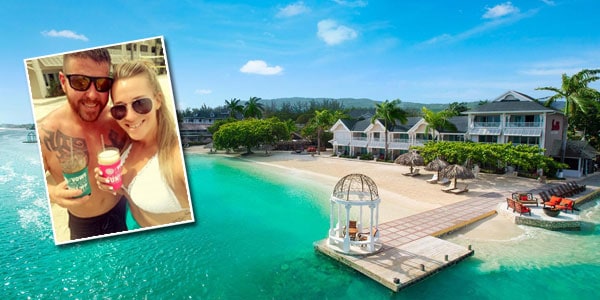 Booked my honeymoon to Montego Bay Jamaica through wedding vibe. I dealt with Marcus. He kept in consistent contact with us, kept me up to date on deals until we decided. He even booked our flights. Would definitely recommend.
Betsy & George - Sandals Ochi Beach Resort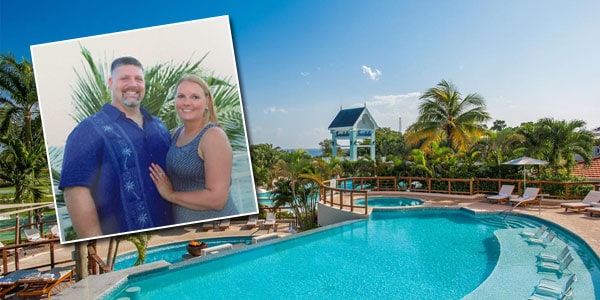 We worked with Beth and she is amazing!!!!! We found our dream honeymoon and she answered every question we had!!!! She said if we need anything she is a phone call away and that gives us peace of mind!!!!!! Thank you so much!!!!!
Dawn & Christopher - Sandals Grande Antigua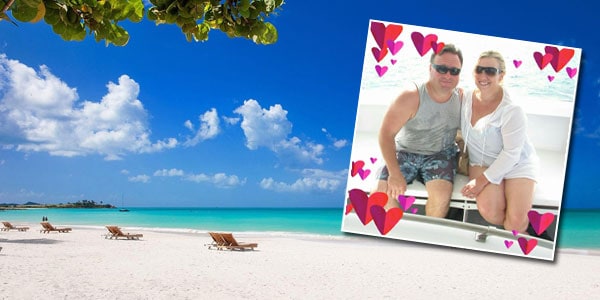 My husband and I got back recently from our FOURTH Sandals vacation, and I can't recommend it enough. What makes it even better is going through WeddingVibe Honeymoons as our travel agent. Adam always makes everything so easy, handles any changes, applies discounts or upgrades, completely stress-free vacation planning. Believe me, I usually plan all my own travel (bit of a control-freak with that!), but I hand it ALL over to Adam for my Sandals vacations, their service is amazing! Book your next trip with WeddingVibe Honeymoons, you won't regret it!
Jeni & Jeremy - Sandals Barbados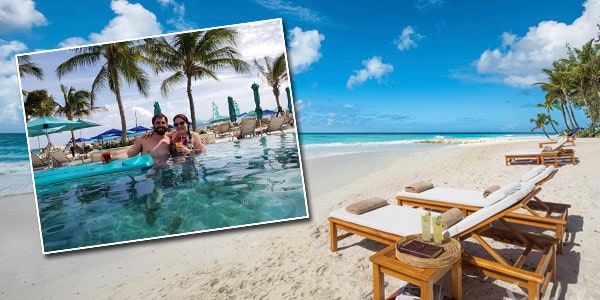 We had an AMAZING time on our Honeymoon at Sandals Barbados. Erin was so great, answering all my questions and emails and giving advice! At the resort, the food was amazing, the staff were soooo nice, and it was the most beautiful setting. We did the Jolly Roger cruise excursion and we definitely recommend!!! Thanks Erin!
Cheryl & Joe - Sandals Ochi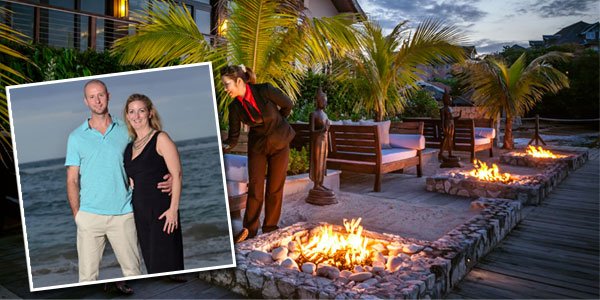 We booked our OCHI vacation with Dave. He was full of knowledge and helped our group choose OCHI as our travel destination. It was so hard to choose between all the beautiful resorts. OCHI was perfect! Close to excursions, lovely staff, and beautiful location. Dave checked in with us to make sure everything was up to standard. He had nothing to be worried about. Everything was perfect! Thank you Dave! Can't wait to book with you again!
Megan & Kevin - Sandals Montego Bay Destination Wedding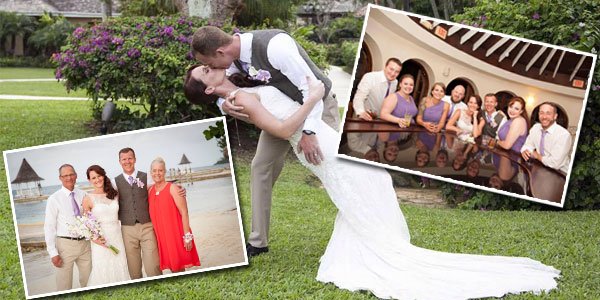 Lynn M will be the best thing that ever happened to you when planning a wedding!! lynn at weddingvibe.com if you need to find her. 🙂 We knew from day 1 we wanted a destination wedding, but Lynn sold us on going with her as soon as I stumbled upon WeddingVibe online. Lynn was attentive – constantly staying in touch with us about who was booking rooms and flights and the best prices for each. We honestly felt like she was our friend, not just a specialist with how much effort she put in to making our trip/day perfect. She thought of everything, double checked on everything – and she didn't just do that for us, she did it for all our guest too. I cannot rave about her enough!!! THANK YOU SO MUCH LYNN!!! #beckerbeach2017
Crystal & Matthew - Sandals Ochi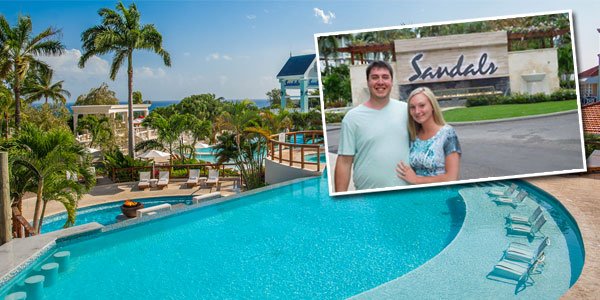 We chose to book our honeymoon at Sandals Ochi with Erin M. She was so helpful with helping make reservations, setting up our flight, and just giving helpful hints along the way. Best decision we could have made!! Would recommend sandals to anyone. The resort met more than our expectations. The staff were exceptional and the rooms were always clean. If ever we had any questions there was always someone there to ask and they would always have the answer. There is always something to do on the resort or you can book an excursion. We will definitely be returning at some point and time!!!
Savana & Kevin - Sandals Royal Caribbean & Private Island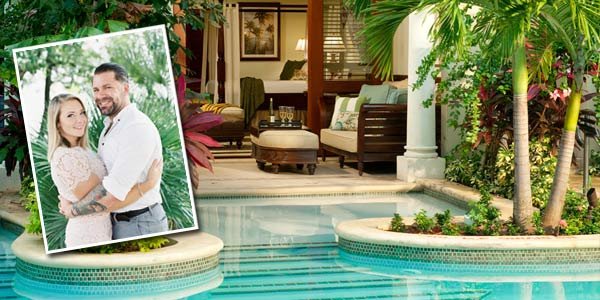 Our agent was Denise and she was beyond phenomenal! We contacted her several weeks about choosing a Sandals resort for our honeymoon, but we didn't feel like we were ready to take the plunge yet. We took a few weeks to look into each resort and finally felt confident about our resort/room decision. I emailed Denise on a Saturday and she emailed me back almost immediately. She was always so genuine and I never felt like I was talking to an automated system. I highly recommend if anyone is looking to book a Sandals resort, you use a Wedding Vibe agent. They can get you perks and even make special requests for you! Savana & Kevin
Kristin & Joe - Sandals Ochi Beach Resort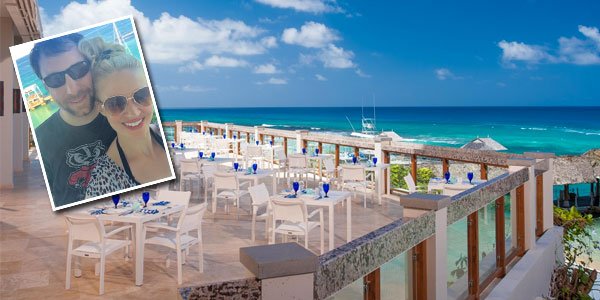 A HUGE Thank you WeddingVibe Honeymoons for making our Honeymoon at Sandals Ochi Beach Resort unforgettable! We've had an AMAZING vacation and truly appreciate the time you spent behind the scenes making our trip so very special. We are so thankful! We are very excited to book through you again!
Sarah & Daniel - Sandals Ochi Beach Resort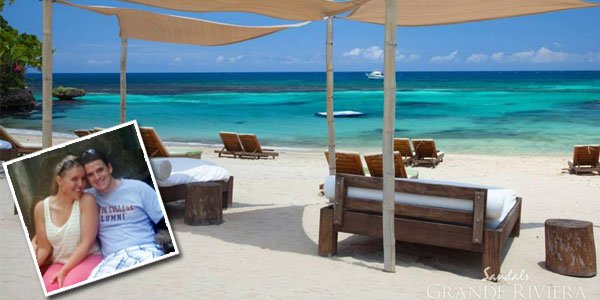 My fiancé and I worked with Beth W. to plan our honeymoon in Jamaica and she was amazing. She made everything so easy, reminded us of important details and deadlines. She was super friendly and attentive. An absolute pleasure to work with. I just wanted to make sure someone knew how we felt. She is a great representative of weddingvibe! Please share with her how much we appreciated her help and give her the praise she deserves. If our honeymoon is as good as the planning process we will have an absolute blast. Thanks again! Sarah & Daniel
Brittany & Stephan - Sandals South Coast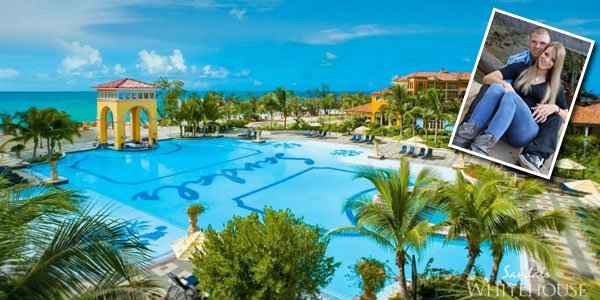 My fiance Stephan and I are getting married in July in our home state of beautiful Colorado. So far, wedding planning has been fairly stress free which is a relief! To be honest, we were stressing more about if we would be able to afford the honeymoon we always wanted after we had spent more than anticipated on our wedding. I stumbled across Weddingvibe.com and noticed they offered a free Sandals honeymoon planning service. Perfect! I initially thought I would just use this service to get a good idea of what resort would best suit our needs and if we could even afford to go( we already had both agreed upon Jamaica as the destination) Little did I know I would be booking our honeymoon shortly after! Lynn was beyond helpful. She answered every single question I had, no matter how important, within 30 minutes at most. I kid you not, she was speedy! She offered insight on each of the resorts and gave me tons of helpful info in making our decision. We decided on Sandals Whitehouse! Everything sounds so perfect for us, the seclusion, the beautiful beach, etc and we are so excited to visit Jamaica. BIG Shout out to Lynn for making this possible. She truly went above and beyond, searching for something within our budget which I thought was not possible. She gave me all of her contact info to stay in touch with her up until and throughout our trip. I have honestly never felt more at ease or relaxed while booking a vacation. She made the process 100% stress and worry free. I would recommend this service to anyone looking to book a sandals vacation! Thanks a ton Lynn! We are so happy you made it possible to take the honeymoon of our dreams! Brittany & Stephan
Nancy & Mark - Sandals Regency LaToc
Trisha A. Has been the best agent I have ever worked with! Our flight was cancelled for 2 Days due to the Chicago snow storm. She and her husband Adam spent countless hours on Sunday and Monday to get us a flight out and our 6 Night stay at a Sandals resort. I don't know of any agent that would have spent their day off doing this for us. We had a great time! We stayed at Sandals La Toc in St. Lucia. The food was amazing! I have been to many resorts and places and the Sandals is hands down the best food I have ever had! We had fun at the Friday night street fair. My husband enjoyed golfing and I rode with in the cart and enjoyed the beautiful views. Our caddy Miguel was a lot of fun and we learned a lot about their culture and history. We enjoyed our candlelight couples massage by the ocean. We did go over to the Grande St. Lucian a couple times and liked the beach better and water over there. It was much more calm and enjoyed the rafts. The bar staff at the Grande were entertaining. The staff at both resorts were very friendly and helpful. My only negative would be they need more wait staff by the pool and beach. Thanks Trish for planning a wonderful vacation for us!
Jami & Brandon - Sandals Ochi Beach Resort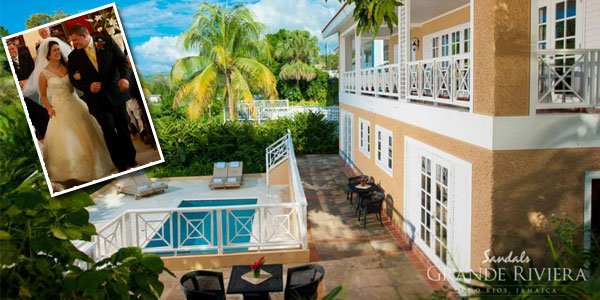 Our Sandals Specialist was Yoomi R. Yoomi was amazing!! She made our experience planning and booking our honeymoon a million times easier, answered all of our questions and kept us well informed throughout every step of the process. She even went as far as to contact us after our honeymoon to ensure that we were satisfied with our trip and to hear about all of the great times that we had at both our wedding and our honeymoon. Having Yoomi assist us was very stress-free and even more like talking to a friend than a planner. She helped to get us excited about everything, and to tell us all of the must-see locations prior to going on our trip. Yoomi was amazing and we were so blessed to have her. We cannot say enough good things about our experience with Yoomi as our Sandals Specialist, and we will most definitely contact her the next time we travel to a Sandals.
Eric & Shannon - Sandals Negril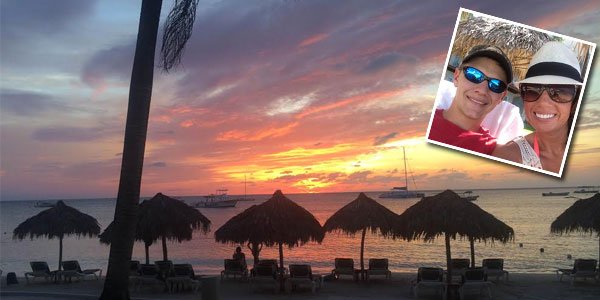 Thank you SO much for all of your assistance with our honeymoon planning! We had an amazing time at Sandals, Negril in Jamaica and would have not had such an awesome experience without you! The room, the views, the food, the excursions, the private beach....all of the amenities were fantastic. We highly recommend Sandals Negril and YOU as the Sandals expert! We will most certainly use your services again! 
Cory & Becca - Sandals South Coast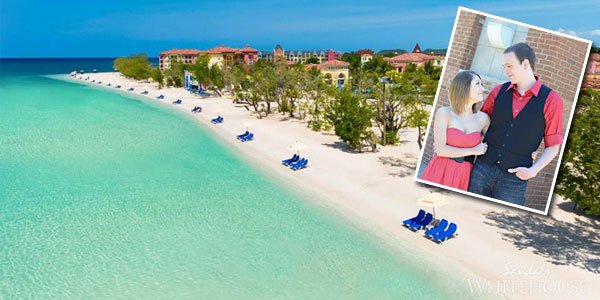 Hello! I would just like to give a shout out to Lynn for helping my fiance and I book our honeymoon! She has been extremely helpful, and we are so excited for our honeymoon at Sandals Whitehouse European Village & Spa. We have bombarded her with questions and she has answered everyone beyond our expectations. Thank you so much for all of your help, Lynn!!! - Cory & Becca
Emma & Sebastian - Sandals Ochi Beach Resort
I just wanted to write and say how pleased we were with the free honeymoon planning service we received from our Certified Sandals Specialist, Lynn M. She answered every single one of my questions, no matter how insignificant they were and she truly gave us an accurate view of what we have to look forward to for our Honeymoon at Sandals Grande Riviera in Jamaica in 2015. She knew such specific details about all the locations that Sandals had to offer, it was fantastic. Her responses were so quick and thorough that I could not believe I was getting this service free. She was patient and so professional. Every couple planning a honeymoon should be able to work with a great specialist like Lynn. We appreciate all she did for us and how she continues to help us plan excursions. We are beyond excited for our trip in May 2015 and couldn't have done it without Lynn and Wedding Vibe. She made it such a quick and easy process. We are eternally grateful and look forward to using this service again in the future!
Katelyn & Joe - Sandals Halcyon Beach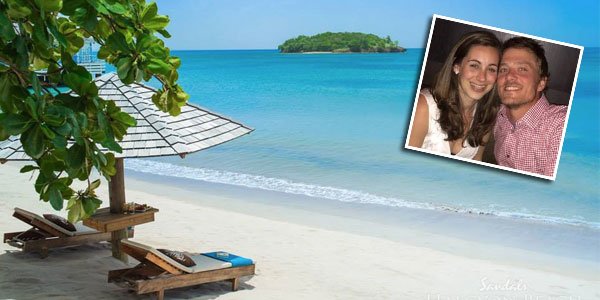 Lynn was the most amazing person to work with and I am so impressed with her professionalism and speedy responses. She was right there when I needed her and always made me feel at ease. There was no stress when planning our honeymoon!
Elyse & Chris - Sandals Ochi Beach Resort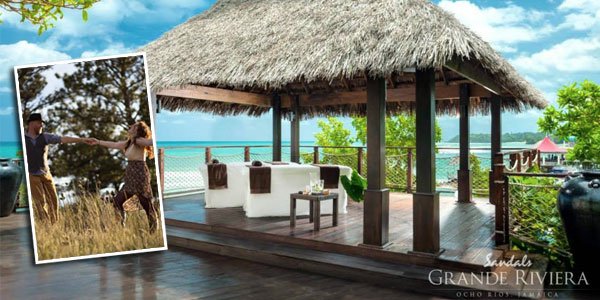 My fiance, Chris, and I are getting married this October in Colorado. Because the wedding is so close to the holidays and the end of the year, we decided to postpone our honeymoon until the new year. We were originally planning to do a euro-trip on our one year anniversary but after many discussions and conversations with other newlyweds we decided that our honeymoon should be relaxing and tropical. I ran across a honeymoon deal on WeddingVibe's facebook page and immediately looked into it. I sent an inquiry and within a couple of hours I heard back from a Sandals Specialist, Natalie. From then on, Natalie was very responsive to every kind of question I had, and believe me, I had a lot of questions. Also, she was able to find us an even better deal for more nights so we could stay in Jamaica an extra day for Chris' birthday! She sent a lot of pictures and was very thorough in her explanations regarding the details of the trip and all the generous amenities. We were skeptical to book with a resort but Natalie made it easy and kept my mind at ease by helping me deal with all the planning. I would highly recommend Natalie to anybody looking for a stress-free way to plan your honeymoon. We cannot wait to take our honeymoon to Jamaica in February!!
Katlynn & Kyle - Sandals Royal Caribbean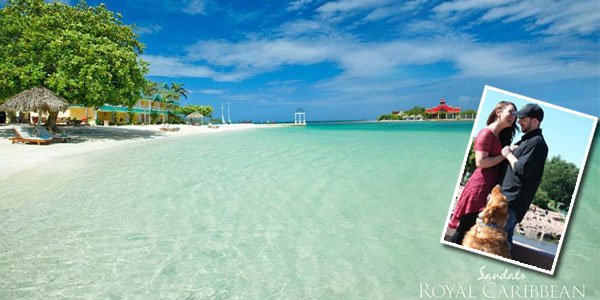 Adam was amazing. He found the perfect hotel & flight that fits our budget. He was so patient with making things work out for us so we could have the perfect honeymoon for us 🙂 Completely took the stress out of planning. I could not be happier with him & the service!
Samantha & James - Sandals Ochi Beach Resort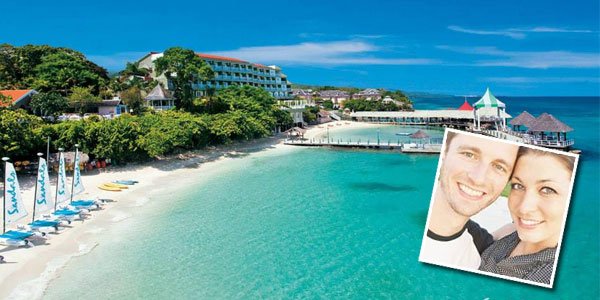 A huge thanks to Weddingvibe and my consultant Lynn M! Lynn went above and beyond to help me plan my honeymoon. She had lots of great suggestions and 1st hand experience at the honeymoon destination we selected (Sandals Ochi). Lynn was amazing about answering all my emails very quickly (even Important email questions I sent in the evening hours)! She also booked our flights and wrapped everything into one fabulous package. It's great making payments to one (Sandals) online payment page, rather than various payments at multiple sites. I didn't know what to expect initially, but Lynn made everything very easy, convenient, and hassle free! I would recommend this service to anyone! I'm highly anticipating our honeymoon in 4 months! 🙂