Experiences from real WeddingVibe clients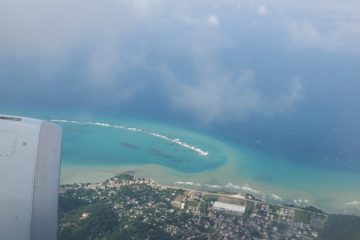 Resort Experience:
Traci and I had a wonderful time. The new room was amazing. I highly recommend rooms 4115 and 4116 there. They are some of the best views with a walkout room on property. The building is older but having a small beach outside at all times is worth it. We did so many things. Traci had never tried Indian (bombay) or thai (royal thai) and those were two of our favorite restaurants. Soy was amazing as usual and we crushed sushi. Butch's was fantastic, we got to sit in the corner booth and it made us feel mafia like haha. Spices was just okay. Breakfast at the French restaurant was exquisite. Best breakfast on property. Room service was rather slow and spices "buffet" was kind a a cluster. We ate lunch at the jerk shack multiple times and it was soooo good. If you love true jamaican food, nothing beats it. Jerk chicken and fish in foil was to die for. Also loved the beef and chicken parties from the beach bar restaurant. I had one almost daily, as long as I got there before they sold out. Best bartenders were Shevoy (beach bar) and Big bird (late night at cricketers). All the staff was so appreciative that we came. They really expressed how much it helps them and their families survive.
As far as water sports, we did the kayaking and that was fun, although it was limited to where you could go (which we found after we took a trip down the island and the sandals security had to come tell us to come back…oops). We did the luminous lagoon excursion. It was super cool. Definitely need to have water shoes for that, and pictures were $25 for all the digital copies.
The beach outside our room was where we beached for 95% of the stay. I went out first thing in the morning put towels and clips on chairs. Although it really was not very busy. But they raked and cleaned the beach atleast once a day.
The entertainment was really good nightly. We liked the acrobatic show and the game shows. The entertainment team was very talented.
No real complaints once we got our room moved. Everyone was so nice and helpful. Definitely more quaint of a resort compared to montego bay. But we did venture back and forth. The bar out on the water there is the best spot to lay out on either resort with those hammock over hangs. Not sure why more people didn't take advantage of it.
WeddingVibe Experience:
Absolutely amazing! Denise is a great agent and I praise her to everyone that asks. I have given her email out to numerous friends and colleagues. She went over and beyond to help us reschedule and fix any issues we had. I will always use Denise for any Sandals trips.