Experiences from real WeddingVibe clients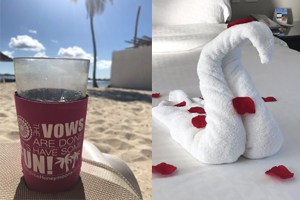 Resort Experience:
The trip was amazing! We can't wait to go back. From the moment we arrived the Sandals representative were very nice and attentive! The room overlooked the garden area of the resort, which was beautiful. Our room was spacious and even the coffee in the room was great. We loved how easy and relaxed our honeymoon really was. We got to hang out at the pool all day, nap, eat. It was the life. The off shore island that the Royal Bahamian has is such a special treat. If I would have known how great it was we would have went more than a day. My husband and I still talk about how we wish were still in the Bahamas at the Sandal resort. Sigh. Needless to say we were very happy with our stay.
WeddingVibe Experience:
Marcus was great! I had to change the date of when we were wanting to go on our honeymoon and Marcus was able to get it switched in no time. If I had any questions he was easily to get a hold of and quick to reply. Thanks Marcus!