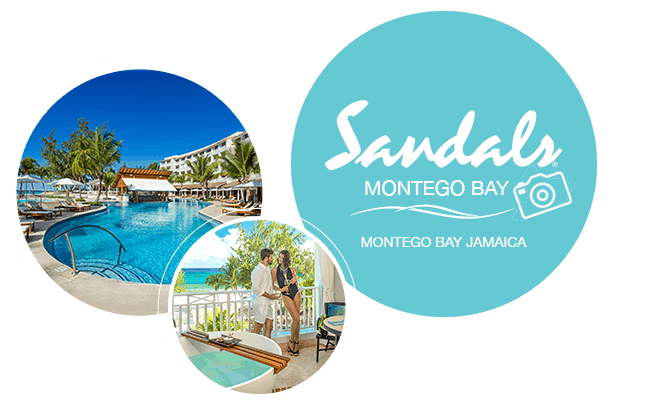 Pictures of Sandals Montego Bay Honeymoon and Wedding Destination
Our Sandals Montego Bay Travels
We travel frequently, to all the Sandals resorts and make sure they are up to par for YOU, our honeymooners! Here are some Sandals Montego Bay photos we personally took!
5-Star Honeymoon Planning

Royal Bahamiun Sandals Resort in the Bahamas did not disappoint! Denise was great to work with and answered all of our questions It was so relaxing not having to worry about anything from shuttling to and from the airport, securing our luggage and being treated like Royalty. The food, drinks, weather, entertainment, and weather were amazing!

I reached out to Jennifer with the intentions of finding a great place to go to for my honeymoon. She went well above and beyond to get me all the information I want so I could choose the perfect place for my honeymoon. Even after I picked a place and paid for the resort, she still reached out to me to make sure everything was good and I had everything I wanted. She was amazing every step of the way and I will alaways book through her. Jamaica was GREAT…..

Christine M.
16:03 28 Nov 22
First off I want to say my now husband and I had a dream come true wedding/honeymoon at Sandals Barbados. EVERY. SINGLE. THING. Was PERFECT! Our "Certified Sandals Specialist " Denise Kerkhoff and she was ON POINT with any and every aspect … when I had a question she answered immediately… she gave me her phone number as well and I used it …ALOT! We missed our connecting flight … she fixed it… Our flight coming back was delayed several times due to weather… she fixed it… and we ended up staying in Barbados 2 extra nights instead of having to stay in Miami. Denise was my life line… I recommend her personally 100% for anyone who wants to be sure their dream vaca is a success! I had an anxiety moment and she calmed me down… took care of the situation and made everything PERFECT! If I could - I'd give her 1000 stars for her professional, emotional & spectacular customer service! Our next trip to Sandals I fully plan to request her personally!Thank you soooo much for all you do Denise!SincerelyChristine & Christopher Dornemann

I'm so glad I decided to utilize WeddingVibe services! Our honeymoon was completely stress-free from start to finish. Jennifer H. is an absolute gem - any time I even thought about stressing about an aspect of our trip, I would email her and she would tell me it was already taken care of - truly such a relief, especially as we got closer to the wedding date! She also knows the Sandals resorts inside and out - she had recommendations past what someone could find on Google, and she had advice beyond what your typical travel agent might provide.You might think you can plan your trip/honeymoon on your own, but you absolutely cannot beat the value that Jennifer and WeddingVibe provides! It felt like the vacation began when we booked with her! I would definitely recommend WeddingVibe to couples, and I will definitely be returning for anniversary trips, too!

Alayjah D.
11:16 03 Nov 22
Our agent, Jennifer H. was amazing helping us with our honeymoon in St. Lucia at the Sandals Halcyon. She was very knowledgeable and always available. With booking during COVID, she kept us current on all of the changes and restrictions. She recommended several excursions and gave many tips and suggestions. Her expertise made the process so much smoother. She was so very helpful. She is simply the best at what she does. Would 100% recommend!

Lisa was so incredible in helping my family and I with our vacation! She always kept us updated and made sure everything was done with the contact with Sandals for us. We will definitely be using her services again!!!! Thank you!

I truly wish I could give a higher rating than 5 Stars! Trish has went above and beyond expectations of helping us out with our honeymoon. Trish was on top of absolutely everything and it made it such a breeze to not have to worry about the unnecessary last minute stresses. We had to move resorts due to Covid because the one we were going to wasn't opening up in time and she made it all stress free!! She's super responsive, I even texted her at midnight a few times and she never once made me feel like I was bothering her. I will always book future vacations through WeddingVibe. Trish and her team took such great care of us I feel like I'm part of her family now! I definitely would recommend WeddingVibe to anyone and I'll talk anyone to going to Sandals!!This is my review from 2020, we just got back from Sandals Ochi and this time Beth helped us out. She was so attentive, patient with all my millions of questions, super sweet, just over all a rock star to work with! I still stand by that I will forever use Wedding Vibes! We rebooked a trip to Barbados and I'm excited to have Beth help us again!

Madison G.
19:55 30 Oct 22
I have worked with Beth at WeddingVibe for two, going on three, trips so far. She has been beyond incredible and has made our booking and trips with Sandals an absolute breeze. I cannot recommend this company enough!

Jennifer has been a pleasure to work with and a great help assisting with finding the best room/resort to fulfill our needs from our honeymoon and beyond. Looking forward to continuing to work with her for all of our vacation planning!

Jessica D.
16:21 25 Oct 22
Our travel agent Denise handled everything from booking to returning home - highly recommend if you want a stress free vacation booking experience
Booking Online
vs.

Benefits
Book Online
Book with
VibeGetaways
Lowest price available
No booking fees
Personalized one-on-one service until the day you arrive back home
Help and tips from a professional that has traveled to the resorts
Peace of mind knowing all the details are taken care of
Easily make changes to your booking dates, room type, or resorts
Resort managers will be notified VIP honeymooners are arriving
Call, email, or text your agent at any time
Payments made to Sandals directly
Hold room with no money down
Personalized help booking airfare & excursions
Personalized help if there are issues: missed flight, health issue, extreme weather, etc.
Price watch guarantee: if price goes down after you book we will get you the better price