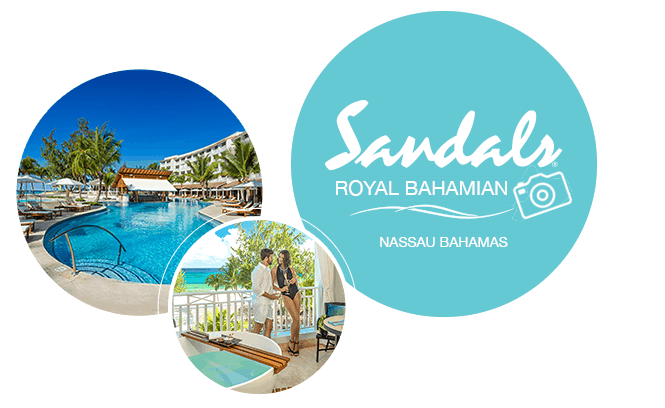 Pictures of Sandals Royal Bahamian Honeymoon and Wedding Destination
Our Sandals Royal Bahamian Travels
We travel frequently, to all the Sandals resorts and make sure they are up to par for YOU, our honeymooners! Here are some Sandals Royal Bahamian photos we personally took!
5-Star Honeymoon Planning
Aubrey G.
★★★★★
Lisa was AMAZING!! She was so thorough with explaining what steps needed to be taken to make our trip a successful and fun experience which it truly was! A trip of a lifetime and it wouldn't have been possible without Lisa!
Response from the ownerThanks so much Aubrey! So glad to hear that you had a blast at Sandals Negril. I'm here when you're ready to book your next trip! 🙂
Chasidy B.
★★★★★
We had a phenomenal experience working with Denise at Vibe Getaways! I tend to prefer to plan vacations myself, but Denise was helpful in all the best ways, without making me feel like I had a loss of control. She had personalized information about our location, and never made me feel like I was an inconvenience with any request. We will be using her again, as well as referring her to our friends. Thank you again for everything! ❤️🌴
Response from the ownerThank you, Chasidy and Ben! It's so thoughtful and kind of you to take the time to share your great experience. It's been so fun getting to know you, and I am looking forward to seeing which Sandals or Beaches you go to next 🙂
Gabrielle M.
★★★★★
Absolutely love Lisa. She has helped us do our honeymoon and anniversary trips to Sandals. I will always use her and have given her card to family members. Thank you so much for all the help!
Response from the ownerThanks so much Gabby! You made my day! So glad that you guys will get to experience St. Lucia for your next anniversary celebration! We appreciate you!
Mike B.
★★★★★
We would like to thank Beth @ Vibe Getaways for an amazing experience in helping us plan our honeymoon in Jamaica! We couldn't have been happier working with her! We started looking at locations months ago, and Beth was incredibly professional throughout the entire process! Her enthusiasm to get us our dream vacation was exactly what we were looking for in a travel agent! Not only did she follow up with us often (which was SOOOO helpful), but her emails were extremely detailed! We mentioned what we were looking for in our honeymoon, and she went above and beyond to give us all the options available with the activities we were seaking. I would highly recommend Beth and Vibe Getaways if you're looking to take the stress out of finding your perfect vacation! She truly is amazing at what she does, and you can trust she is doing her best to get you exactly what you want! THANK YOU!!!
Response from the ownerThank you, Mike & Allison! Loved reading this and helping you both plan your honeymoon. You are going to love Sandals Montego Bay and I will stay in touch every step of the way still. Can't wait to hear all about the amazing memories you will make!
Paige C.
★★★★★
We've worked with Denise to schedule our honeymoon and an anniversary trip and it has been wonderful both times! She takes care of making sure we're getting the best deal and whatever travel documents we need. I definitely recommend working with her.
Response from the ownerThank you, Paige and Matthew! Love that you two make the time to unwind and spend quality time together at Sandals Ochi. I am so grateful that you allow me to help you all along the way and make your travels stress free.
Amber A.
★★★★★
Jennifer was amazing and extremely helpful from the beginning of the planning process until the very end. She answered so many questions we had an was able to give us a summary of each resort we were looking at so we could better decide which one was for us. She even shared some of her pictures with us of her time at some of the resorts which was very helpful. Would highly recommend her services to anyone looking for some help planning a getaway.
Response from the ownerThank you so much Amber! I am so happy that you loved Jamaica! I can't wait to try the brandi shuffle! Hopefully, we can get you two back for an anniversary trip soon!
Andrew M.
★★★★★
Beth at Vibe Getaways did a fantastic job setting up our honeymoon! She was friendly, answered all of our questions in a timely manner, and overall made the process completely painless from start to finish. Thanks Beth!
Response from the ownerThank you, Andrew! I really enjoyed working with you and Allison and appreciate the kind words. My best wishes to you both and when you are ready to head back down to the sunny Caribbean, would love to help you plan your next vacation!
LaRia F.
★★★★★
Jennifer has been our go-to for the past two years. She has been nothing short of amazing! She responds quickly, keeps us updated on everything we need, and takes all the stress out of planning so we can just relax and enjoy! She helped my husband and I plan an amazing honeymoon in Barbados last year. We had SO much fun that we went back again this year for our first anniversary! We're already planning our anniversary trip to Sandals next year!
Response from the ownerThank you so much!! You two are such a pleasure to work with! I would love to help with your next adventure! I bet you would love the new Sandals Dunn's River in Jamaica!!
Kristina H.
★★★★★
Jennifer was amazing! I will definitely be using them again!!!
Response from the ownerThank you so much! Jamaica is so great! I am so glad that you two have Curacao to look forward to!!
Tracie
★★★★★
Thank you Jennifer Houle for the FANTABULOUS SERVICE!! You are a TRUE ASSET!!! We LOVED ANTIGUA!! Lots of memories made!! Perfect spot to get married!! Thanks again!! You're the BESTEST!!
Response from the ownerAwe, you are the sweetest and so very welcome! I am so happy your wedding was so great! Glad you will be returning next year too and will get to enjoy it all over again!
Booking Online
vs.

Benefits
Book Online
Book with
VibeGetaways
Lowest price available
No booking fees
Personalized one-on-one service until the day you arrive back home
Help and tips from a professional that has traveled to the resorts
Peace of mind knowing all the details are taken care of
Easily make changes to your booking dates, room type, or resorts
Resort managers will be notified VIP honeymooners are arriving
Call, email, or text your agent at any time
Payments made to Sandals directly
Hold room with no money down
Personalized help booking airfare & excursions
Personalized help if there are issues: missed flight, health issue, extreme weather, etc.
Price watch guarantee: if price goes down after you book we will get you the better price