Drawing Date: April 28th 2021
Honeymoon Location:  San Jose del Cabo, Mexico
Hotel: Le Blanc Resort Los Cabos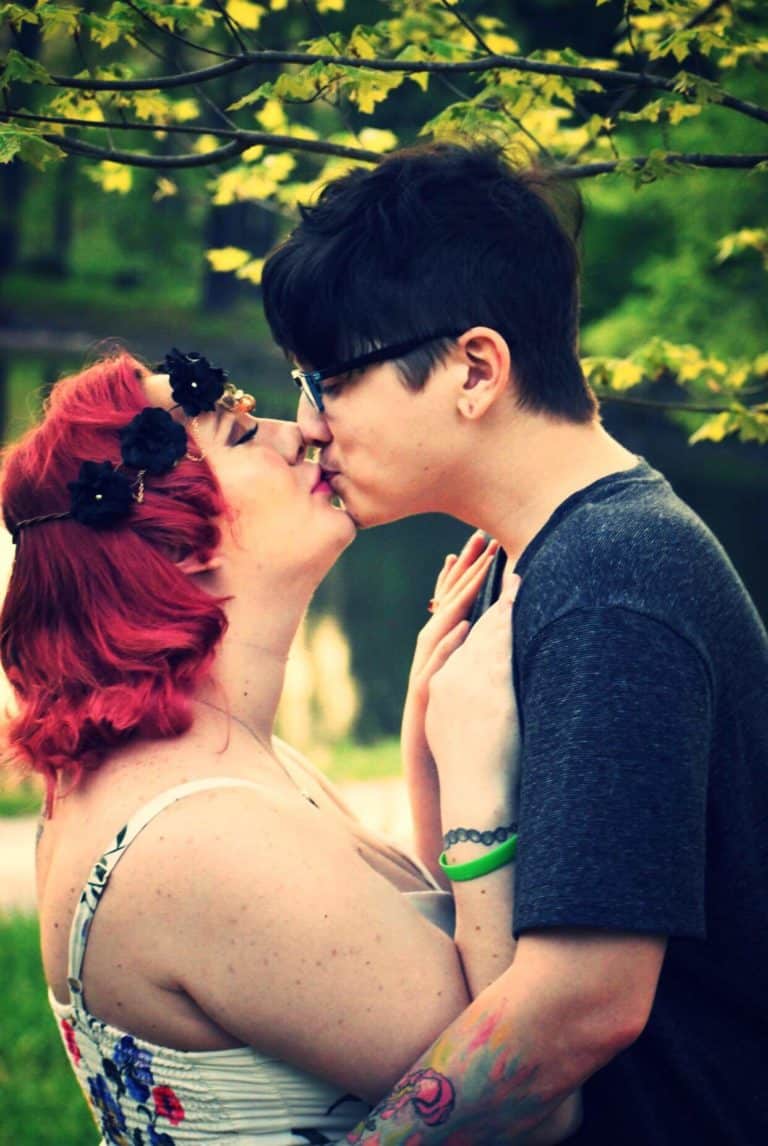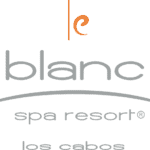 Their Engagement Story
Cody and I met in the year of 2013 when I was 14 and he was 17. I had just moved with my mom and step dad all the way to Cape Girardeau, MO whereas he just moved back to his home town of Alton, IL where I was born and raised. Cody and my second eldest brother became the best of fiends and that's who we met through. At the time Cody just saw me as a little sister type role for years due to the age gap and his best friend being my brother. For me I always had the biggest crush on him. Over the years we kind of drifted from one another dating other people rarely seeing each other as we live 2 hours away from each other. Flash forward to December 2019. I was in town seeing my dad to celebrate both our birthdays and Cody came over with my brother. This was the first time in over a year we had seen one another. As we were catching up on life and where we were in our paths we both had mentioned we were single. I had messaged my sister later that night saying how much he had gotten more handsome over the years and how my crush was so much bigger now. Needless to say my sister told him I have feelings for him. In January 2020 we started talking and on January 25th 2020 we became 'official'. In September 2020 we found out we were pregnant! But soon suffered a miscarriage. But early October found out we got our rainbow baby. Our baby girl Lilleth will be born in July 2021! For our one year anniversary we went to Breckenridge Colorado. Where we decided we wanted to spend the rest of our lives together. We wanted our daughter to be in the wedding so we planned it for October 17th, 2021. Some say our story is rushed and some say our story was belated. But to us what was meant to be, beed.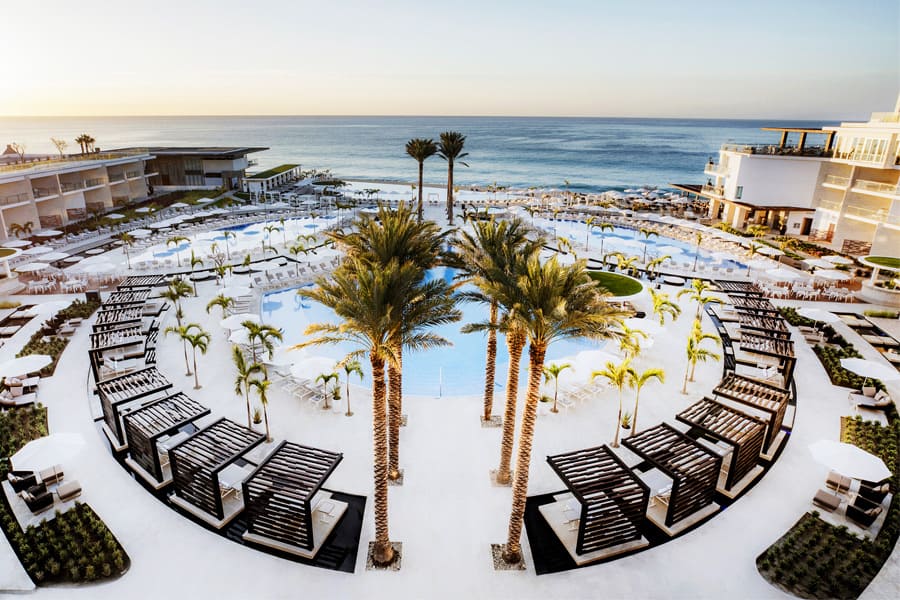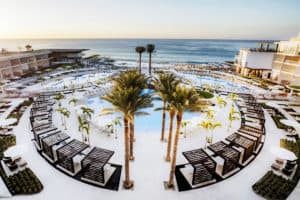 Drawing Date: January 15th 2020
Honeymoon Location: Jamaica
Hotel: Couples Resorts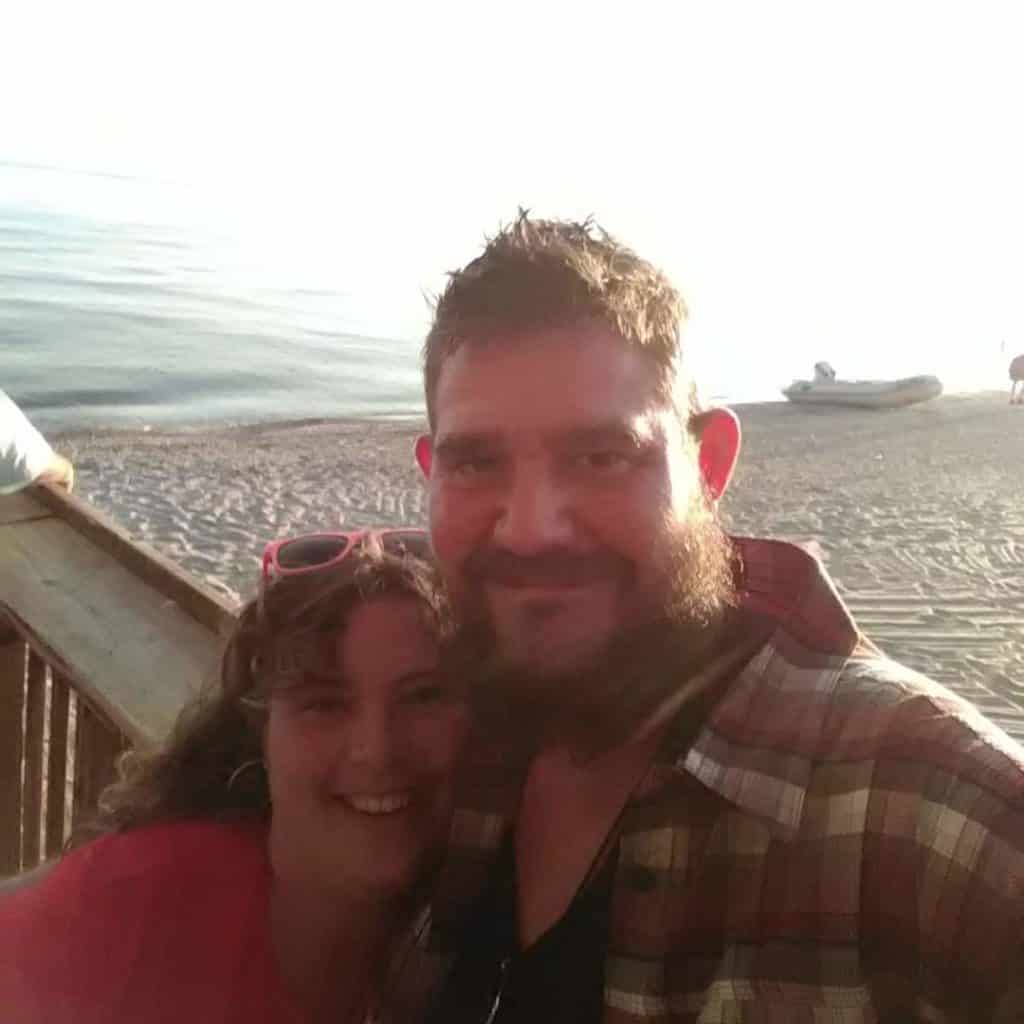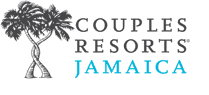 Their Engagement Story
We were set up on a blind date through mutual friends in March 2017. We dated for a while and we became "official" May 22, 2017. We will say our " I do's" on October 17, 2020. We enjoy spending time together outdoors, watching movies, and acting silly together.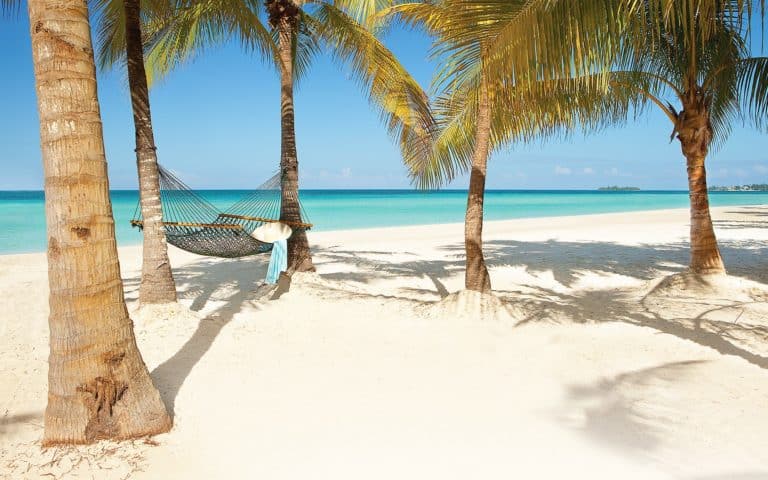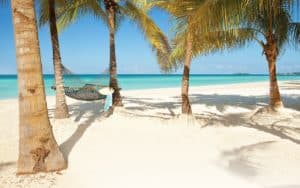 Drawing Date: August 15th 2019
Honeymoon Location: Riviera Maya Mexico
Hotel: Barcelo Maya Grand Resort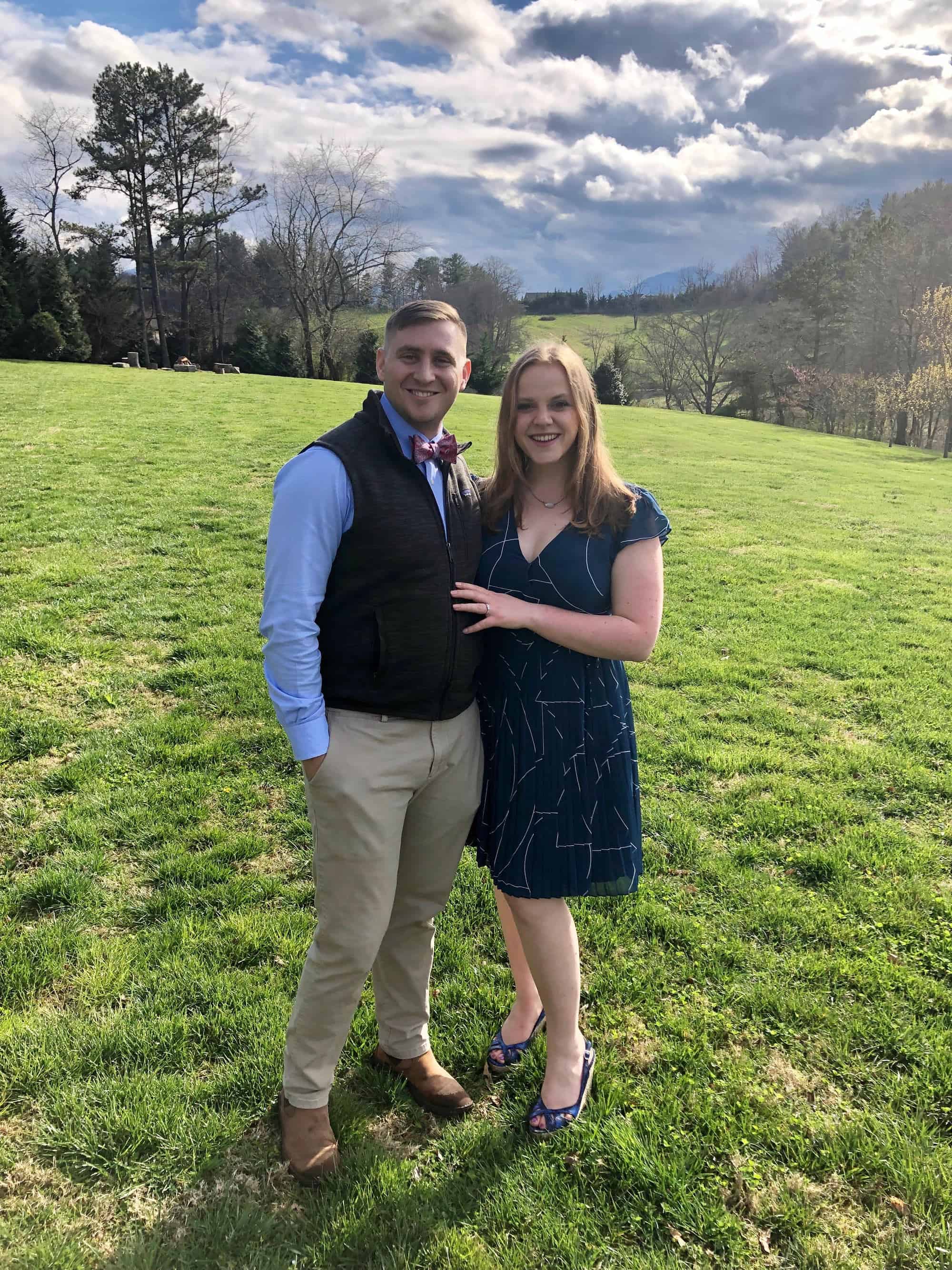 Their Engagement Story
We first met during medical school orientation week on a charter bus. Anthony was entertaining everyone with his college stories about this small town in South Carolina. We then went our own ways and settled into the rhythm of medical school for a few months. Anthony started tutoring Amy in anatomy after she learned about his experience as an anatomy professor. We continued to grow with our relationship through periods of board exams, clinical rotations, and Anthony's military training. In March 2019, we celebrated the end of our third year in medical school with our engagement!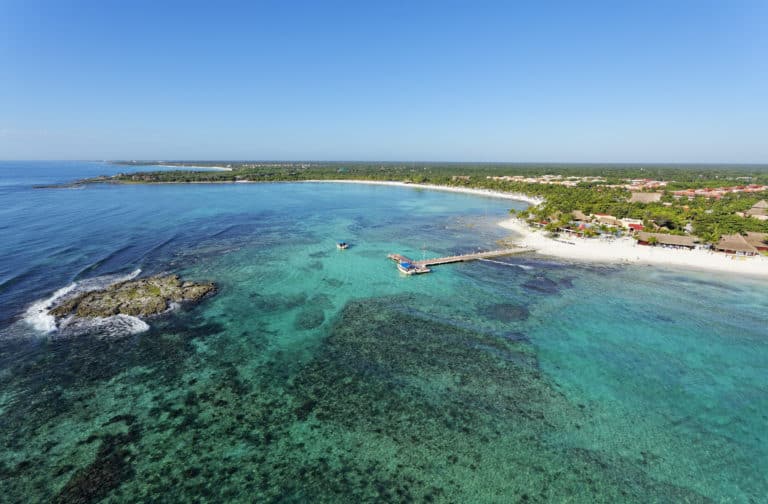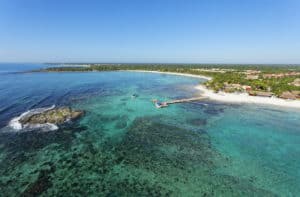 Drawing Date: February 15th 2019
Honeymoon Location: Ocho Rios, Jamaica
Hotel: Moon Palace Jamaica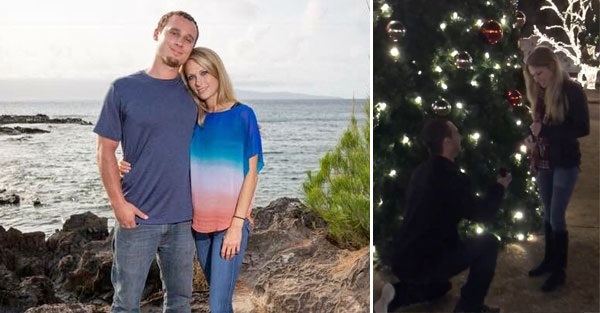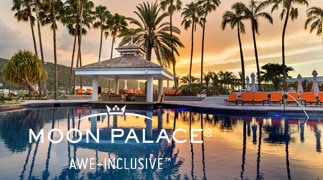 Their Engagement Story
Greg came with me to Texas this Christmas to visit my dad and step mom. While we were there my step mom, dad and sister all knew he was going to propose to me on Christmas Eve. They came up with a plan to have my step mom say she really wanted pictures of us all by the Christmas tree in downtown Georgetown Texas, where they live. So we all took pictures by the tree and when it was time for greg and I to take a picture we took one and I began to walk off because I thought we were done. He then grabbed my hand and said we aren't done and got down on one knee and proposed. It meant the world to me that he did it in front of my family. It was truly a wonderful way to make that moment more special with my family with me.
Drawing Date: July 31st 2018
Honeymoon Location: Montego Bay Jamaica
Hotel: Sandals Inn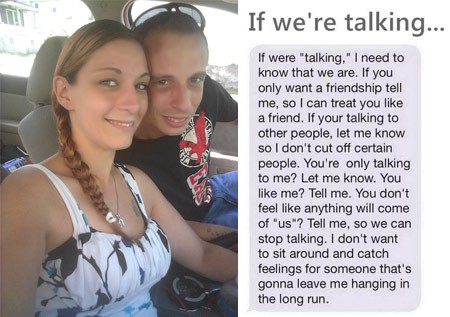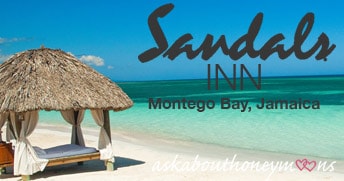 Their Engagement Story
So, it's actually kinda funny how we met, really it was a bunch of different things all combined! I guess the biggest two, were through mutual friends and of course social media (Facebook). We didn't physically meet before talking over the phone and internet for some time. But, what got us to that actually meeting part was: Paul had commented on a quote that I had posted. Two simple words he said, simple but confusing haha: "I do". Little did I know that that "I do" would lead us to our actual "I do's!!! Because of our mutual friends, Paul knew more about me than I knew he did, and his "I do" comment was that I do like you. I said how?! When we haven't met? Lol. So we stay up talking all night and met in person the very next day! Within a week of spending no more than about an hour apart each day we knew we were meant to be. Within two months, we were engaged. We couldn't and wouldn't ask for a better life partner to spend the good, the bad, the best and everything else with. This October 21st will be two wonderful years that we have been together and we both are excited to see what the future and the rest of our lives together hold!!
Drawing Date: January 8th 2018
Honeymoon Location: Los Cabos
Hotel: Melia Paradisus Resort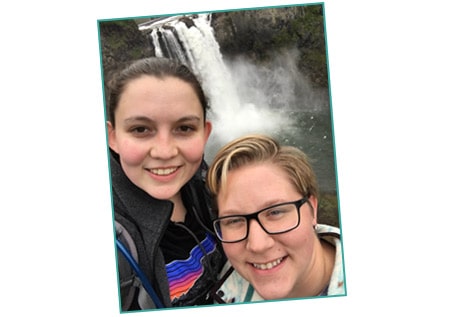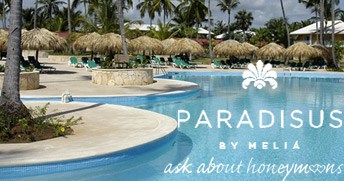 Their Engagement Story
Ciera and I first met in CPR class at Arizona State University in 2013. Comically, we were partners through this course, but didn't end up exchanging numbers until we started working together the next school year at the fitness complex on campus. Ciera and I officially started dating on January 15th. The first year of our relationship was definitely one for the books! We continued to help each through our undergraduate degrees while also enjoying life with annual trips to Disney Land. A few years later in March, I took Ciera on a surprise camping trip to Sedona, AZ. I had set up a whole campsite for us and had the whole weekend planned out. Later that night, I drove her up to the site and completely surprised her with the beautiful set up of the camper. The next day, we went on one of our favorite hikes. The trail weaves back and forth through a river and up into the mountain. I found the spot I had envisioned and told her to go up ahead of me and stand on a rock. Once she turned back around I was down on one knee, ring in hand, asking her to spend the rest of her life with me. Thankfully, she said yes!! We were officially engaged on March 5th. We later graduated in May and both became college graduates. In April of 2017, we picked up our lives and our two dogs and moved to the state of Washington where we have since continued to build our lives together. On my birthday in July, Ciera had a special plan for me. I wasn't allowed to be in the house until she told me. So I spend the day getting my hair done, getting a pedicure, and doing some shopping. When I was summoned back to the house, I was greeted at the door with a lovely note. Simply, the note told me to follow the rest of the notes and not to skip any steps. As soon as I walked in the house, there were rose petals and balloons with pictures taped to them and love notes everywhere. The notes lead me throughout the house and to the last spot where I found numerous presents. The very last present I opened was a pair of customized Nike Roshess that had the words, "Marry me?" on the heal. Of course I said yes! Since then, we have been excitingly planning our special day for May 18th and anxiously await the celebration. We are excited to spend the rest of forever together.
Win your own FREE Honeymoon!
Join now to win a FREE Honeymoon right now in our Honeymoon Giveaway Contest!
Enter our other fun Wedding Giveaways as well!
Drawing Date: October 11th, 2017
Honeymoon Location: Punta Cana Dominican Republic
Hotel: Majestic Resorts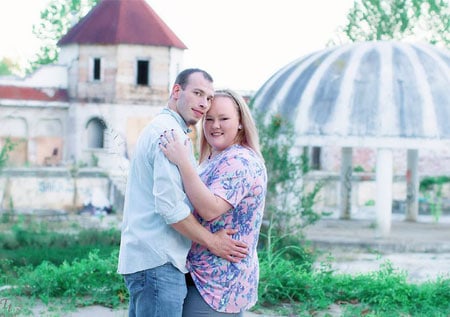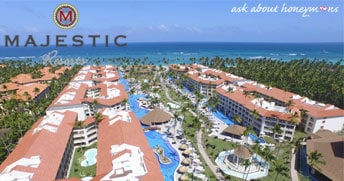 Their Engagement Story
Dominic and I met in High School. He is 2 years older than me and 2 grades above me in school. We hung out occasionally with mutual friends and we went to Prom together his Senior year, my Sophomore year. I had always had a crush on him throughout school, but never pursued it. After his graduation, he moved to Arkansas and went to college in Springdale. We lost touch. In the summer of 2012, I was unpacking things at one of my friend's house that I was moving into. I received a text out of the blue from an Arkansas phone number. It said, "Hey girl, what's up?" I asked who it was, he told me, and that's how it all got started! It was like an instant connection, a rekindle, like we had never stopped being friends. We have been dating since September of 2012. We have been through everything together. I lost my dad last year on August 18th. He was my rock. I don't know if I could have made it through that time without him. This year, on August 18th, he asked me to spend the rest of my life with him. We both knew that it was going to be an impossible day with it being the 1-year anniversary of my dad's death. I told him that I wanted to go fishing that day. That's what my dad loved to do. I worked late the night before and didn't get to bed until around 3 am. He woke me up, bright and early, around 7 am. We went and got our fishing license and then he took me to my dad's favorite fishing hole. We stayed there for about 2 hours before I was ready to go. It was getting hot and humid outside. We were getting ready to leave. When I was walking back to the truck, he hollered for me to come back over to where he was down by the water. When I got to him, he got down on one knee, and asked me to marry him. I, of course, said yes! He turned what I thought was going to be the hardest day since my dad passed, into one I will love even more. We are set to get married on September 8th, 2018 in my grandparent's backyard, overlooking the river, in Southeast Kansas, heart of the USA!
Drawing Date: July 19, 2017
Honeymoon Location: Punta Cana Dominican Republic
Hotel: Palladium Hotel Group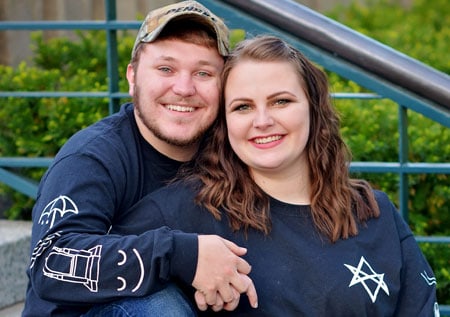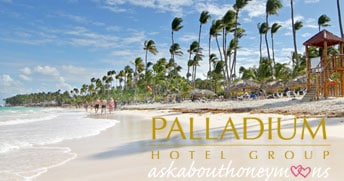 Their Engagement Story
Tyler and I met when I was 15 and he was 13, fall of 2009. We met at the park in our hometown. He was hanging out with one of his friends which happened to be one of my best friends, my best friend had asked me to stop by and see her for a little bit. I stopped by and she was sitting on the swings next to Tyler and when I walked up and said hi to my bestie, he stood up and gave me his swing. I said thanks and started talking to my bestie not knowing who he was. He stood there next to us and jumped in the conversation and we just kind of all became really good friends. The next day at school my bestie said "do you remember the guy that was with us at the park", i said "yeah, why?" she said "he wants your number" so I told her to give it to him and me and Tyler became best friends over the next few months. The next school year came around and we were both in high school at this point and our friendship just kept growing and from then on we knew we would be in each others life one way or another. We started off as friends and were friends all through our high school years. His senior year, 2014 we had been friends for 4 1/2 years and we finally started dating, I knew right then he was the man I was going to marry. Our relationship hasn't always been the easiest because we had only been dating for 3 months when he left for college, which is about 3 hours away from our hometown where I still live. We were together for almost 3 years when he proposed. It was New Years Eve right as the clock turned to midnight and I noticed he had been acting weird, he asked me to go with him so I stood up off the couch and he took me to a private area (we are very private people) and he told me he couldn't live another year without me. I was so shocked that I blacked out for almost everything he said that I actually questioned if he was being serious... not the best thing to say when asked "will you marry me?" he very calmly answered "yes, I'm serious... will you marry me?" at that point I was smiling from ear to ear and said "yes, of course!". We have been friends for almost 8 years now and we are so happy to be getting married July 30, 2017. We are beyond excited that we get to spend the rest of our lives together.
Drawing Date: December 21, 2016
Honeymoon Location: Riviera Maya Mexico
Hotel: Palladium Hotel Group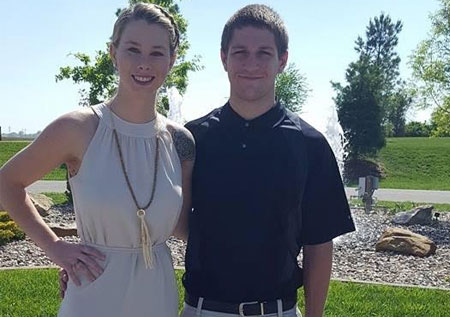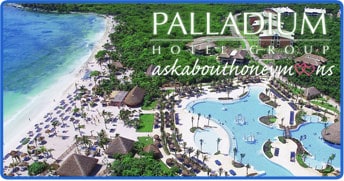 Their Engagement Story
Shane and I met when I was 16 and he was 20. In the summer of 2011. Like how most relationships start neither of us were looking for someone to spend the rest of our lives with. It just ended up happening that way. We meet each other at a local hangout that he was working at and I was going to. He worked at the front door so I always had to pass him to get in and I was always smiling when I saw him. It got to a point where it became a game to see if he could make me smile if I wasn't. He would count to 3 and always before he got to 3 I had the biggest smile on my face. He is the only person that, to this day, can make me smile like that no matter if I am angry at him. After getting to know him at this local hangout spot for a summer he asked me if I would like to come over and spend New Year's Eve with him. After that summer he became my best friend and the love of my life! March 10, 2012, he asked me to officially be his girlfriend at our favorite Japanese steak house down here on the beach. Four and a half years later, September 10th 2016, we went to go watch the sunset by the sand for our anniversary and when we got there, he had already had a blanket set up with wine and a rose. I never suspected a thing. We sat on the blanket for a little while and then walked up to see the water, that's when he got down on one knee and asked me to marry him and I was so shocked that I asked him if he was serious? Of course he was and I said yes because I could not imagine a life without him. So now we are set to get married October 7th 2017 at the outer banks of North Carolina!
Win your own FREE Honeymoon!
Join now to win a FREE Honeymoon right now in our Honeymoon Giveaway Contest!
Enter our other fun Wedding Giveaways as well!
Drawing Date: December 23, 2015
Honeymoon Location: 7 Night Cruise
Hotel: Star Clipper Cruise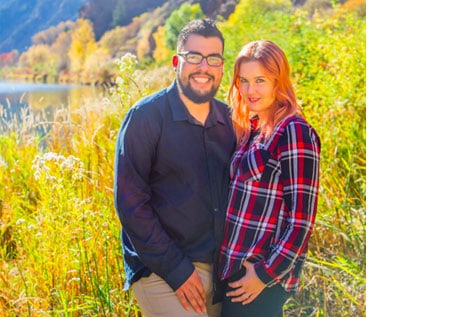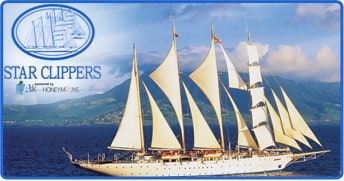 Their Engagement Story
Mauricio and I met in high school, during an outdoor ed class my senior year. We bonded on a camping trip towards the end of the class and spent a lot of the following summer together. But when I moved out of town for college we assumed we would drift apart. That never happened, thankfully, and we have been together for almost 6 years now! In May of 2015 we took a trip to Puerto Rico and I was sure Mauricio would pop the question sometime on our trip. On our final night, while he still hadn't gotten down on one knee, I was dropping some major hints while we watched the sunset. Then when he didn't ask me I was pretty surprised, he later told me that he didn't ask because I was expecting it....of course! Anyways, a few months later we went camping, like we often do in the summer months. We were up in the mountain and Mauricio suggested a ride at dusk to get up on a hill and watch the sunset. We loaded the dogs up in the Rhino and rode around for a while before we came to a big meadow with flowers just in time for the sunset. We let the dogs run and found a comfy place to sit. When we went to head back to camp Mauricio got really nervous and began telling me how much fun he had with me camping. Then he got down on one knee and asked me to be his forever! We can't wait to go on our honeymoon cruise and to keep exploring the world together forever!
Lots of love,
Daniele & Mauricio
Drawing Date: August 26th, 2015
Honeymoon Location: Mexico
Hotel: Marival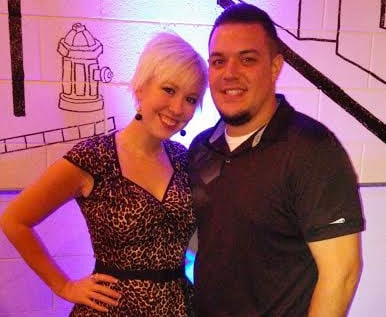 Their Engagement Story
So a little background or story about our engagement. Josh and I have known each other for a little shy of 5 years, he actually used to be one of my least favorite employees, always thinking he knew more than everyone else or that he was the best cook in the kitchen, and he never wanted to listened. About 2 and half years into working with Josh as his supervisor, there came a turning point where we would tell each other horror stories of the others blind dates, or dates we went on and actually became friendly in the work environment. In March of 2013 Josh left our restaurant to go work for a large retail corporation, and upon saying goodbye , I said hey, now that you don't work for me anymore , we should grab a beer to celebrate your hard work over the years. The rest is history from that point, the person I had least expected to date, or even find attractive, now is my soulmate in life. We started dating in May of 2013 and life was great. We enjoyed random adventures, traveling to new places as well as being each others best friends. It was a quick 6 months before we moved in with each other and knew how serious our relationship was actually getting. At one point in time, I had even said this is the guy I want to marry, he supports me through everything, he makes me laugh and smile even when he's being a nerd and I wouldn't want to have anyone else by my side. We did talk about marriage and getting married in several conversations and even looked at engagement rings at one time, but that never prepared me for the surprise I received on Easter(April 5th 2015). The Easter bunny definitely delivered a surprise.
The night before I noticed Josh was acting a little distracted or hyper, but didn't think anything of it since I knew it was a long week, we had just attended another friends engagement party and he probably just was ready to get home and relax. I went to bed and Josh said he needed to put together my easter basket, since its tradition that we go on a hunt in the morning for the baskets we hid each other. I woke up the morning of the 5th and came downstairs, we had breakfast and Josh said, ok I have an easter egg hunt instead of looking for your basket you need to find 10 hidden eggs, there are some decoy eggs but there are 10 including a golden egg. Off I went to find my easter eggs, which was not easy, it took me 45 minutes to find all of the eggs, which might I add they ALL felt empty. Next step he told me to sit down and open them one by one, as I opened the eggs each one had a hand written piece of paper stating why he loved me and or why he loved our relationship. The last Golden egg I opened and the letter read, " I love that you are my best friend and I wouldnt have it any other way, all of these reasons are just a couple of reasons why I will love you forever". I still had no clue might I add since we were not eating candy with a diet that we were doing, I thought for sure this was his version of an easter basket instead of the candies and treats. I got up to give Josh a kiss and thank him for the notes and as I was giving him a hug, he pulled back, got down on one knee in the middle of our living room, and pulled out a ring and asked me to marry him! Of course I said yes and the journey of being engaged, wedding planning and many great years to come began.
Drawing Date: January 16th, 2014
Honeymoon Location: Hawaii
Hotel: Napili Kai Beach Resort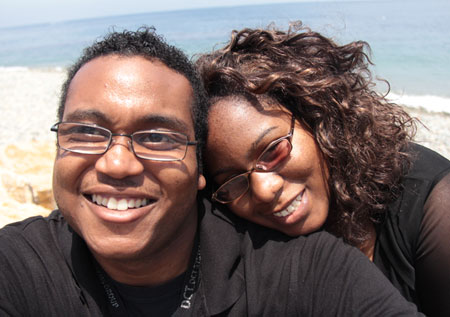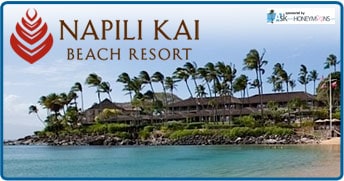 Their Engagement Story
It was the weekend of my birthday and Brett took me to Catalina Island for a day trip. We arrived and rented some bikes so that we could go biking around the island. Before we got too far he stopped and said he wanted to take some pictures on the beach. Normally I hate pictures and refuse to take them. But my sister had told me the day before that I need to let him take pictures so we could build our memories together and blah, blah, blah. So I didn't make a big fuss and allowed him to take the picture. He led me out to the middle of the beach and then went to set up the camera so that we could take the picture. When he came back to where I was standing, I went to say "Cheese" but he didn't and there was no flash. Next thing I know he's getting on one knee with a ring. He said a bunch of stuff about loving me and wanting to share the rest of his life with me and then church bells started ringing. At some point he said "will you marry me?" And I said "yes" and then we kissed and hugged and then a whole bunch of people started cheering. The beach was empty when he first started- I don't know where they came from. Then this guy yells out "I'm a chaplain, we can get this taken care of right now!" We laughed and politely declined. No need to rush! That was June 1, 2013. Yay!
Drawing Date: October 10th, 2013
Honeymoon Location: Colombia
Hotel: Capilla Del Mar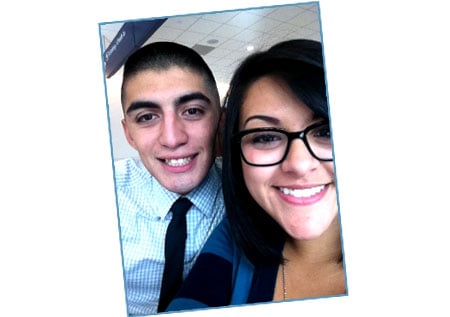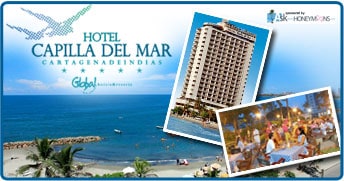 Their Engagement Story
Alright, our story starts when we were both in high school, I was 14 at the time, Oscar was 15. By chance we both went on this weekend retreat with our church. The first night there he caught my eye and I gained enough courage to talk to him. As shy as we both were we actually managed to talk a whole lot, I soon found that we shared a lot of the same interests.. Sadly the retreat was only a few days and it had to come to an end. He and I exchanged information and decided to keep in touch, and we did.. We had crushes on each other, and he had asked me to be his girlfriend, but I was not allowed to date at the time, so I had to say no as much as I wanted to say yes. We still kept in touch occasionally but we didn't act on anything. Fast forward 4 and a half years, the first semester of our second year of college. I was leaving our school's student center to head to one of my classes, and as I was putting my phone in my bag I literally, bumped into Oscar. I hadn't been paying attention and it wasn't until I heard him say "Oh, so you're not going to say hi to me Luz?" That I realized it was him.. I was so flustered and embarrassed (and also late for class) I said the typical "Hey, how have you been?" Until I realized he was on the phone, and I became the most awkward girl in the world and my words became mush but I managed to blurt out, "call me?" And wouldn't you know, he did. He asked me to hang out a few times, and shortly after we started dating. In February of this year he told me that he wanted to join the Marines, and in April he left for boot camp for 3 months. Being apart from him for so long was really tough.. But I can say it helped our communication skills. Jumping forward to July of this year.. He had been home for about 2 weeks, when he took me out to San Francisco for a night on the town, and took me up to Coit Tower, to see the city view, and I turned around and he had a ring out for me.
The past two months I've been planning our wedding, for May of next year.
Thanks!
Luz & Oscar
Win your own FREE Honeymoon!
Join now to win a FREE Honeymoon right now in our Honeymoon Giveaway Contest!
Enter our other fun Wedding Giveaways as well!
Drawing Date: July 2nd, 2013
Honeymoon Location: Carretera Cancun-Tulum
Hotel: Hacienda Tres Rios Resort & Spa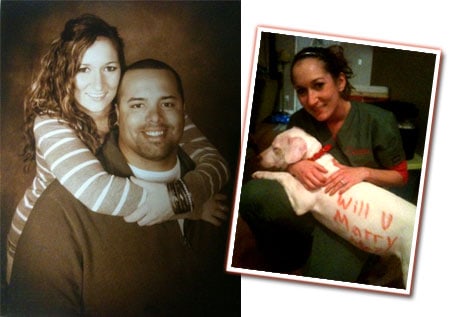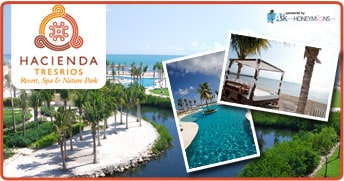 Their Engagement Story
Chris asked me to Marry him on Valentines Day of 2012. It was really simple but took me by great surprise! I was Bathing our daughter who is now 2, and he had written Will u Marry Me on our dog. He let her walk past the door... At first, I thought I was seeing things. Then, when I went to ask what was on her, he got down on one knee and took the ring from her collar and asked me!! Definitely a moment that I will never forget!
I would also like to express my gratitude for this amazing honeymoon gift. Thank you Wedding Vibe and Ask About Honeymoons. We weren't planning a honeymoon, but with this we have now been overjoyed and could not thank ya'll enough!!
Once Again Thanks!
Haley and Christopher
Drawing Date: April 11th, 2013
Honeymoon Location: Hermitage Bay, Antigua
Hotel: Hermitage Bay Resort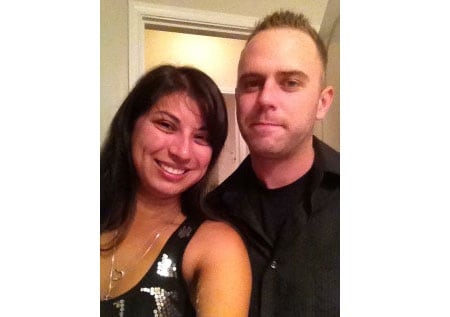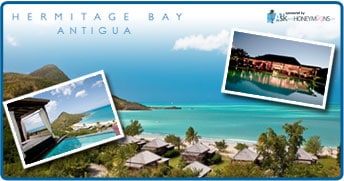 Their Engagement Story
Marty and I met my freshman year, his sophomore year in High School in California during band camp in August 2002. We shared the same circle of friends and had crushes on each other but never acted on our feelings. At the end of Marty's junior year he transferred high schools and sort of just disappeared from my life.
Fast forward to August of 2007 and I get a message from Marty on MySpace and he tells me he is in the Marines and deployed in Iraq and coming home in a few weeks for R&R and would love to see me and so began our Love. Getting calls at 3am from him on a satellite phone cutting out and waiting for emails just to talk to him. Few weeks later he comes home and we see each other and my feelings for him grow even more. But, like before, he disappears from my life on another deployment not wanting to break my heart.
A few years passed again and in October 2010 surprise, surprise guess who finds me on Facebook? Yup Marty and this time he is in on another deployment in Afghanistan. And we start all over again. This time I told him how I always felt about him and he shared that he always felt the same way for me. A few weeks later he surprises me with flowers. We sent thousands of emails back and forth during the last four months of his deployment. I couldn't wait for him to come home and for this time to really have a relationship.
When he came home in March of 2011 I drove through a snowstorm in California in the middle of the night just to see him. That night I told him he was stuck with me and he better not ever disappear on me again. And although life has thrown us some curveballs along the way our love has managed to survive the test of time.
Now, here we are eleven years after we first met and planning our wedding on July 13, 2013. We have two dogs together and are living in the heart of Georgia. I knew from the beginning we were meant to be. We can't wait to start our marriage and what better way than to enjoy a dream honeymoon in Antigua.
Drawing Date: October 10th, 2012
Honeymoon Location: Riviera Nayarit, Mexico
Hotel: Grand Palladium Resort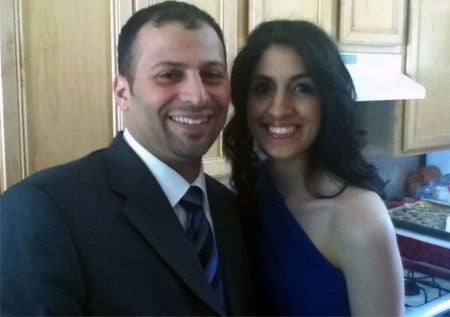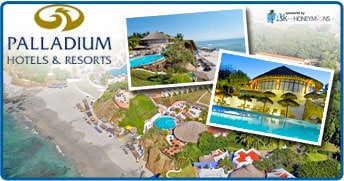 Their Engagement Story
Joy's friend said to her one day, "I'm going to find you a husband!" Joy laughed and brushed it off like it was just chitter chatter. A couple weeks later, Joys friend came back with a suggestion, to which Joy did not entertain, because she's known Odeh for over 6 years, but they've never taken interest. Then, In November of 2011, Joy went to her church's Thanksgiving dinner and happened to see that same guy... she flirted, but he didn't notice. A week later, Joy decided to send him a Face book message that lasted about five sentences. Fast forward a month, Odeh was playing Words With Friends with Joys cousin, Diane, while Joy was sitting right next to her. This encouraged Joy to send her own Words With Friends challenge. After multiple games and lots of banter, Odeh suggested an exchange of numbers to have a real conversation. Which lead to a first date, at Chipotle and Starbucks... for six hours! It was destined to be from there. Joy and Odeh, confessed their love for each other on Valentines Day, for the first time. Which then lead to Odeh's proposal one month later, on March 10th, 2012. Odeh and Joy's friend, Nina, were in cahoots and planned a fake double date at a restaurant downtown. Nina called Joy and said they would be 15 minutes late. So Odeh took Joy on a detour and decided to take a walk down Michigan Avenue to the Art Institute of Chicago. Odeh told Joy to go to the top of the stairs for a picture, once she started to walk back down, she saw Odeh on one knee, put her hands over her mouth, started shaking as Odeh reached out to grab her hand. Told Joy why she's the one, and asked Joy for her hand. Joy was drawn to tears from the explosion of emotions going through her mind and heart, and shouted YES! All the cars driving by were honking their horns and whistled and shouted in celebration. Shortly after, they met up with family and friends to celebrate at a local bar. Odeh and Joy planned their wedding for March 3rd, 2013 and with just a few months to go, they heard the amazing news that they won a free honeymoon to Mexico, by weddingvibe.com and askabouthoneymoons.com. They are both excited and thankful.
Drawing Date: July 11th, 2012
Honeymoon Location: St. Lucia
Hotel: Discovery Marigot Bay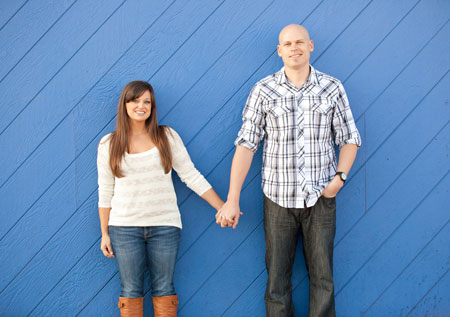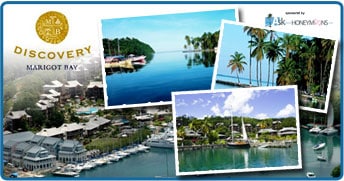 Their Engagement Story
Jason and I met in June of 2005 after a friend of mine stumbled across his MySpace profile and encouraged me to contact him. I normally wouldn't have been brave enough to send him a message out of the blue like that but there was something about him that really got my attention so I shot him a line. To my surprise, he responded and we ended up emailing each other back and forth for a few days and learned that we had a couple of friends in common. We eventually decided to meet in person and totally hit it off.
Six years later, on August 27, 2011, we headed out for a road trip to Las Vegas. We had booked a room at Planet Hollywood and requested a room with a view of the Bellagio fountains. Upon checking into the hotel, we were thrilled when we were told that they had honored our request! We walked into our room and, anxious to see how good of a view we had, I went straight to the window and opened the shade. The view was breathtaking. I quickly got my phone out and took pictures of the view to show off to my family. Meanwhile, Jason had disappeared in the bathroom. What I didn't know at the time was that he was getting the ring out of his suitcase and into his pocket. Within a few minutes of entering the room, the Bellagio water show began - exactly what I had been waiting for! I called over to Jason that he had to come to the window to see the view.
Jason came to the window to take in the view with me and said that we should try to take a picture of the two of us sitting in front of the window while the water show was going in the background. Of course, I loved the idea since I LOVE taking pictures!! We took a few and Jason seemed a little flustered to get it right, asking me to move to his other side, sit on his lap, etc. and it didn't seem to be working the way he planned. I assumed he was in a hurry to get a good picture before the water show ended. He gave up on the picture idea but I stayed glued to the window, with my camera in hand, trying to get good shots of the show. He was standing behind me and, at one point, I saw the reflection of a light in the window and assumed Jason was also taking pictures of the show with his phone. Eventually, I figured I had taken enough photos and turned around...to see him standing there with a ring!! He got down on one knee and asked me to marry him...to which I replied "Of course I will!"
We celebrated that night by going to a very romantic, scenic and YUMMY dinner at the Eiffel Tower Restaurant and continued the celebration for the remaining days of our vacation. It was one of the happiest days of our lives!
Our wedding date is set for October 14, 2012. We are beyond thrilled to be going to St. Lucia for our honeymoon! Thank you so much to weddingvibe.com and askabouthoneymoons.com
Win your own FREE Honeymoon!
Join now to win a FREE Honeymoon right now in our Honeymoon Giveaway Contest!
Enter our other fun Wedding Giveaways as well!
Drawing Date: April 4th, 2012
Honeymoon Location: St. Lucia
Hotel: Bay Gardens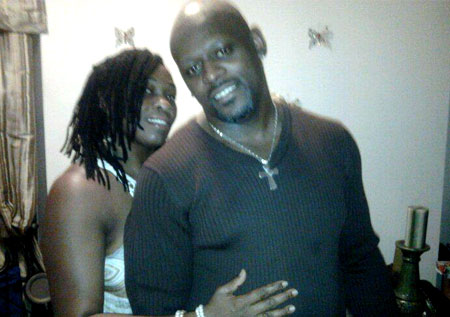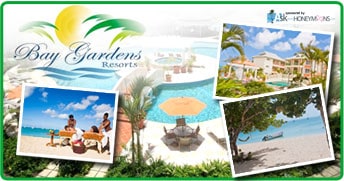 Their Engagement Story
Benjamin and I have a history that started back in the area of 1983 where we all grew up in Castle Hill projects in the Bronx. Growing up in a pretty tight knitted community such as that gave us the opportunity to become friends first. Most of what I really knew about him was his personality on the basket ball court and his love for entertainment in the many talent shows that him and his 3 brothers were always involved in.
I never had the slightest idea that he was at all interested in me or me of him because I was in a relationship at the time that showed no signs of problems or ending. The first time of acknowledgment came when Benjamin walked me home from the community center after a game so that I wouldn't have to walk alone since my boyfriend had to stay after for practice. The first time seemed like a very nice gesture but the second time was when he expressed his feelings for me and how long he has felt that way. I was impressed but uneasy due the fact of the whole boyfriend thing. I rejected his request for a kiss but many years passed that I regret not taking him up on that.
Time; life and all that we gained and lost went by for about 19 years. I went to college in Florida, he got married, we both had children; other relationships and all else that comes along with life's ups and downs. During all that time; we would run into each other every so often. I don't know about him but I knew that my heart would always skip a beat every single time I seen him. I can't remember a time that I did not like, admire lust and now love him. Given what we now know from the gift of life; we are both comfortable with the fact that we are now in a better position to be in a committed relationship at this time of our life as apposed to the confused teenage era.
The few run-ins didn't mount up to those wonderful things called Facebook and texting. After so many of those forms of communication; we decided to start a relationship from January 2011. It didn't take long to know that we were making all of the right moves towards a wonderful beginning and a completion of our lives.
With all of the surprises and initiations of commitments that he has brought to our relationship; not once did I guess he would propose to me at the time that he did. Given the type of man that I have come to know; I was pretty sure that he would eventually take me as his wife some day. However; he was also struggling with his ailing mother of whom they share an unconditional and undying love for each other. When she finally succumbed to her illness in death on February 8th of this year; I felt like I lost him as well and would just have to step aside until his pain subsides. On the Sunday before Valentines Day; we were laying on separate sofas when he asked me to allow him to put off any Valentines activities until a later date. I was all for it because I knew that the passing and burial of his mom was all still too fresh in his memories to celebrate anything at the time.
When that Wednesday of Valentines Day came along; I was already mentally conditioned that this would be a day without the normal gifts and all; but when I got home from work; he was sitting at the computer and there on my newly assembled dinning room set was a bouquet of flowers and small cake box that was tied. I was happy to see that but a bit ticked off as well because the agreement was no gift giving and I had nothing at all for him. When I expressed that; he said "it's ok. I just had to get you a little something and the cake is for the children when they get in from school". After all the children were home, daily running around was completed and dinner was done; it was time to have the cake for desert. As I was leaving the kitchen from cleaning; I saw him seating them all in a circle around the cake. I then said; "guys we are about to open the cake that was bought for your Valentines Day gift". We were excited as to be expected and they couldn't wait to until the box was open but he made it clear that I was going to open it first. I still didn't find anything strange because he is not one to allow children to handle sharp objects. I proceeded to cut the string around the box and to my shear astonishment; the cake read "will you marry me" with a small stuffed teddy bear that held my engagement ring. All that I could do was scream out with a river flow of tears. Since that he was in back of me; I turned around to hug him but he was on one knee asking for my hand in marriage in front of my two daughters and his son. I just fell to my knees as well and hugged him so tight that he was unable to rise to his feet. I couldn't believe that he was doing this at this time in his life and he explained to me that this is what "we" need at this time. A new life was given birth from a past life. Once I finally said yes. I lay in my bed weeping another 30 minuets with this surprised and total completed life feeling ahead of me. I have never experience such a feeing in all my days and I am almost sure that I won't ever.
It took us some time but we have set a date for June 29th 2013. With all of the well wishers and out pours of blessings; it has all helped to confirm what he has said from the beginning. "I love you and I am not going anywhere".
Drawing Date: December 28th, 2011
Honeymoon Location: Hopkins, Belize
Hotel: Almond Beach Belize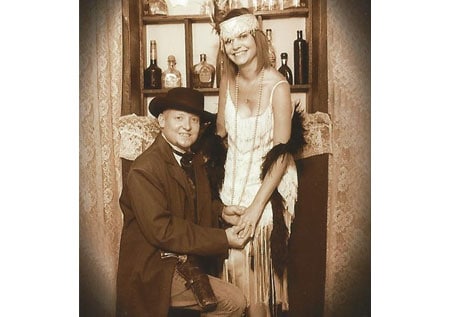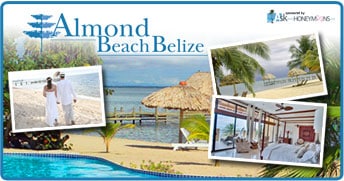 Their Engagement Story
Our story began 17 years ago when we briefly dated in High School. Through the years we went different directions. Chad focused on living life as he went to college, and was a drummer in a local band. I focused on having a family and career helping at-risk youth. I was in the midst of a divorce when Chad decided to utilize facebook to check up on me, and see how my family was doing. Little did he know how rapid things would soon change for both of us? After spending hours on the phone, and seeing each other when time allowed we realized there was more than a rekindled friendship. Chad began to spend more and more time with my 15 year old daughter, Alyssa, and myself.
Chad and I had been officially dating for nearly a year and a half when what I thought was a date to the Amarillo Tri-State Fair on September 17, 2011 ended up as a night to remember. Unbeknownst to me Chad had already spoken to my Daughter and Parents to get permission to ask for my hand in marriage. As we walked around the fairgrounds Chad began to encourage me to ride the Ferris Wheel. Due to my fear of heights I was very reluctant to do so. After finally persuading me that it would be okay I agreed. I was attempting to not panic while in the air, and had my eyes closed. As the sun began to set I could feel Chad moving around, but figured he was just picking on me as always. Suddenly, Chad grabbed my hand and placed something in it as we stopped at the top. I then realized what was going on as he asked me for my hand in marriage. I began to cry, and the ride was finally over. We then went to a local vintage photo booth, and had our picture taken. We requested to make it a proposal scene since we had just gotten engaged. The night ended perfectly as we indulged in fair food, winning a pink elephant, and listening to a Texas Country Band.
Chad, Alyssa, and I are now patiently waiting June 1, 2012 when we go to Galveston, Texas with our parents and siblings for a private Beach Wedding. Now thanks to TheWeddingVendor.com and AskAboutHoneymoons.com we are excited about winning a Honeymoon to Belize!
Drawing Date: July 1st, 2011
Honeymoon Location: Maui, Hawaii
Hotel: Wailea Beach Resort and Spa by Marriott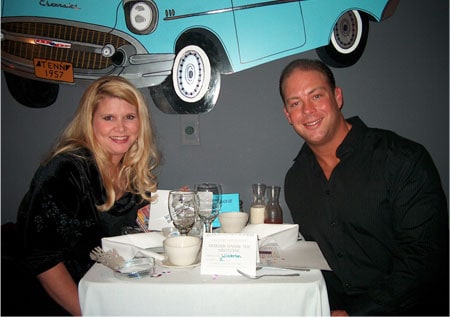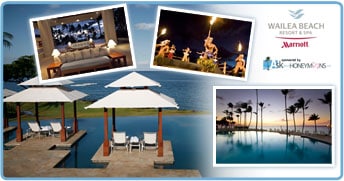 Their Engagement Story
It is hard to imagine that we have been dating now for six years, and that is where it all starts. Mark and I met online at Match.com. I would never have been brave enough to take a chance on it, but two very close friends met their husbands the same way. I took another chance when I "winked" at him online instead of waiting and hoping he would wink at me. He responded with a request to meet for a drink, and 6 hrs later we were still talking. Lucky for me, he was the first (and only) person I met online, it was truly meant to be.
Fast forward a couple of years and we are on a wonderful romantic vacation at Sandals Antigu. It had rained EVERY day and my luggage had been lost by the airline so I wore Marks clothes for 4 days! He had decided that if my luggage (with my dressy dress) did not come, and the rain did not stop, he was just going to postpone proposing to me for another time. Fortunately, when we woke up on the last day there, the sun was shining and my suitcase was waiting for me in the lobby. I had no idea he was proposing so when we were on our way to dinner, we were led to a romantic candlelight table on the beach. Mark said he was looking for a sign that this was truly the perfect time to ask me and behind my head he saw a shooting star, which unbeknownst to me was his very first time ever seeing a shooting star. He took this as the approval he needed from his dad who had passed away when he was 14. Before I knew it, he was down on one knee in the sand with the most beautiful ring I had ever seen asking me to marry him and telling me he had already asked my dad for my hand in marriage (what a Gentleman). It was the most romantic proposal a woman could ever ask for. Of course, I said YES!
Our wedding date is 11/11/11. We are both incredibly excited to be going to paradise (Maui, HI!) Thank you theweddingvendor.comand askabouthoneymoons.com! We will be giving you an update once we get back from our trip.
Missy and Mark
Ready to enter more Giveaways & Sweepstakes?
Check out the list of active giveaways, sweepstakes, and contests. Enter for your chance to win!