7 ways or ideas to pull off a white wedding theme with roses
The complete guide to using white roses for weddings
White has been associated with weddings and funerals since time immemorial and the traditional hues are pretty much in demand even in the present scenario. The color has been preserved well through the ages for the most significant events and celebrations of a person's life and never disappeared from the scene to its own credit. Right from the ancient Greece where brides used to wear white bridal dresses and carried white flowers (especially white rose petals) in their bouquets to the parts of China and Japan where it has always been a symbol of purity and innocence, to Africa where it used to be associated with deities and worship; white has been such a dominating traditional color everywhere.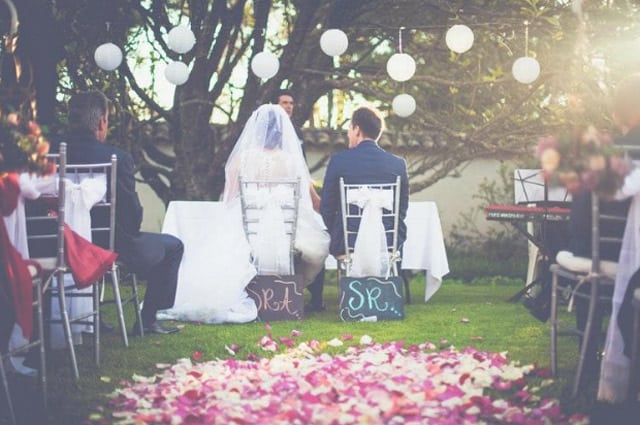 When you do walk into a floral shop for wedding décor, the sheer presence of white blossoms is nothing short of staggering and one of these include; the stunning white roses. The rose petals have always been favorites when you come to think of white weddings and due to popularity among brides, they are also known as bridal flowers. They were associated with Goddess Aphrodite in the Roman era and it is said that only when she pricked herself that the blood drop trickled down and made the petals red. In Christianity, they were associated with Virgin Mary (the Mystical Rose of Heaven). The flowers grew as a bridal trend when Queen Victoria carried them in her bridal bouquet in 1840 when she walked down the aisle.
They were also used to swear secrecy and played an integral part in the 'War Of The Roses'; fought in the 15th century in England.  
The meaning:
The white roses represent the young and innocent love of a bride for her man that she is about to accept as a life partner. The color also shows her loyalty towards her special one by expressing purity in emotions. Brides all over the world love the feeling of having crisp white roses in their wedding bouquets.
The white rose petals are perfect to lay the foundation of a lifelong love and to share a bond that unites two souls in a wedding arrangement. For newly formed relationships, it also brings the values of eternity on the table to make it even more perfect when it comes to weddings. The flowers are also quite popular to be given away on Valentine's Day to our beloved so as to convey them that you're going to stand your ground and support them no matter what happens in life. They can also be given to mentors, parents, grandparents, and teachers who have always been supportive and guided you throughout your life.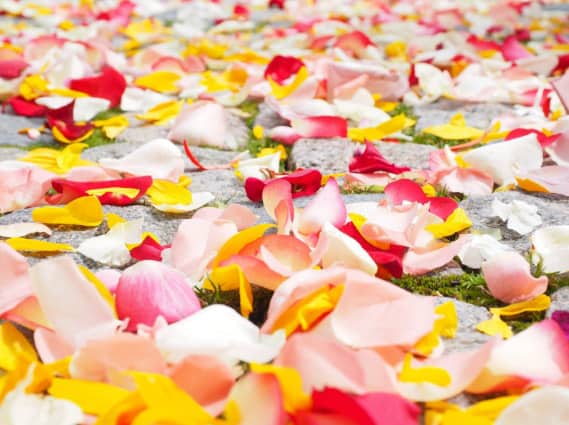 Are you too planning a traditional white wedding and need some inspiration in terms of white roses? Well, here are 7 ideas that you can surely use to get started:
1) His and Her chair:
The gorgeous David Austen 'Juliet Roses' go perfectly with white spray roses along with some greenery to complete the look for 'his and her chair'.  The light peach contrasts and textures perfectly with whites in decorating this arrangement which could be used for both outdoor garden weddings and even traditional ceremonies.
2) Escort card holders and seating arrangements:
The rose petals go perfectly with all sorts of wedding décor and floral arrangements and you can easily use them for showing the way around to your guests too. Decorate a garden themed wedding with extensive greens in between Garden Roses 'Vitality' and some candles to hold the cards showing the guests where they can be seated.
3) The Centerpieces
Use classic white roses and some cream accents with vintage stemware and gold vases or ornaments to make the perfect centerpieces for a white themed wedding. You can also add glass votives to the arrangement for maximum effect.
4) Staircase or ceremony décor:
The flowers can also be used to decorate ceremonies or even staircases (if your wedding venue has one). Use some greenery to accentuate the whole look and make the bride feel special or even surprise her when she walks down those stairs with the perfect traditional gown.
5) The boutonniere:
The crisp 'White O' Hara' or 'Cream Yves Piaget' can adorn your buttonholes perfectly when and all you're going to need is a single bloom to do the trick.
6) Wedding cakes décor:
The traditional white cakes are perfect for weddings but just for that extra touch that can be given by throwing a bunch of white roses in the mix. Wedding cakes do not have to be complicated but beautiful and tasty and the white rose petals perfectly fit the bill here.  
7) Bridal bouquets:
If you want a bridal bouquet full of white roses but do not like the heaviness that most of the rose varieties bring to the table, you can go with 'Jeanne Moreau' to have the perfect solution for the big day. The flowers are not only smaller but make lighter bouquets that are exceptionally simple and beautiful at the same time.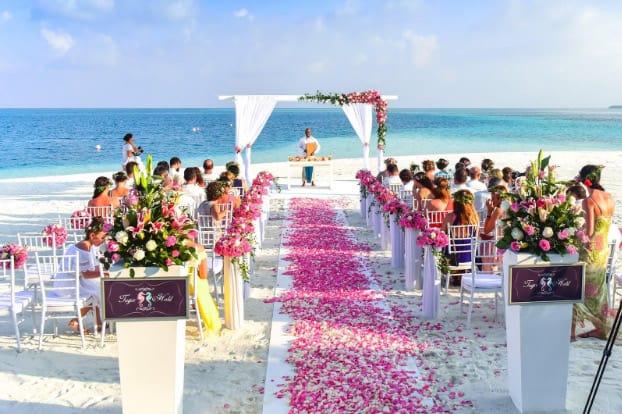 White roses could also be used to decorate aisles in the form of petals, ceremony altars, arches, and backdrops. They can be used in wreaths, necklaces, crowns and all sorts of arrangements that you can possibly think of. Irrespective of the theme or wedding style, the petals feature extensively in all sorts of wedding décor and floral arrangements and that too in an affordable budget. If you're wondering where can I buy roses (and that too especially if you don't have any floral shops around your locality), there are plenty of options in terms of some reputed online floral services like wholeblossoms.com to deliver them right at your doorstep.
Did you use the white roses in your wedding décor and floral arrangements or the other Best wholesale flowers worked better for you? What is your favorite wedding rose color? Please share your wedding story with us.
May the whites always be with you….   
Free Wedding
Giveaways + Sweepstakes
Enter sweepstakes & giveaways and enter to win a free honeymoon when you join. New winners are announced every week!