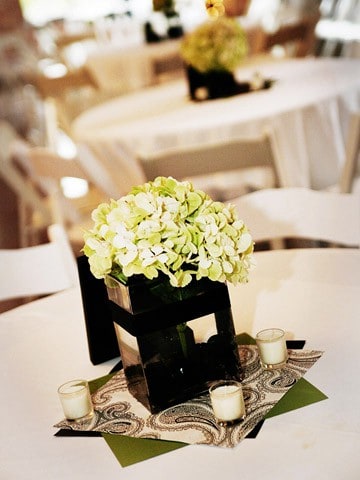 Looking to make your own wedding centerpieces and save some money?  Are you a DIY bride?  Take a look at these pretty centerpieces that are simple to make and very cost effective. Gather your friends and family to help create your own beautiful centerpieces! They can be made with any colors or flowers to suit your wedding theme. This centerpiece is made with a single stem of green hydrangea, black ribbon, and black rock. To really save some money, you can grow your own hydrangea or flowers and cut the stems a day or two before the wedding, depending on the season of your wedding and what you are able to grow in your area.
You will need the following to complete these wedding centerpieces:
-A glass vase any shape or size
-Colored ribbon
-Scrapbook Paper
-Rocks/Vase Filler if desired
-Flowers of your choice
-Tea lights to finish off the look!
Photo courtesy of Pinterest.com
Free Wedding
Giveaways + Sweepstakes
Enter sweepstakes & giveaways and enter to win a free honeymoon when you join. New winners are announced every week!