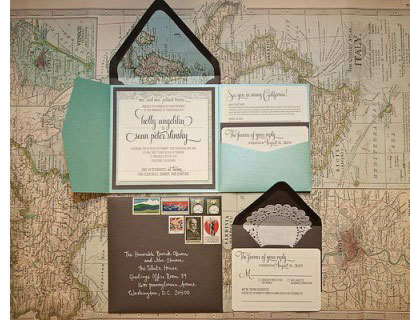 I've had a lot of questions lately on how to address your wedding envelopes when you aren't using an outer and inner envelope combination so I thought I'd put some information out here to help you all along.
I'm going to address a few of the most popular questions I have gotten lately.
Q: I'm using the most beautiful pocket invitations for my wedding. Do I need to use an inner and an outer envelope with them?
A: Typically No. Unless you have your heart set on inner and outer envelopes, I would recommend that you only use outer envelopes in this case. The pocket around your invitations really takes the place of the inner envelope. Also, pocket invitations are really heavy to start with. You will just be adding another layer of bulk if you add an inner envelope to the mix. You can always dress up your outer envelope by adding a patterned envelope liner or a metallic envelope liner to match your invitation colors.
Q: How will my guests know who is invited if I don't use an inner envelope?
A: Traditionally, the outer envelope was addresses to the guest using their formal name, for instance, Mr. and Mrs. Gerald Jones. The inner envelope was addressed using the informal names of the guests, for instance, Uncle Gerald and Aunt Denise. If children were invited they would also be added to the inner envelope. If you are not using the inner envelope, you simply address the outer envelope to whom the invitation is intended for. So, for instance if you are inviting Uncle Gerald, Aunt Denise and cousin Edward to the wedding you would address the outer envelope as such:
Mr. and Mrs. Gerald and Denise Jones and Edward
555 Some Street
Some City, Some State, 55555
Q: Will the outer envelope get destroyed in the mail?
A: Back in the days when our parents got married, envelopes might have gotten destroyed or very dirty when they went through the postal machines. Today… it still happens but not very often. The best way to ensure that your invitation makes it to your guests safely is to follow a few simple tips.
• Don't put anything sharp or breakable in an envelope. If you want to have a shell, starfish or any other breakable embellishment on your invitations use a box mailer. They are available from your stationer and they are designed to go through the mail. These types of embellishments often tear an envelope when they go through the postal machines, and often break.
• If you have a ribbon tied in a knot or a bow in your envelope you do risk the envelope ripping when it goes through the postal machines. Ask your local post office to hand cancel your envelopes for you. This will ensure that they don't go through the postal machines and get punctured.
• Ale you buy your postage and put the staways weigh your assembled invitation beformps on your envelopes. If your envelope is over the 1 oz. limit it will require additional postage, and if you send them without the additional postage they will either come back to you or be held at the local post office of your guests for pick up and they will be required to pay the additional postage in order to pick up the envelope.
• If you are at all unsure, ask your local post office representative and mail one to yourself to see how it fares in the mail.
Q: When should I use inner and outer envelopes?
A: This is a more complicated question these days. Traditional wedding etiquette says that you should always use inner and outer envelopes, so if you are having a very traditional wedding or one or both sets of your parents want you to use inner and outer envelopes go ahead and do so.
That being said…. Lots of modern couples don't want to use inner and outer envelopes. One of the main reasons is because many find it is a waste of paper and bad for the environment. When previous generations got married there weren't a lot of envelope options. They basically had a choice of white or ivory envelopes and they were sold in inner and outer envelope sets with the invitations they purchased. Now, you can choose from a gigantic array of matte or metallic colors, even patterned envelopes. You can choose from square flap envelopes, euro flap envelopes or pointed flap envelopes, and envelopes are available in a wide variety of weights. The thicker they are, the less need there is for an inner envelope and an outer envelope. Add in an envelope liner and your options are really endless. In general, a good rule is that if you are using more expensive thicker envelopes with or without a liner, an inner envelope isn't necessary. Also, if you are using a pocket invitation or a jacket invitation an inner envelope isn't necessary. If you are using a very thin envelope, and you find that you can see through the envelope when the invitation is in it, you might want to consider adding an outer envelope.
Article submitted by Renee Mauzey from Artzy Fartzy Invites.
Free Wedding
Giveaways + Sweepstakes
Enter sweepstakes & giveaways and enter to win a free honeymoon when you join. New winners are announced every week!