iPod vs. DJ vs. Live Band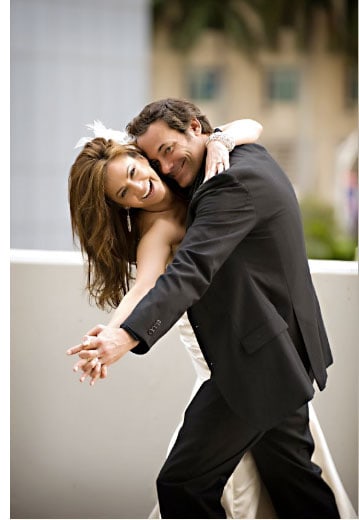 Can't decide on the music for your reception yet? Here's our opinion!
iPod : Using an iPod can be a great and cost effective alternative to hiring a DJ/Live Band. You get to pick all the songs, and in what order they play. This can be awesome if you have unique musical choices or you're just picky! iPods are especially good to use if you have a small reception and don't need/want anything extravagant. If you choose this route, make sure you have someone (family  member, friend) to "play" DJ for you. You don't want to add extra stress to your special day. Another thing to consider is that you need to get all the music that you want to play, and this might add up if you have to purchase numerous songs. The bright side of these purchases is you'll have a whole playlist to remind you of your wedding day! Another cost may be the stereo equipment if you don't already have this.
DJ: DJ's are a great compromise between an iPod and a Live Band and often what most couples choose. They can be funny, can liven up a crowd and really get people out onto the dance floor. They also can be your emcee when your bridal party is entering and interact with the crowd. DJ's know what songs to play and when and what gets the crowd going. There are also a ton of DJ's that aren't super expensive and may even offer basic packages that are in your price range if you are debating the iPod vs. a DJ. Make sure you go to at least one wedding your selected DJ is playing, you want to make sure they match the style of your reception.
Live Music: A Live Band brings much extra energy into your reception. Everyone knows that having a live music is a whole different experience than just hearing it coming out of an iPod. A band can interact with guests and serve as a DJ at the same time. Some bands will even offer a DJ with their services. Just like with a DJ, make sure you go listen to your possible band at an actual event/wedding. You need to hear how they sound and act to make sure they are exactly what you're looking for. Also, look over their current playlist and tell them everything you do not want to hear and ask what songs you can add to the list. The downside to a live band is obvious, the price.
A Fun Tip: On your RSVPs, put a line for a requested song. This way you know what the audience wants to hear and they'll get excited when their song comes on!
Article submitted by: Lorio-Ross Sterling Entertainment
Photo submitted by: Emindee Images
For a chance at winning some great free wedding stuff, check out our wedding contests!
Free Wedding
Giveaways + Sweepstakes
Enter sweepstakes & giveaways and enter to win a free honeymoon when you join. New winners are announced every week!