Ring Bearer & Flower Girl
{Tips for Including the Little Ones in Your Wedding Ceremony}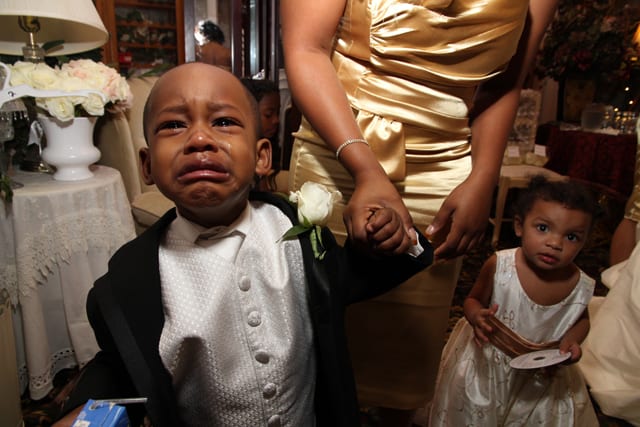 One of the wonderful things I get to do for work at Christian Wedding Planning Center, is look through wedding photos. I am forever getting choked up at the beautiful moments captured, and I am often learning just what to watch for in my own wedding planning. After a day spent reviewing photographs from weddings past, I was talking with my sweetheart about my favorite picture of the day: an image of a reluctant ring bearer. I love this photo, the little boy's tears are so honest and so sweet…what a memory captured! This picture got us talking, which got me thinking…
It is my philosophy that celebrations are like vacations. During your vacation the crying babies and last-minute scrambles feel as if they might ruin the trip…but when you look back years later you realize those moments make the memories unique. Everyone's sense of humor kicks in and those trials almost become highlights in retrospect.
Every bride wants the perfect wedding, where no one cries (except at the best part), and no one stumbles or bumbles a thing. But life is rich and beautiful in it's imperfection and kids are not miniature adults. They are amazing little beings who feel and express with their whole bodies, with no hesitation or filter for situations or etiquette. They are learning and growing and their little personalities come through in absolutely everything they do!
At a recent ceremony I was helping everyone line up for their entrance when the little flower girl, who I'd gone all gushy over when she was crashed out on the couch in the brides room, began crying. She had been awakened hastily and was very unhappy! What do you do in that situation? Here are some tips for working with your little ones at your event:
1. Plan for their personality to take hold. If they are excited, they will rush up the aisle no matter how much you coach them to walk slowly. If they are daddy's little girl who always does everything with attention and focus, they will be working so hard to get the steps right that they will take forever to get there. Know this is who they are and revel in how it will delight your guests, see it as 'things going right' not as a disaster… and get it on film!
2. Make your back-up plans at the rehearsal. What if the little one refuses to hold the flower basket your aunt decorated by hand for hours? Do you want to leave it behind at the guestbook table or have the maid of honor hold it? Do you need the pillow with the fake rings or can you leave it behind? Are you comfortable with a crying kid marching the aisle or would you rather have them absent? The same questions apply to your photos. Clearly I am a fan of the kid moments, but are you?
3. Have a contingency for mishaps by assuring someone walks between you and your little ones. At CWPC, we always recommend that the maid of honor and best man walk behind the little ones. This way they can keep them from stalling on the aisles or pick up a dropped pillow or basket. The last thing you want to do in your gorgeous gown at your stunning entrance is to have to bend over and pick up a dropped prop.
4. Assure your plan is what you really want. If you are not okay with all the little imperfections children bring, you may choose not to have small children in your wedding. Or you may compromise by having children in the wedding but not standing at the altar (they can instead sit in the audience with a loved one after walking down the aisle). That way they are not fidgeting or distracting attention from the more serious parts of your wedding ceremony. Quietly standing still for the length of a ceremony is a too much to ask of a small child, and even tough into preteen years. If you find the movements of a child distracting, keep in mind that it can be more noticeable on video or in photos and plan accordingly.
5. Inform your planner of your wishes: You don't want to have to keep track of all those details; you'll be busy feeling the magic of the moment. If you don't have a Day of Event Coordinator, choose a bridesmaid/family member/friend to be in charge of the details and assure your photographer is informed of your preferences. That way you can enjoy the moment and know that your entrance is all you imagine, your photos capture what you want, and the videographer doesn't zoom in on a moment you hate (or miss a moment you love).
6. Most importantly enjoy the moment! Rain or shine, it is a day for celebration and love. Bring your heart and don't worry! When the day arrives it is time to experience, connect, and enjoy, not time for stressing.
Article submitted by Heidi from The Christian Wedding Planning Center.
Free Wedding
Giveaways + Sweepstakes
Enter sweepstakes & giveaways and enter to win a free honeymoon when you join. New winners are announced every week!