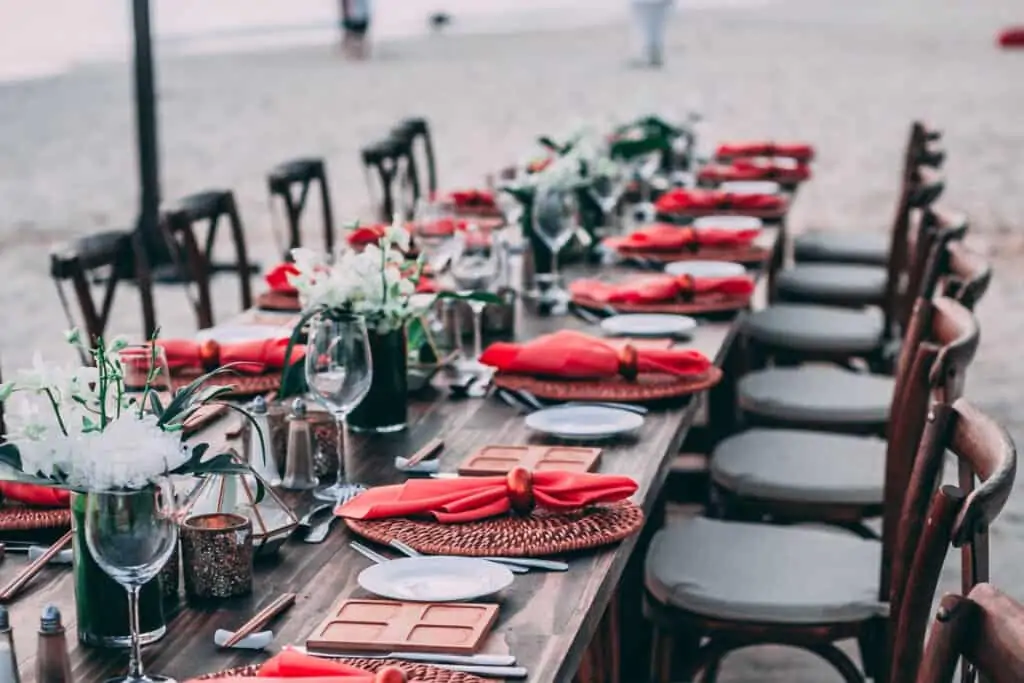 Besides being a life-changing event, planning for your wedding takes a lot of preparation, research, agreement from both partners on what to do, and obviously a budget that meets all financial requirements. Doing all of that can be both confusing and time-consuming at times. That's why we want to highlight an option that a lot of couples don't take into consideration when planning what their wedding should look like.
We're going to demonstrate some of the main reasons why hiring a wedding destination planner can make your life much easier and your marriage, especially the destination variety, more memorable.
Excellent Multi-Taskers
Before you even get to the stage where you can put your ideas in motion, you'll spend a lot of time going back and forth about what's better for your wedding event.
Some of these things include looking at the best destination you and your partner are comfortable with. You also want to sit with your future in-laws and ask for their advice. The same goes for asking your parents what they think should happen in your marriage.
At the end of the day, there are many things to do and not enough time to mull things over. That's why wedding destination planners can be excellent filters for your ideas. They specialize in handling different things and sorting out the relevant information from the fluff.
This allows them to offer ideas about everything ranging from the choice of chairs you want to buy to the kind of buffet that best suits the different times of the day.
The best part is they're able to do all these things at once, so if you find yourself with a big to-do list but cannot do everything at once, then you need to hire one of these professionals.
Access to a Network of People in the Industry
A good wedding planner has built a good reputation throughout the years. For example, a wedding planner can ask Caribbean party vendors in Riviera Maya about the best accommodation for couples looking to set up their wedding party near the bioluminescent beaches.
This attention to detail, coupled with the ability to acquire information that satisfies the criteria of a given wedding party, makes wedding planners invaluable. Thanks to their ability to connect with people from diverse backgrounds, you'll be able to achieve your exact goals.
Wedding planners' extensive people skills allow them to:
– Find good photographers for the big night
– Connect with travel agents quickly to discuss specifics about a location
– Get lucrative bids from vendors offering gifts, music players, makeup plans, and much more
So, as you can see, you can benefit from destination wedding planners and the social network they acquired over their careers.
Ensures Good Organization of the Wedding
This ties back to the first idea. Wedding planners are keen on meeting deadlines, ensuring what should happen first, and setting a schedule that can be modified to your needs. When it comes to having your priorities in order, you're going to spend time worrying about all kinds of details.
These details include the following:
– When to buy the wedding dress
– When to set an appointment with a travel agency
– When to start writing a list of guests that are going to attend
– When to sit down with the groom to talk about your ideas
These things have their own timeline, and setting a good date to pursue one of the above is not easy. Thankfully, wedding planners solve that problem by being veterans of the game and intuitively understanding what you should do in its proper order.
Keeps your Budget in Check
Weddings are expensive. That's a given, and what's even more expensive is making less than ideal choices regarding what you should buy and what quality.
Every wedding plan starts with extravagant images of the most expensive champagne in guests' hands, a white wedding dress that puts Snow White herself to shame, and a superb idea of what a buffet should include.
Understand that not all budgets are created equal. Your financial situation, and that of your partner, will dictate what your night will look like.
Add to that the costs of planning a wedding in a foreign location, never mind an exotic one, and you're suddenly left with a big price list and too many bills.
Destination wedding planners come to the rescue by offering sound, realistic recommendations about what you should buy and how expensive it should be.
The input they offer can range from focusing on buying the essential items first and ending with buying luxury items.
The human element can also greatly contribute to you going over budget. We're talking here about scammers, bad actors, and unreliable vendors who want to sell cheap items to naïve couples at premium prices.
Wedding planners are always on high alert when it comes to such schemes, or at least, good ones are. Make sure that you rely on them to figure out from whom you should get your stuff.
Takes Stress Off Your Back
Everything mentioned about what a wedding should be has a lot of responsibilities.
Life doesn't wait for anyone; the same is true for your wedding event. You and your partner will probably be busy working full-time jobs, dating, getting to know each other better, and figuring out your next steps.
If you add in the stress of planning for a marriage, it can become another full-time job in and of itself.
This is, again, where wedding planners shine, as they can shoulder a big share of the responsibilities for you. They can become mediators for your real-life obligations and your marriage goals.
Make Last Minute Changes
All plans are prone to going awry, and you want to always have a backup plan in place.
By hiring a wedding destination planner, you can have an easier time brainstorming ideas for catastrophic or unwanted scenarios that you would like to avoid.
For instance, maybe your in-laws are angry about your choice of having Salmon as a menu item instead of trout. You're in the middle of the night and are not sure where to get yourself trout to calm the tension.
Your wedding planner might already have foreseen something like that from the previous day when you discussed your in-laws' favorite foods, so they might be able to improvise something, like already having trout in store for you.
That was a mildly unpleasant situation. More mishaps might occur, such as not planning for a rainy day come wedding night.
Keep your wedding planner updated about your plans all the time because they're going to pull you out of trouble a lot.
Share What Other Successful Couples Have Done
Sharing stories of what other people did to make their marriage a success can be inspiring and enlightening.
Since wedding planners have seen it all, they develop better judgment about the flow of events you can follow to ensure that your wedding is unforgettable.
More importantly, if they have been to a lot of places around the world, like Riviera Maya, and have played a part in making destination weddings successful, they'll be more capable of offering suggestions about nice locations and the background story of the couples behind them.
Any great wedding is a combination of personal choices and outside input, and this is doubly true when asking other married couples about their experiences.
Simultaneously, you don't want to follow someone else's scenario to the exact point of having a memorable wedding night.
Do what makes your night unique and ensure there's a good storyteller in the form of a wedding destination planner around you to listen to.
In Conclusion
This was a pretty exhaustive list of the advantages that hiring a wedding destination planner has. Weddings are hectic events, and planning to make them happen is even more of a headache.
Since you want to leave something for yourselves and your future offspring to look back on, you need to make your marriage event as amazing as possible, and wedding destination planners were considered here for this exact reason.
In general, you want to have a balance between simplicity and complexity. Don't get bogged down in every detail that doesn't contribute to making your night great, and likewise, avoid the trap of being simplistic in your choices.
Moreover, wedding destination planners, for all the good they do, are not perfect. Invest in the time needed to find the exact professional that can meet all your needs without bleeding you dry or offering you irrelevant advice. Happy marriage plans!
Free Wedding
Giveaways + Sweepstakes
Enter sweepstakes & giveaways and enter to win a free honeymoon when you join. New winners are announced every week!