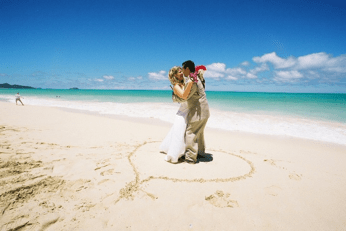 12 Months or more
• Create a wedding binder to keep all ideas, swatches, photos, correspondence, etc
• Set a budget
• Consider purchasing destination wedding insurance to protect your budget
• Compile a reasonable guest list but don't over invite assuming guests won't come because of travel. Invite anyone you want to have
present (budget permitting) and allow the guest to decide if they can or want to travel
• If you are getting married outside of the country, consider hiring a destination wedding planner or consultant who specializes in
destination wedding locations and weddings abroad
11 Months prior
• Set up a profile of the type of destination wedding your want
• Research, research, research locations before you book. Note distance from airport to hotel, weather, seasons, time of year (consider hurricanes) amenities, etc
• Settle on a wedding date
• Send out save the dates (optional)
• Verify marriage residency requirements
• Research travel and accommodation options for guests
• Consider visiting the destination location to be sure this is the spot for you
10 months prior
• Make destination wedding planning trip, if necessary
• Set up meetings with any stateside wedding professionals who may be traveling to your wedding locale
9 Months prior
• Start putting together any legal documents required to marry at the destination wedding location
• Make travel arrangements to the destination wedding site, if possible
• Book the lodging accommodations for wedding attendants
• Complete itinerary for tours or any other extra curricular activities for guests, if applicable
• Make your travel arrangements for the wedding
8 Months prior
• Register for gifts (optional, but gifts should be sent to the home of the bride before the wedding)
• Determine style, formality and colors for your wedding
• Consider style of stationery, invitations
7 Months prior
• Shop for dresses for destination weddings keeping the location, weather and location style in mind
• Choose and order bridesmaids and wedding dresses
• Order groom and groomsmen attire
• Shop for wedding rings
6 Months prior
• Make final selections on wedding cake baker, florists and decor, and transportation if necessary
• Work on ceremony details and buy any necessary items
• Finalize menu and wedding cake order
5 Months prior
• Purchase fiancé's gift (optional)
• Order wedding favors (optional)
• Buy gifts for wedding attendants and parents
4 Months prior
• Finish addressing wedding invitations and mail
3 Months prior
• Update your budget
• Review contracts again and familiarize yourself with arrival times, etc
2 Months prior
• Start creating seating charts
• Call guests who have not yet responded
1 Month prior
• Release any unnecessary rooms
• Finalize all wedding day itineraries
• Confirm travel arrangements with the hotel/resort
3 Weeks prior
• Send out emails to wedding vendors who have been contracted to finalize the details
3 Days prior
• Arrive at wedding destination
• Meet with banquet manager
• Go over details
• Bridal beauty – manicure, pedicure, etc.
The day of
• To get the most out of special destination weddings, relax, say "I DO", and live happily ever after!
Article submitted by Connie Castellano from Heart and Soul Evens.
Free Wedding
Giveaways + Sweepstakes
Enter sweepstakes & giveaways and enter to win a free honeymoon when you join. New winners are announced every week!