Shopping for your wedding dress can be so exhilarating. It can also become quite frustrating and stressful, especially if you don't know your budget up front or don't leave enough time to shop. These 11 wedding dress shopping tips can take the anxiety right out of the shopping experience and put you back in the driver's seat of choosing your own perfect wedding gown!
Tip #1: Set your budget FIRST.
If you know your gown budget – and here, try to set a range rather than a specific dollar figure – you won't waste time on dresses that are way out of your financial reach.
Tip #2: Start shopping the day of your engagement.
Okay, maybe you are celebrating that day and you want to wait until the day after your engagement. But the point is, the earlier you start shopping the more choices you will have and the more successful your search is likely to be.
Tip #3: Shop to the dress code.
If your faith requires certain standards or the venue has a dress code, it is best to be aware of this before you start shopping. As well, the time of day and venue for your wedding can indicate a more or less formal gown.
Tip #4: Do some preliminary research.
If you are like many brides today, you have already been imagining yourself in your own wedding dress. But you should still take the time to sit down and really do some preliminary research. Write down the features you like. Clip pictures of dresses that inspire you. Bring your "wedding dress book" with you as you shop, and keep clipping and taking notes as you go.
Tip #5: Make an appointment.
Most boutiques and shops that sell wedding dresses like to have an appointment in place – especially if you have your heart set on trying on a particular gown. Calling ahead saves everyone time and ensures the boutique will have a dedicated staff person to assist you.
Tip #6: Keep your mind and heart open to ideas.
This is your wedding day, after all, and you want every detail to be perfect. But sometimes "perfect" is hiding just where you least expect it – in a dress you are just sure will never work. So go ahead and try it on and just see….you never know what you may fall in love with!
Tip #7: Shop on weekday mornings.
Work schedules mean many brides have to shop evenings and weekends only. So shop the slow times if you can – and bring only one other person with you to keep the experience simple.
Tip #8: Shop for your current size.
If you are dead-set on hitting a certain number on the scale before the big day, wait to shop until you've hit that number….or shop for the size you are now and have alterations made closer-to.
Tip #9: Read the entire contract.
No one likes reading fine print, but when it is about your wedding dress and when it will arrive, its color and style, how alterations are made and when it will be ready, you want to read every word before you sign!
Tip #10: Shop with your accessories.
If you have already chosen accessories, bring them along….most especially your shoes.
Tip #11: Go with your gut.
There is a big difference between "yes I guess this one works" and "I LOVE it!!" So if your gut isn't leaping up and down, keep looking. You will know "the one" when you find it!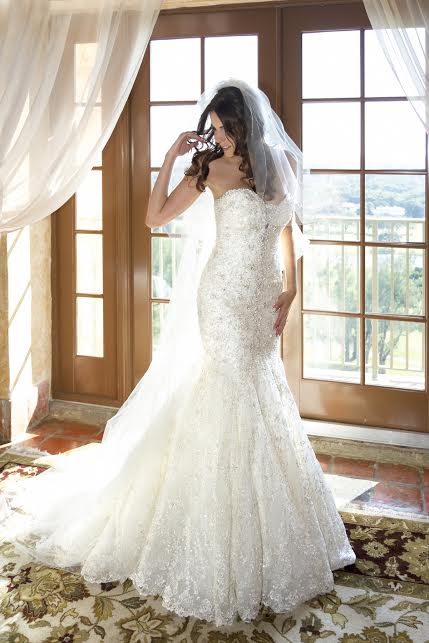 — —
Article written by Best Miami Weddings, the premier wedding and event planners in South Florida.
Free Wedding
Giveaways + Sweepstakes
Enter sweepstakes & giveaways and enter to win a free honeymoon when you join. New winners are announced every week!