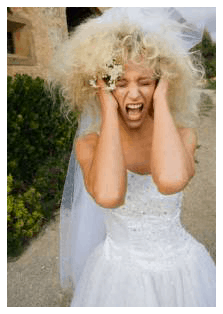 Ah Spring. Flowers growing, birds chirping, breezes blowing and…..brides screaming? It's that time of year again: Wedding Season. Unless you are Vince Vaughn or Vera Wang, you might get a little itchy at the mention of a wedding. Let's face it, taffeta in general is enough to give any bride the hives. But a newly engaged woman is a force to be reckoned with. Stress can be compounded and released in the most interesting ways imaginable from gaining weight and not fitting in your custom ordered dress (which was how I dealt with it) to breaking out in rashes when you see butter cream. How ever you deal with it is personal, but there are many things you can do to break the cycle of BRIDEZILLA!!!
One of the most important steps in planning a stress-free wedding is to hire a wedding planner. I know, I know, this may be an added cost to a wedding, but how much is your sanity worth? A wedding planner can hold your hand every step of the way, or just help you fill in the missing bits and pieces. Some wedding planners are fairly priced and earn their keep with constant communication and their years of experience in the wedding industry can equal big discounts to price- savvy brides. Especially when you book everything through one planner. So hit the gym or take dance lessons to combat stress. Your planner will handle it all for you.
Article Submitted By:
SARA MADIUK
ON BEHALF OF DENNIS MORRISON
JAM ENTERTAINMENT AND EVENTS
WWW.WEDDINGSBYJAM.COM
Free Wedding
Giveaways + Sweepstakes
Enter sweepstakes & giveaways and enter to win a free honeymoon when you join. New winners are announced every week!