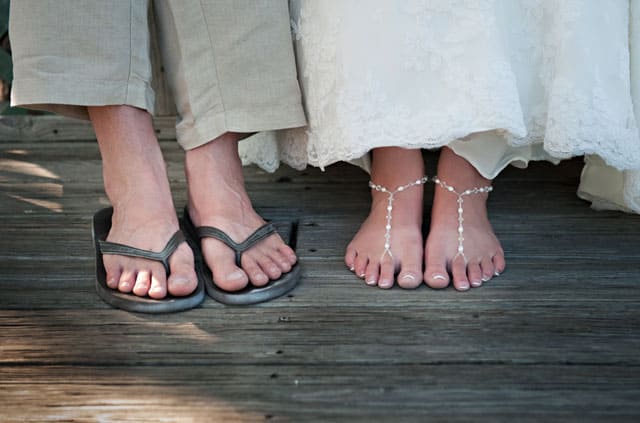 Thinking About a Destination Wedding? Some pros and cons to think about.
So you think you want to do a destination wedding? Well it is true that destination weddings end up saving couples thousands of dollars vs. a traditional wedding, but there are a lot of factors to consider before deciding if it's an option that is a good fit for you and your family. Here are some important pros and cons to think about before you say "Let's do it!"
Pros and Cons to Think About
Con: If you do decide to get married away, realize that you will not have as many people attend your wedding as you would for a traditional ceremony. (For some of you, this may be a "pro"!)
Pros: The most important people in your life usually will make the trip. Parents, best friends, siblings, uncles and aunts, and most grandparents (providing they are healthy enough for travel). You can also have a separate reception back at home if you want to include a majority of those who could not be at the wedding.
Con: Your guests and family will pay more to be at your wedding than a traditional wedding.
Pro: Although, some people you invite to your wedding may complain at first, a lot of your guests will be excited about the idea of going to the wedding and having a mini vacation! The average length of stay for most destination wedding guests is 4 nights.
Con: Sure the websites and brochures look fabulous, but do you really know what the resort or wedding area looks like? What if you're disappointed? Are the wedding coordinators good?
Pro: If you can afford it, the best way to solve this is to take a quick trip to the area and resort you are thinking about getting married at. You can usually meet with the wedding coordinator and get an idea of the type of service and value you will get there. Ask your destination wedding specialist if they can arrange a "try before you buy" trip at a reduced rate. Can't afford that? Ask your travel professional if they have worked with the resort before, and how their experience was. Also ask to see some real pictures of the resort and area.
Con: If you're a control freak, it may be hard for you to have a destination wedding. You will not be there to control and manage everything about your wedding day. You definitely have to be flexible and know that, like travel, this is an adventure.
Pro: Good quality resorts have great wedding coordinators that can handle all details. Your most difficult task is arriving, meeting with the coordinators and showing up for your perfectly executed and stress-free wedding. Again, work with a reputable resort recommended by a destination wedding specialist.
Con: What about all the food and drinks, won't I pay as much as I would for a traditional wedding after all?
Pros: If budget for food and beverages is a concern, make sure that you have your destination wedding at an all-inclusive resort. With the exception of a private reception for your wedding, the food and beverages for your guests during their stay is included. It really is quite economical for you and your guests to stay at an all-inclusive resort.
I hope this list of pros and cons will help you weigh your options for a destination wedding and make the best decision for you.
Article Submitted By:
Paradise Getaways
Photo Submitted by:
Emindee Images
Free Wedding
Giveaways + Sweepstakes
Enter sweepstakes & giveaways and enter to win a free honeymoon when you join. New winners are announced every week!