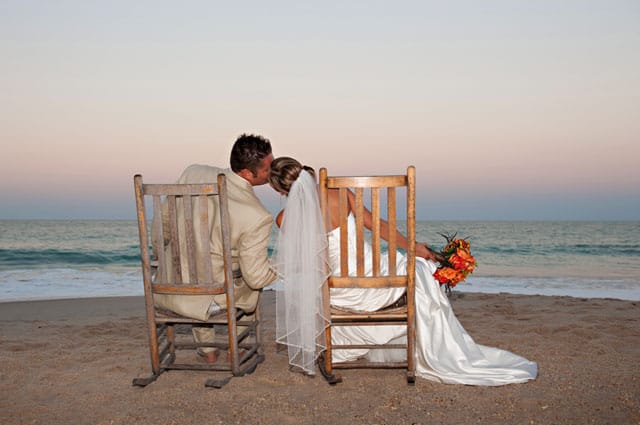 Are you planning to have your wedding on the beach? Here are some things to think about when thinking about beach weddings.
Things to think about and tips on how to address them:
Do you need a ceremony permit for that particular beach location? It is important to research the beach you are thinking about having your ceremony. You can go to the San Diego Parks and Recreation to see guidelines for popular beaches and parks at http://www.sandiego.gov/park-and-recreation/general-info/permits.shtml. For other cities, visit your local Parks and Recreation website for information. Even after looking through the guidelines, you will want to call and actually talk with somebody at the Parks & Recreation, because many times, one location on the beach will require a permit, where as other parts of that same beach may not. For example Carlsbad State Beach requires a permit. However, move a little further down away from the state park towards the housing, that is public beach with free and clear access and does not require a permit.
Coordinate your preferred time with the tide schedule. This may not seem important, but it is very important if you want to make sure you don't want your chairs, guests, and decor possible soaked with salt water during the ceremony. Buy a tide schedule calendar at a bookstore. This can give you best times a day where the tide is at it's farthest point. You may want a 5:30 pm wedding. However, depending on the time of the month, this may or may not be a good time to have a ceremony. When you get there, the tide will determine if there will be enough beach available for the ceremony, chairs, guests, and decor.
What kind of music do you want, if any? The best way to determine whether you have music and what would be best is first, take a trip down to the beach at the same time during the same tide level as you expect it to be on the day of your wedding. This can be determined looking through a Tide Calendar. Once you are down there, observe the level of noise. If the noise is at higher decibels than you expected, the question is "do you want music". If you do, you probably want to steer away from the "boom box". I know everyone wants to save money by using their iPod or there portable stereo. However, what good is the music, if you and your guests cannot hear it during the ceremony. Try researching for organists, pianists, or another musician who can bring their own portable sound system with them. It may be a little less expensive than you expect if you are just looking to have them produce the processional and recessional.
Picking your location. Many beaches will not allow you to reserve your location. If you are able to reserve a location, that is preferred for all vendors and for the sake of sanity for yourself. First come first serve can be very stressful. It usually requires someone getting up super early, heading to the beach to spend all day there blocking off the area needed for the ceremony including chairs/guests so nobody puts their beach towel down right in the middle of your preferred location. You actually need someone dedicated to doing this, or you will be taking a big chance showing up an hour and half prior to the ceremony. Who wants that stress? Tip is to pick a location that allows reservations. If the spot you want doesn't take reservations, try booking during a time (month) where beach goers are less frequent. If you must have dead middle of summer where the beaches are crowded, have someone get there at sunrise and tell them to bring a book.
Transporting your ceremony equipment and decor. Transporting your equipment and decor from a party rental company can be a little challenging for beach weddings. Usually there aren't loading docks readily available, and the time frame is rather short for pick up after the wedding. You might be finding yourself paying an extra $300 for one way to have a timed pick up on a Saturday. Tip: Have some family members not in the wedding party, help take the rental items to the location and scope out where you can unload prior to the wedding day.
Enjoy the scenery. Forget the hair-do. As we all know, beaches are windy and loud. Don't spend an extra $250 having an up-do done to your hair when it's just going to get blown away from the wind even before the ceremony starts. Think of using decor that such as plants or other greenery that are sturdy but add color to the wedding. Tulle can be desirable, but not recommended only because it may not look like you imagined when you arrive. Blame it on Mother Nature. Tip: Floral, plants, and bamboo can be nice strong decor that we know will not blow away. Stay away from the tulle, pew decor, and plastic urns.
Beach weddings are one of the most beautiful locations to compliment such a intimate event. Setting your expectations at the beginning and addressing some of the hiccups that might not be top of mind will allow for the rest of the wedding planning seamless. Follow our blog for more great information daily!
Article Submitted by:
White Weddings and Events
www.sdweddingsandevents.com
Photo Submitted by:
Emindee Images
Free Wedding
Giveaways + Sweepstakes
Enter sweepstakes & giveaways and enter to win a free honeymoon when you join. New winners are announced every week!