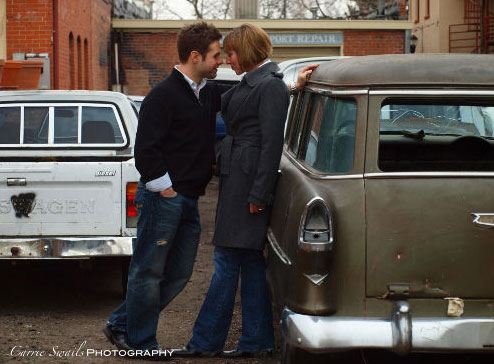 Ever looked at someone's wedding photos and thought that something about them was awkward, but you can't put your finger on what? The hardest part of being the bride and groom with the photographer is looking natural in your photos. Maybe that other person's photos looked weird because they were really posed and everyone is looking at the camera. Here's a couple tips to help you look your best on your big day!
1. Pretend the photographer isn't there. This is definitely easier said than done, but it's really the best advice. Every time you look out the corner of your eye the photographer is there taking your photo. Look away and get back to socializing. Your photos will look natural and your photographer will be able to take absolutely beautiful photos of you laughing and enjoying your night. These will provide the best memories down the line at your 50th anniversary.
2. Don't look directly in the photographer's lens. Even though our modern society favors photojournalism as the style for our weddings there are still grandmas, aunts, and uncles that really enjoy those posed photos. It's their one and only chance to get a shot with you looking your best on your big day. If you look at the other people you're in the photo with or look slightly above the photographer's head or possibly to the side of their head you won't have as much of a piercing stare in those posed photos and you'll look more natural. Almost as though you weren't trying to pose, but you were standing there chatting with each other or as if the photographer caught a happy moment of you and one of your relatives.
3. Have a great time and don't focus on the details on your big day! It's easy to pretend the photographer isn't there if you focus on the festivities and enjoying yourself. Focus on walking around and visiting all of your guests. If you are having a great time and you are relaxed you won't notice the photographer and he or she will be able to take great photojournalistic shots of the day. You'll end up with beautiful memories.
Relax, get a good night's sleep before – or as best you can if you're the worried bride – and have a great time the next day. Your photographs will look beautiful and your photographer will have no problem capturing you at your very best!
Article Submitted By:
Free Wedding
Giveaways + Sweepstakes
Enter sweepstakes & giveaways and enter to win a free honeymoon when you join. New winners are announced every week!