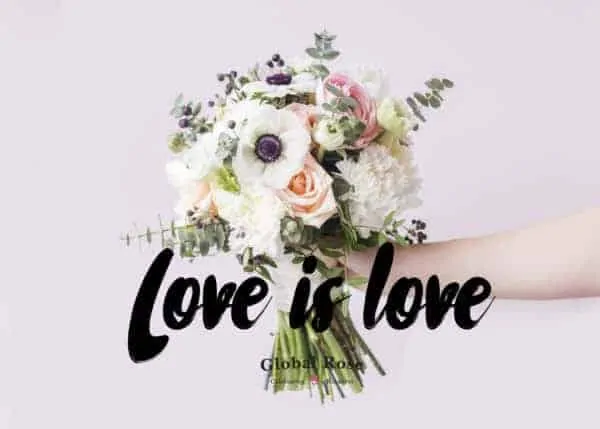 Congratulations on your engagement! Now it's time to plan the wedding of your dreams with some much needed help from flowers available at Globalrose.com.
GlobalRose is a team of floral professionals dedicated to cultivating and delivering fresh blooms directly from our eco-friendly greenhouses to your front door. Shaping emotions into boxes, bouquets and flower arrangements, we deliver fresh bundles of beauties all year round. We don't just deliver wedding flowers, we convey heartfelt emotions and bring joyful blooms to light up your event day. Our flowers are an expression of our love for nature and our commitment to celebrating kindness in all forms.
We've put together a list of our favorite wedding flowers that will fit every imaginable wedding venue and theme, even the most eccentric of styles. From modern to rustic, we've the best perennial classics and newcomers offered at affordable prices to fulfill all your wedding needs.
The beloved flower of every bride. They were initially made popular in bridal bouquets but thanks to low wholesale prices, you can now buy them in bulk and incorporate these beauties into every aspect of your décor. These luxurious, globular blooms with multiple layers of thin petals will exude decadence and style on your wedding day. Since they are so voluminous, you can design statement pieces with just a few stems. Save big by using peonies as accent flowers in arrangements or backdrops filled with greenery or other smaller blooms. Our wholesale peonies come in 9 stunning colors; 2 shades of coral, fuschia, off white, red as well as 4 various tones of pink including watermelon pink and light pink.
This fluffy, crowd favorite will make any arrangement from handheld bouquets to garlands and floral focal points even more interesting. With a plethora of colors to choose from, they will certainly take your designs to the next level. Match them to your wedding color palette by choosing from 9 natural colors and 20 different tinted hues. If you love the sophisticated look, consider the classic blue or white hydrangeas along the wedding aisle or for table centerpieces. To kick up the romantic vibe, pair some pink hydrangeas with eucalyptus leaves or cascading ferns for a bohemian spin. You will only need a few stems to create dramatic pops of color which makes them a great budget-friendly option.
Long, slender green stems with classic, trumpet-shaped flowers. A minimalist's dream come true! Calla lilies are also one of the most modern-looking options to match a cool and chic wedding theme. Buying these long stemmed flowers in bulk offers you the flexibility of using them in tall arrangements or bouquets. Although white calla lilies are the most common selection, we love the fun pops of color from orange, purple or pink lilies against an all-white wedding. Find up to 10 colors, 15 varieties of handheld bouquets as well as a selection of calla lily wedding centerpieces on Globalrose.com. It's impossible to go wrong with this classic flower.
Bold is sometimes better. A ranunculus flower is probably what you would get if a peony magically had a baby with a garden rose! These buttercup florets are totally stunning when in full bloom especially in beautiful, deep shades or subdued, pastel hues. Check out our wholesale ranunculus selection in 10 color varieties, available all year round. Thanks to the copious cascades of petals, they can be used to create large floral installations, flower arches or hanging chandeliers suspended over dining tables for an even more dramatic effect. It is no surprise that this charming bloom has become a wedding must-have for couples all over the country.
Roses
What's more romantic than a rose? Not much, really and that's why it is the quintessential wedding flower. Choose your favorite variety from hybrid tea roses, garden roses or get more bloom for your buck with spray roses. They come in a wonderful palette of colors from yellow, orange, red and even blue to more muted pastel shades and even crisp white tones. If traditional flower arrangements are not your style, you could incorporate fresh rose petals in a variety of colors instead. Besides scattering them on tabletops, these flower petals can also be used to brighten up drinks by freezing them in ice cubes. This is a cool and simple way to savor the beauty of roses while creating an even more memorable event.


Free Wedding
Giveaways + Sweepstakes
Enter sweepstakes & giveaways and enter to win a free honeymoon when you join. New winners are announced every week!