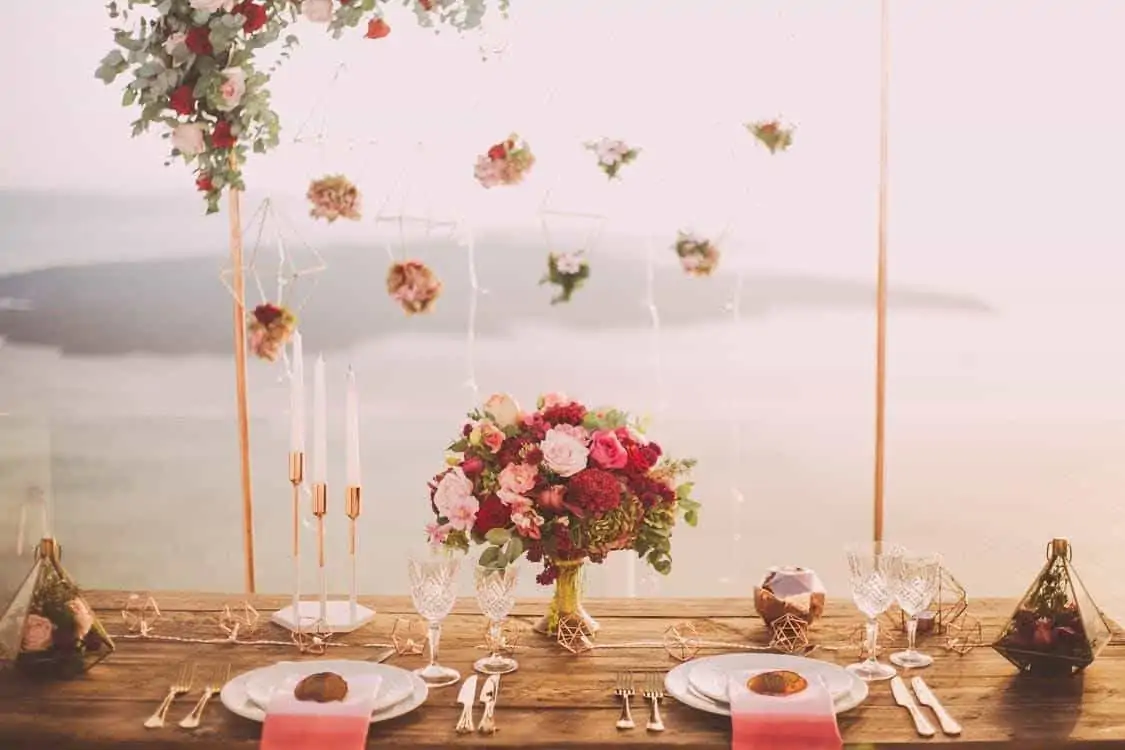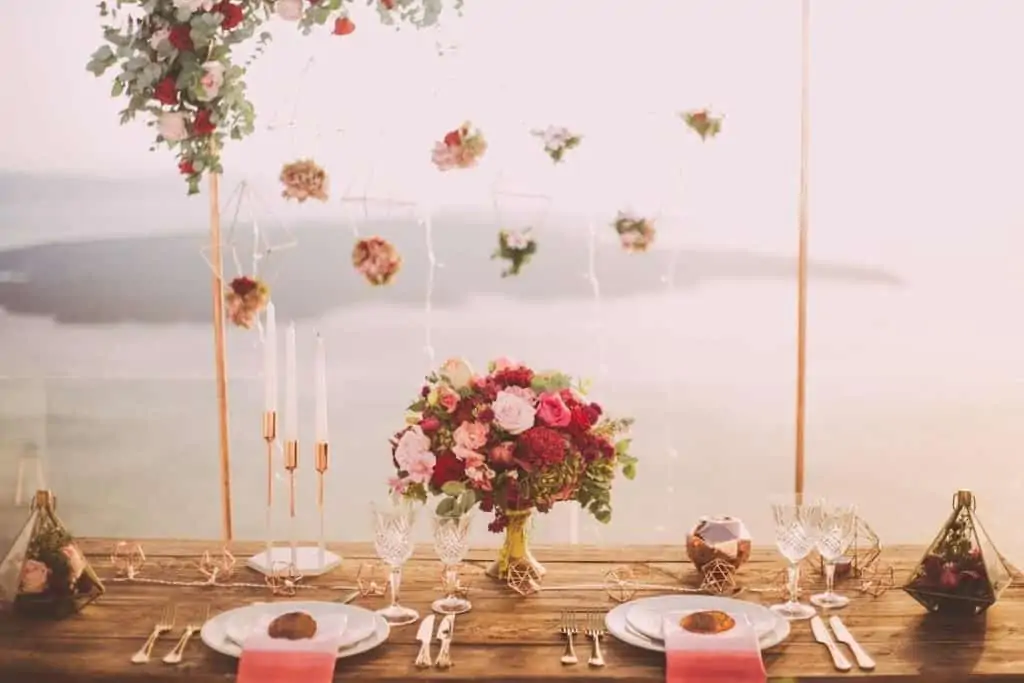 You cannot underestimate the importance of weddings. It is a ceremony in which you mark crucial love changes in your life. While some may opt to renew their vows, the first ceremony is always the most vital. For this reason, you may find newly engaged couples planning their wedding for months, if not years.
When the euphoria of getting the perfect engagement ring and c dies, there are many things to consider if you want to achieve the ideal wedding day. You ought to take time in choosing the right photographer, location, catering services, decorations, and music.
Choosing the right decorations for your wedding can be a daunting task. And if you want to wow your guests with a stunning scene, you will have to go the extra mile to ensure you select only the best.
For most people, wedding decorations may have no significant meaning. But the overall look and feel of the ceremony are dependent on the mood that the décor sets.
If you want to create a cohesive look for your wedding, you ought to factor in the right decorations to complement each other and create a new refreshing, and vibrant look. Besides your attire, the kind of decorations you will have at your wedding will significantly bring out your inner self. It is why most people will spend time researching wedding décor inspirations from Instagram, Pinterest, and many other sites.
Some people usually opt to have a wedding planner and ease the burden of planning. However, the cost of getting a wedding planner might have a significant impact on your wedding finances. Here are some of the best and budget-friendly decoration tips to have at your wedding in 2021.
Trends of Wedding Decorations
Cozy Lounge Seating Area
Gone are the days where wedding guests would sit at circular reception tables. Today, most people are incorporating a cozy lounge area where guests can achieve comfort at the reception. Besides, this trend has a way of making your reception appear more significant than it is.
Paper Lanterns
It is a lantern made of thin and brightly colored paper. Whatever color you choose at your wedding, you can spice things up with matching paper lanterns. Besides, paper lanterns help in drawing attention to a specific area at your wedding's reception.
Fabric Decorations
In 2021, don't underestimate the power of any fabric. If you want to add class and elegance at your wedding, you should consider draping fabric decorations. Besides, when you combine fabric decorations with paper lanterns, balloons, and the perfect lighting, the whole scene becomes magical.
There is no limit to where you can hang fabric décor. For instance, you can have it at the head table, walls, and reception entrance. You can also add them to your reception ceilings to give a hint of glamour. You can experiment with any color of your choice!
Lighting
There are brilliant ways to play around with the lighting at your wedding. Unlike having elegant flower decorations, transforming the lighting is a creative way to bring more life to the reception.
For instance, if you want to create a unique atmosphere, you should consider lowering the lighting. You can achieve this by reducing the chandeliers' height to where they hang just above the reception tables.
You can float candles in glasses of water, light up sculptures or trees, have a canopy of lights, or color-wash your reception walls.
With the above wedding decoration trends, how do you ensure you choose the right décor for your big day? Here are a few brilliant ways.
Personal Style and Taste
Despite giving the ceremony a lot of attention, you must take time to consider the gist of the occasion – the exchange of vows and rings. Ensure that you get the quality jewelry that will complement the engagement ring from Allurez custom engagement rings. You can also choose to get the wedding ring from this magnificent jewelry store. It may seem like an insignificant factor, but its elegance should come a close second to the bridal gown.
If you want to be genuinely happy about your wedding, it would be best to stick and work with your style. When working with a wedding planner, you should also ensure that they know your class and preferences to learn what ideas to incorporate.
Other people who will get involved in your weddings, such as photographers, caterers, and family members, are also more likely to suggest their ideas and opinions. Nonetheless, the final decision will depend on what you like and how you want your day to be.
Cost
Your budget has significant impacts on the kind of wedding you will have. If you want to achieve an elegant and luxurious wedding, you should save for this big day. Make a plan and weigh your options on which items and services you can forego or compromise. It will help you in maintaining a workable budget.
When choosing the perfect decorations for your wedding, you have to factor in cost. Though some couples opt to DIY most of their decorations which is an excellent way of saving money, there are some decorations costs you cannot escape.
For instance, you cannot skimp on planning and delivery costs unless you have someone willing to do the job at zero fees. To budget for your decorations effectively, the best thing to do is prioritize what pieces you want. There is no need to have a long checklist of items that you don't necessarily want. Besides, this can save you time in getting everything organized.
Location and Venue
Another vital thing to consider when selecting your wedding decorations is your big day's location and specific venue. Different locations and venues will require a different set of decorations. For instance, if you choose to have your wedding on the beach, you will have various decorations from a garden wedding.
Beach-themed decorations may include having shell decors, palms, free fans, shoe valet, beach bouquets, and other ocean-inspired sets. A garden wedding is without question one of the best places to host a wedding. You may need décors such as haystack seating, tree trunk displays, and barrel décor to introduce a rustic and natural feel to the wedding.
Select According to Season
While most people prefer to have summer weddings, others opt for winter ones. Of course, with a summer wedding, you will have a range of options from which you can choose: the colors, wedding attire, venues, and food to the kind of decorations you will have.
If you plan to have a summer wedding, you have to consider what color schemes to go with and choose the right decorations. For instance, nothing says summer like orange and yellow colors! You can have blue-colored glasses on all reception tables to match a clear sky. You can find inspiration from the trees and go with other colors such as gold.
If you opt for a winter wedding, you will also have an endless list of decorations. For instance, you can have a snowy gazebo, peppermint treats, hot chocolate bars, dancing snowflakes, or an ice sculpture. To top it all, you may not have to pay for decorations as most venues may be having Christmas decorations.
Remain Flexible with the Decorations
While it's crucial to know your wedding's exact decorations, you should remain open-minded and flexible. It means not being too rigid about a particular décor while achieving your overall look with another item.
This option gives you a chance to have a few mandatory décor pieces while also experimenting with other similar options. Surprisingly, changing a few decorations can help you achieve an even better and authentic look.
To remain flexible, you should have a list of all possible decorations you can have. It would be best if you had alternative options for every decoration item on your list. For instance, if you have a specific decoration color palette, say white and blue, you can opt for gray and white. You will feel less obligated to have your decorations match correctly, leading to anxiety if they don't.
Go with the Essentials
Another great way to choose the perfect wedding decorations, go with the essentials! Doing so can help you avoid getting overwhelmed while reviewing the list you have. If you are not sure of the essential decorations, no need to worry: this is why you have a wedding planner.
They have vast knowledge and experience, and they know the essential decorations a wedding must-have. They may include all functional items such as reception tables and chairs, lighting, and escort cards, to mention a few.
Next are the decorations that do not have a functional purpose, but they are vital. Such include tablecloths, menu cards, table numbers, welcome sign, ceremony arch, vow books, confetti in baskets, and aisle decorations.
When selecting the essential decorations, you can factor in pricing. Ensure that you compare prices and go with what you can afford. You can also choose decorations according to availability. Ensure you select what you must have at your wedding!
Planning and organizing the perfect wedding is easier said than done. At one point, you may think you have everything in the right place, only for something else to go haywire. Therefore, when planning for your perfect wedding, always stay woke! Ensure that you look into all the nitty-gritty details without any assumptions. And with the above tips, you can easily select the right decorations.
Free Wedding
Giveaways + Sweepstakes
Enter sweepstakes & giveaways and enter to win a free honeymoon when you join. New winners are announced every week!