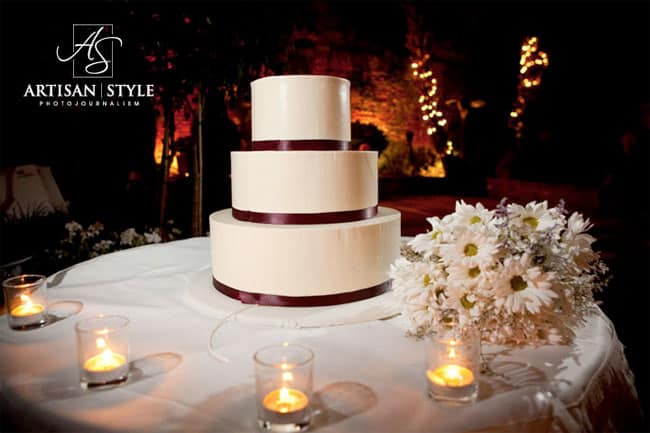 In tough times, I have seen brides take on more do-it-yourself projects and cuts costs where they typically would not. I was recently involved in coordinating a "wedding-day" only event for a couple who were students and trying to plan a wedding on less than $8,000.
As we all know, catering and alcohol are probably going to eat up a large chunk of your funds.  Their approach was to buy all of their food the week before, cook the majority the a few days before the wedding and enlist family members to heat and serve the food the day of their wedding.
In theory, this sounded like a great idea to provide a meal for 100 guests at about $10 pp. In reality, it was a lot harder than anticipated, and I want to offer a few suggestions to any couple out there looking to save money by doing something similar.
My first suggestion is to hire professionals, (even if you are making all the food yourselves), so everyone has a great time at your wedding. Grandma may want to make traditional wedding soup, but she's going to feel left out of the celebration if she's stirring a crock pot on a stove, instead of watching your first dance.  Start with a temp agency that specializes in event catering.  You will need about one server per two tables for a plated meal, and fewer for a buffet/station. Prices will range from about $22-$30 a server per hour, which may be far less than contracting a caterer.  In my experience, the price per server is actually less if there is someone on hand, like a wedding coordinator, to direct temp staff.
If you are going to enlist family or friends, make sure they know their exact role ahead of time.  The best thing to do would be to go over everyone's responsibilities and hand them a timeline for the day of the wedding.  It may sound weird, but make them understand that they are wedding guests second, not first.  Here are some tips:
There needs to be access to a kitchen or prep area close by and out of the way of the reception area.

Divide your helpers into three sections; those who stay in the kitchen to heat the food and load up platters, those who are food runners, and those who are arranging the food on buffet tables, and/or serving the food onto plates.

Order extra plates from the rental company, or guests who are coming up for seconds, will not think to bring their original plate with them. You will go through all of your plates before everyone is fed.

Your runners/kitchen staff are not off the hook once your guests are served. After your guests eat, all those plates will need to be collected, scraped and placed back into the carrying cases from the rental company.  Most rental companies require that their property is at least rinsed before being returned, or you may be penalized.

Without a doubt, the experience a caterer has in properly transporting, heating and serving your guests is well worth the money.
Article Submitted By:
Jocelyn Dunn
Dunn Wedding Design
www.dunnweddings.com
Photograph Taken By:
www.artisanstylephoto.com
Free Wedding
Giveaways + Sweepstakes
Enter sweepstakes & giveaways and enter to win a free honeymoon when you join. New winners are announced every week!