Creative Ways to Incorporate Something Blue Into Your Bridal Look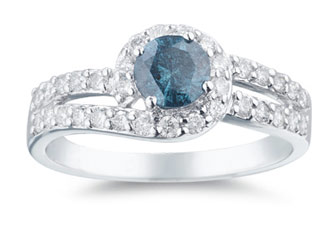 You know the classic rhyme: "Something old, something new; something borrowed, something blue." But do you know how you're going to work the last line of this little poem into your bridal look? If a blue garter seems too cliché, try one of these creative ideas for adding something blue on your wedding day.
Add blue to your 'do. A blue ribbon can be elegantly woven into a braid, or used to cover a hair elastic.
Accent your eyes with blue makeup. Blue mascara can provide a subtle touch of color or one that's more dramatic, depending on how you wear it. The same thing goes for blue eyeliner and eye shadow: they can create looks that are subtle or that stand out, allowing you to interpret "something blue" in a way that suits your nautral beauty and your personality.
Wear a piece of blue gemstone jewelry. Gems such as sapphire, blue diamonds, aquamarine and blue topaz are glamorous picks for wedding jewelry, and pieces that feature them can be wearable reminders of your big day for many years to come. Each of these stones can serve as a less-than-traditional but unquestionably glamorous focal point of an engagement ring, but if the ring that's on your left hand features a diamond, try one of these stones on your right hand, around your neck or in your ears. Online jewelry retailer ApplesofGold.com carries a wide range of blue gemstone jewelry for the wedding day and beyond.
Give your dress a pop of color. Admittedly, adding color to a wedding gown isn't for every bride, but a touch of blue embroidery, a blue sash or a bit of blue lace can render a wedding dress truly unforgettable. If you like the idea of adding blue to your gown, but would prefer a more subtle approach, try sewing a blue bow under the hemline. Regardless of whether you want to go bold or subtle, be sure to enlist the help of a skilled seamstress unless you're more than a little handy with a needle and thread.
Sport a blue pedicure. Soft, light blue nail polish can add a sweet and contemporary touch to your toes, while a dark blue shade can create a look that's bold and sophisticated. If you'd rather not paint your toenails completely blue, try incorporating blue polish into a French manicure for an unexpected update or adorning one toe per foot with a delicate design. Show off your pedicure with strappy shoes or keep it hidden to keep wedding guests wondering.
Carry blue flowers. Blossoms such as hydrangea, forget-me-knots or grape hyacinth can add indigo beauty to your bouquet.
Add blue to your wedding rings. Even wedding bands can provide a touch of blue! For instance, blue titanium styles adorn an incredibly strong metal with colorful inlays that instantly catch eyes, not only on the wedding day, but for every day to follow.
There are more than just a few ways to work something blue into your look for the big day! Try one of these creative ideas for a pop of blue that's far from cliché.
Free Wedding
Giveaways + Sweepstakes
Enter sweepstakes & giveaways and enter to win a free honeymoon when you join. New winners are announced every week!