Here are some ideas on how to make your first wedding dance, well, maybe not perfect,  but pretty decent.
First:  Give your self enough time to learn how to dance. Dancing isn't something you can do in a crash course. It's not a long list to memorize before the test in the morning.  If you want your dance to look good, you need to dance good.
The majority of wedding songs are ballads or slow dance. Dancing to a ballad is not so difficult. With the right amount of practice and time you can look like a dancer. Usually 4 to 6 lessons will have you dancing nicely to a ballad. If you pick a more difficult type of song, and want to do some elaborate choreography, then you need more time.
Second:  Practice. You need to practice what you are taught in the lesson. Too many couples take a private one week, return the following week, and have forgotten what they were taught. Now we have to review past material, instead of progressing on to new things.  So, make sure you put some time aside to practice. It's a good idea to practice what you have just learned in the private as soon as possible. If you wait a few days, you will forget a lot of it. Just 15 to 20 minutes of review, will make a big difference. You also don't always need to practice as a couple. You can and should practice solo. So, if you have trouble finding time to practice together, it's not an excuse not to practice. The leader or man's part in the dance is more difficult, and he usually needs more practice time than the woman.
This brings us to our third point. Since the leader's role is more difficult, he may want to take a few extra lessons with out the bride to perfect his lead. This is usually a good idea.
Fourth:  Choose a song that is danceable. If you have trouble finding the beat in your song, it's most likely not a great choice. If you are undecided about what song to choose, ask your dance teacher. They have probably taught hundreds of first wedding dances, and will know what works well.
Fifth: This is a partnership. It's only going to work if both of you are into it. A reluctant groom who just shows up and gives 50% makes thing difficult. By the same token, if one of you has some dance experience, but the other doesn't, be patient. Everyone learns at his own pace. I recently had a bride who was dancing since she was a little girl. The whole nine yards: tap, ballet, jazz, was a cheerleader. Her groom had no experience. She wanted to do a show stopping routine, with lifts and everything. Her groom had trouble keeping a beat. They had to get less ambitious. Again, it's a partnership. Like marriage, it only works if both are committed and willing to work with your partner's strengths and weaknesses.
Article submitted by Dance Fever Studios Brooklyn, NY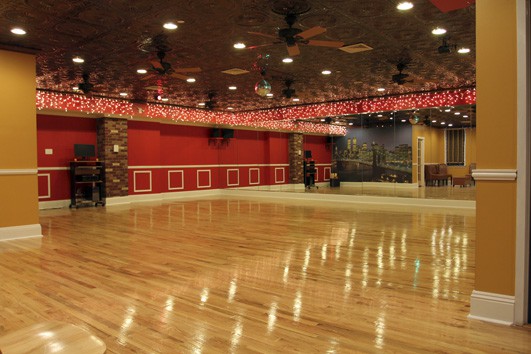 Dance Fever Studios Park Slope Location
Free Wedding
Giveaways + Sweepstakes
Enter sweepstakes & giveaways and enter to win a free honeymoon when you join. New winners are announced every week!