Fall for it!….5 Fall Wedding Favors You'll Love
Fall is the most beautiful time of the year in my opinion.
For me, who's skin is so pasty that it's almost translucent (You need the Pokemon Go app to see me in direct sunlight) it's never too early to start thinking about Fall.
And for those that managed to get their men to agree to a Fall wedding (best of luck getting them off the lake and out of the tree stands on time), now is the perfect time to start getting your Fall Wedding Favors ordered (and stay out of that "Heat Dome" and inside an AC cocoon, ahhhhhh).
You could, spend your entire weekend driving in traffic, going from home goods store to home goods store, asking clerks to check in the back for Fall themed wedding favors. (I'd rather wear a wool sweater and run a marathon in the "Heat Dome")
OR….
You could grab your favorite beverage, sit in the shade or in the AC, and  hop on your computer and have page after page of perfectly themed Fall Wedding Favors by clicking here: 
Personalized 10 oz Glass Mug with Handle:
How much do I love Fall?
A latte.
And your guests will too every time they fill these personalized mugs with coffee, tea, hot chocolate or any of their favorite beverages.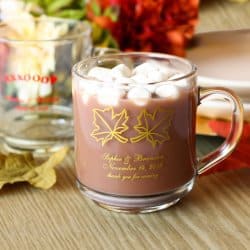 Gold Dipped Ceramic Acorn Measuring Spoons:
What is the cutest month?
Awwwwtum…..
Your guests will be cooing with these adorable ceramic acorn measuring spoons.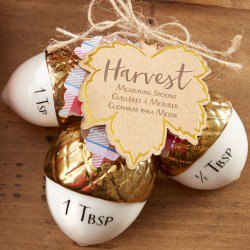 Your guests will shower you with praise for these adorable and perfectly themed personalized leaf soap favors.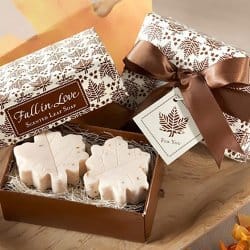 Turn over a new leaf, every time you turn the page, with these Turning Leaves Bookmarks.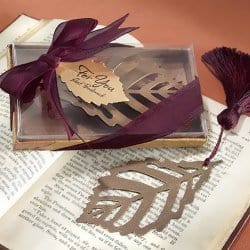 Personalized Wedding Themed Mason Jars:
Preserve the memory of this day forever with these captivating personalized Mason Jars.
Personalized Wedding Life Saver:
Is there a more charming theme for an Autumn wedding than "Falling in Love"?  Not that I can think of.
(If you can think of something better, there is an opening at Wedding Vibe for a blog writer….)
These Personalized Wedding Life Savers are perfectly charming for a Fall Wedding, and they will help freshen even the pumpkin spiciest of breaths….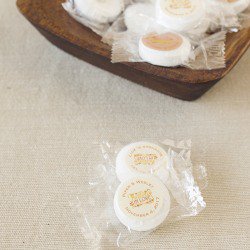 Stay cool, and to see a huge collection of Wedding Favors for all themes, click here:

Free Wedding
Giveaways + Sweepstakes
Enter sweepstakes & giveaways and enter to win a free honeymoon when you join. New winners are announced every week!