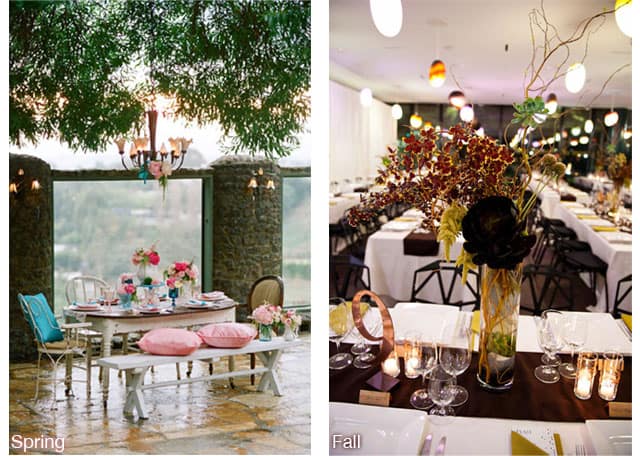 Each season has a certain color scheme, but this year has some fun new trends for spring and fall weddings! This spring is pulling out the bright, tropical colors that really make weddings pop with excitement. Colors such at apple green, lilac, and a classic slate grey are a definite trendy combination for this spring's brides. Also a hot pink, celadon, and coral will definitely brighten up the mood of any wedding giving a numerous amount of options for a beautiful, vividly colored bouquet. The tropical bridesmaid dresses of this season will look amazing against a nice spring tan. These fresh mixtures of springtime colors combine perfectly with a light, delicious, thirst-quenching beverage served to the guests.
The fall will then welcome back darker, more soulful colors during the autumn season weddings. A mocha, dark tangerine, and myrtle green will be a promising trio during this upcoming fall season in order to present a cozier atmosphere wedding, while still being elegant and trendy. Also, even a pear, oyster, and dark charcoal grey would be a nice classy choice to transition from summer into fall months. The winter will be similar to the dark, tasteful colors of fall, as well as being able to incorporate the always-favored brick red color just in time for the holidays.
Article Submitted By:
Lauren Melby
www.SomeLikeItClassic.com
Free Wedding
Giveaways + Sweepstakes
Enter sweepstakes & giveaways and enter to win a free honeymoon when you join. New winners are announced every week!