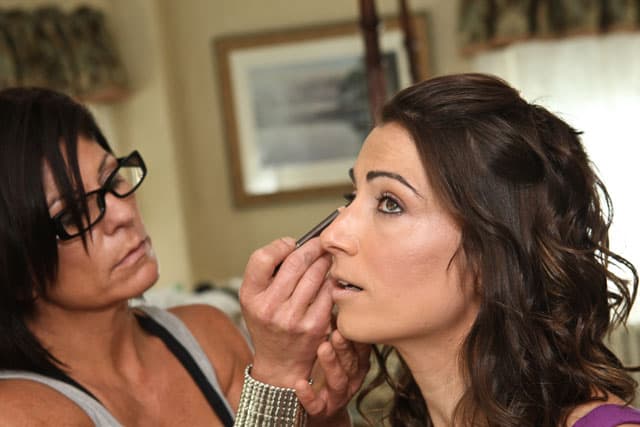 Hiring a wedding day makeup artist means one less thing to think about. The following tips will help ensure that you get the results you want.
When it comes to weddings, makeup artists are among the most sought-after professionals. Your wedding day will be immortalized in photos for a lifetime, and it's important to look your best.
How to choose an artist?
Ask to See a Portfolio
Makeup artists who have been working for a long time will likely have a portfolio for you to peruse or a professional website. A portfolio should be impressive, as it is demonstrating the artist's finest work. When browsing the makeup artist's portfolio, pay attention to the details. Does everyone seem to be wearing the same look? Does he or she have experience working on a variety of skin tones? Do the people in the photos look polished and complete?
If the makeup artist is just starting out, don't worry. They may have snapshots of family or friends they have made up to show you instead. Often, makeup artists without a portfolio will charge you less if you agree to give them some copies of your professional photos after the big day. This helps them start a portfolio to show prospective customers.
Either way, make sure you ask for references, and then follow through by calling them. Don't just ask about the makeup. Make sure to ask about the artist's timeliness, ability to work under pressure, how they worked with everyone in the bridal party, and if that individual would hire them again. Also, ask how they were referred to the makeup artist. If they were referred from another bride, it is always a good sign.
Remember, bridal makeup for photography requires different rules than makeup for every day. Confirm that your makeup artist is someone who is used to doing makeup for weddings or on camera.
Bridal Makeup Trial Run
When budgets are strapped, extra expenses like a makeup trial run can be the first thing off the list. If you are doing a trial run for your hair, then schedule one for your makeup as well, and on the same day if possible. This will put you at ease, ensuring the vision you had for your wedding day makeup will come to life on your special day. Trial makeup appointments are often built in to the price of the service, and usually require a deposit up front. Some makeup artists charge a fee for each appointment. Each business is run differently, and the terms of your agreement should be written out in a contract before any money changes hands.
Bring Photos
You know what you want to look like, but even more so, you know what you do not want to look like on your wedding day. When meeting with your makeup artist for the first time, bring photos and inspiration pictures. Take with you clippings from magazines, but also bring along a photo of yourself that you really like. Bring photos and clippings that show makeup you do not like.
Photos are important because they communicate in a way our words cannot. Everyone perceives color and texture differently. A photo will show the artist what you perceive and vice versa. If "earth tones" to you means soft browns and warm coppers, a photo will help clarify that you don't mean "parrot blue" or "moss green". Photos eliminate guesswork, and that means eliminating room for errors, as well.
Speak Your Mind
While your wedding makeup artist is the professional and they will guide you to making the right decisions, they are also there to service you. If the end result of a look is something you are not comfortable with, let the artist know. Makeup washes off and is easily fixed. The makeup artist wants you to be happy on your wedding day, and will not be offended if you speak up. Communication is a two-way street, so do your part to let them know what it is you like and what it is you would like changed.
Article Submitted By:
Louise Martino
Makeup Artist
www.facesboston.com
Free Wedding
Giveaways + Sweepstakes
Enter sweepstakes & giveaways and enter to win a free honeymoon when you join. New winners are announced every week!