Full Service Invitation Suites -To Be or Not to Be Your Own Designer?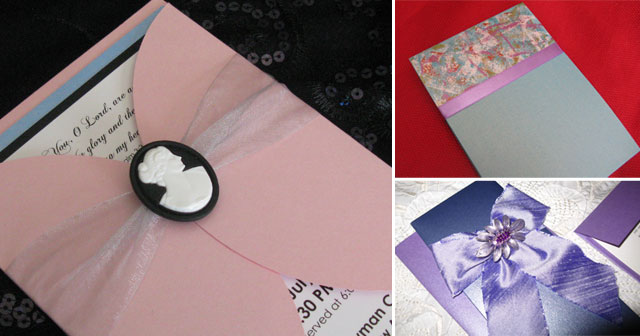 If you're like me you are very creative and passionate about all things paper.  You enjoy receiving hand written notes and gorgeous invitations.  For me, paper is essential to my everyday life; especially paper with beautiful colors, textures, patterns and of course the bling, anything that screams, "I'm fabulous, darling."  However, if you're like most people you wouldn't know where to begin in order to design an invitation suite.  After all, it's the most important piece that will determine the tone and anticipation for your event; it's the divide…will your guests be as excited as you are when they receive your invite or will they politely snub you because there's nothing in your presentation that provokes their curiosity and final "Yes" commitment.
2011 promises to be a more prosperous and careful year and with that, smarter and more informed consumers are emerging.  They'll have to choose items from Kleenex tissue, designer dishes to an eco-friendly car to a new home.  To make my own invitations or hire a designer that is the question.  When appropriate, I'm all for designing your own digs.  But when it's clear that you are in too deep before you can finish one sample then you should get help!  For the sake of time, let's outline two of your options:
Designing your own invitations will put you in full creative charge.  You know what you want and you aim to deliver.  Hiring a designer puts you at the wheel but you must depend on them to capture your ideas just the way you imagined them.  Let's look at cost estimates for both under takings.  Unless you're able to buy a stunning D.I.Y. kit your options are limited.  The average over the counter D.I.Y. kit starts at $39.99 per 25 invitation suites.  Normally the kit will include some type of 5 x 7 generic pocket holder or layered card choices, 25 white or ecru invitation cards, 25 white/ecru envelopes, 25 two-up perforated sheets for printing your reception/response cards, 25 response envelopes, a bonus of some kind like clear or foil seals will serve as the embellishment, a few test sheets and finally instructions for downloading a layout/printing template.  One additional bonus is that almost all of these kits are laser and ink jet compatible with your home printer.
The biggest disadvantage is the fact that you will probably use several sheets before the invitation card is lined up correctly for printing (This process could take up to a couple of hours, I remember those late nights) then you'll have to start all over again for each piece.  Another disadvantage is that the paper received in your kit will probably not be luxury or high end like Orange Coated Metallic, thick textured paper or recycled cotton; instead, it will be a 65lb smooth card stock or something comparable; this would definitely eliminate the fabulous factor.  In fact, it will look rather ordinary in most cases no matter how well the graphics are placed or the color inks used.
A designer will of course charge a heck of a lot more for the same pieces as mentioned above; the difference is that they will probably have years of design experience and or a design degree, direct access to luxury papers, embellishments and accessories not generally available to the public and  a professional printing support system in place.  So for 25 custom invitation suites you would expect to pay $6.00 or more per invitation suite, this could include printing but design, assembly and multiple revisions are another matter.  Warning: If you aren't clear on what you want you could rack up a healthy bill in revision fees simply because you're not communicating your exact desires or you're MIA during revision appointments.
At the end of the day you will have to be honest with yourself and decide whether or not your event is better off with you as the CEO of your invitation suite or if hiring an experienced CEO of design will deliver that "Wow" factor.  Another viable option would be to hire a professional designer and then do the assembly yourself or with friends, make it an assembly party invite them over for a-kick-butt dinner and then put them to work.  Caution, please ask them to help you ahead of time, don't hint that you need help after their tummies are full, and they've had a couple glasses of wine and are ready to go home.  Happy choices!
Article Submitted By:
Shawndale Grice
Shawndale Grice is a premiere product designer.  She is the lead stationery designer for Dolce Couture Stationery (www.dolcecouturestationery.com), a firm that specializes in exquisite invitations and stationery products for couture/bespoke designers/event planners for the celebration and wedding industries.
Photo Credits: Shawndale Grice designed all three examples using different approaches.
1. Pink & White Cameo Full Service Suite
2. Custom Hand Painted Turquoise Pocket Invitation
3. Spring Lavender DIY Invitation Kit from DCS
Free Wedding
Giveaways + Sweepstakes
Enter sweepstakes & giveaways and enter to win a free honeymoon when you join. New winners are announced every week!