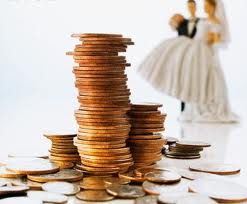 Since we all know that when it comes down to weddings, money seems to be the most pressing issue. Don't you wish there was a magic wedding money tree? Well here are a few ideas to cut down the cost of your wedding!
Favors/Centerpieces: Have your favors do double time and tie in with your centerpieces; whether it is a candle or a small vase with a flower that guests can bring home, this will be sure to save you a few bucks!
Guest List: Keep your guest list to a minimum (I know that's way easier said than done). We all know that one extra person adds quite a bit of money to the end bill; that's one more meal, one more favor, one more program, etc. Invite your co-workers or some friends for after dinner cocktails and dancing, they will still have a great time! Also, opt out of having children; this saves money and parents might love to have an excuse for a night out alone, without the kids!
Bridal Party: The same goes for your wedding party, with one extra bridesmaid is the extra cost of a bouquet, thank you gift, and possibly a bigger vehicle for transportation. Think twice about the number of friends and family you choose to stand up in your wedding.
Guest Book: Create your own guest book with your engagement pictures or pictures of you and your fiance. Even pictures of the two of you as children is a great addition (guest will love looking at them).  This can double up as a coffee table book; everyone will enjoy looking at the pictures and love reading the comments for a long time to come. You can do this with simple supplies from hobby lobby if you want to make it more of a scrapbook feel or a service like shutterfly.com with a hard or soft cover.
Save the Dates/Programs/Invitations: Making your own invitations or programs can be cost saving. Be careful though, because colored ink and paper can add up fast, along with all of the extra cost of ribbon and other accessories to jazz them up. Make sure you add all of the costs up before deciding to make your own; it might be cheaper to order them after all!
Holiday Wedding: Think about hosting a wedding during the holidays. Most venues decorate for the holiday season already, so this saves you money right off the bat.
Off Season Wedding: Along with having a holiday wedding, most venues and caterers offer a discounted price during the winter months.  Take advantage of that!
Utilize Family and Friend's Wedding Items: Do your family or friends have jewelry, cake knifes, toasting flutes, etc from their wedding that are just sitting in a box collecting dust? I'm sure they would be happy to lend them to you. Heck, you can even start a tradition of using Grandma and Grandpa's cake knife, or your friends' toasting flutes.
Prioritize, and Spend Money Where it Means the Most to You: If pictures are important to you, spend your money on a great photographer and spend less elsewhere. Do you and your fiance love to eat great food and try new restaurants, food may be your big one big splurge. Make sure your budget fits what you care about most. You will be the happiest when your big day is over that you spent your money that way.
Utilize Family and Friends to Help with the Wedding: They will feel honored to be part of the special day whether is addressing invitations, helping decorate the venue or just being crafty with you!
Hire a Planner: This sounds kind of funny, but a planner can actually save you money. They know the pricing at different venues, have great relationships with vendors and know weddings inside out. They will be sure to save you money and definitely don't take over the wedding for you DIY brides.
Bargain Hunt: Take your time and search for deals. Instead of renting vases, it might be cheaper to purchase vases. Then, a sister/cousin/friend can use them for their wedding and you can split the cost.
Less is More: Think twice about what you will actually need at your wedding. Do you really need a signature drink? Do you need that extra floral arrangement? What about the champagne toast; maybe you can have wine served during cocktail hour instead. Don't be afraid to talk to the catering about really getting the most for your money.
Flowers: Flowers are cheaper when they are in season, so make sure to talk to the florist about your options. You can even use your home grown peonies, roses, sunflowers and hydrangea for centerpieces or arrangements for your wedding. The best thing about that is they are FREE!
Cake: There are so many neat ideas to take the place of the traditional big wedding cake. Have the bakery make 1 smaller cake for you to cut and have a sheet cake in back for the rest of your guests. If the venue allows, have a family member/friend make a dessert, whether it's pies, brownies, or any other delectable treat!
These are just a few money saving tips out there! Be creative and have fun with it! Don't let the money stress you out- there are money saving alternatives for everything!
Free Wedding
Giveaways + Sweepstakes
Enter sweepstakes & giveaways and enter to win a free honeymoon when you join. New winners are announced every week!