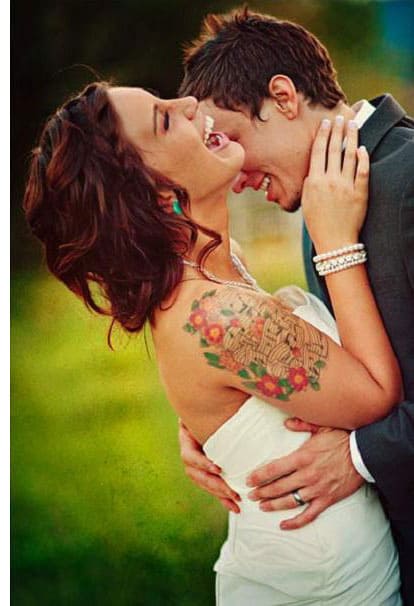 To cover or not to cover your tattoos- that is the question. In my humble opinion the right answer is, "whatever makes you happy".  The truth is, that most of us don't have that freedom (as much as we should.)  Be it that your grandmother would have a fit, your conservative boss would be appalled, or that you are just going for a look that is different from your everyday style, there are myriad reasons you may choose to cover your art.
Unfortunately the facts are that you can only cover up some tattoos even with the special kits.  The easiest way to cover them is with clothing, but depending on the location of your tattoos you may be stuck with long sleeves or high Victorian necklines (not the ideal style for today's bride).
I know that I agonized about covering my tattoos because my groom's mom is not a fan. I love her and wanted to honor her but I also wanted to be myself on my wedding day.  My husband and I opted for editing the tattoos in our photographs for the parents.
I coordinated a wedding for one gal who decided that since covering her tats was nearly impossible, she would have all of her flower-girls and bridesmaids wear temporary tattoos or show their real tats respectively. The effect was great!  Tattoos can set the theme of your wedding whether it's retro or rock and roll; you can rock a wedding dress with tattoos!
Whatever you decide, first and foremost, remember that this is your day and that your photos are forever. Make sure that you choose to do what will ultimately provide you with the best possible memories of your day. 
Article Submitted by: Jen Bergquist-Tippin- PlanYourBeautifulEvent.coom
Photo Submitted by: dognbird.com
Free Wedding
Giveaways + Sweepstakes
Enter sweepstakes & giveaways and enter to win a free honeymoon when you join. New winners are announced every week!