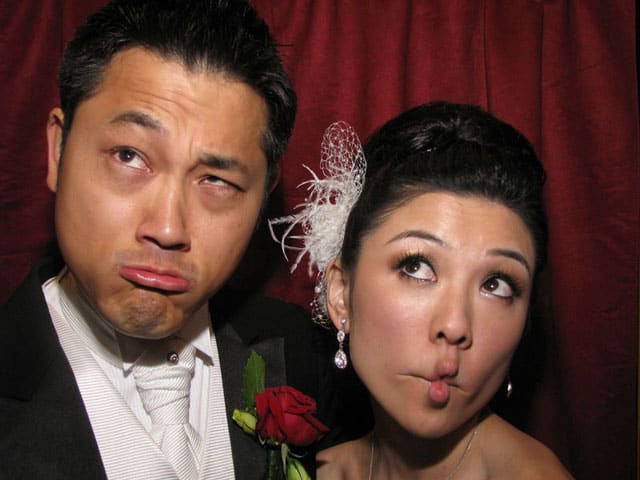 Digital Photo Booths have quickly become the must-have item for weddings, birthday parties, bar and bat mitzvahs, quinceaneras, high school reunions, charities, expos and corporate events! Everyone from DJs, photographers, videographers, event coordinators, hotels and venues are all scrambling to find ways to incorporate this exciting and unique new concept into their own service offerings. With so many styles of photo booths (of varied quality) and so many companies in the market, it can be very daunting for consumers to pick the right photo booth and the right company to be part of their special event.
The following is a breakdown of our "Top 5 Tips" for choosing the 'Right' photo booth company for you.
1. Research That Photo Booth Company
Who are they?
We know that in the event industry, there is no do-over or second chance to get it right on your wedding, birthday party, bar or bat mitzvah, quinceanera, high school reunion, fundraiser, expo, corporate party or other special event. So you need to do your homework carefully before you pick your vendors. Anyone can create fake reviews for themselves on Yelp or create a free ad on Craigslist, but to the educated consumer this does little for a vendor's reputation. In other words, you need to ask the right questions to your potential vendors beyond "How much does it cost?"
Does the company have a good reputation?
Check legitimate wedding directories and wedding vendor sites such as Wedding Wire, the Knot, or Wedding Compass. If the vendor isn't listed or reviewed on these or other reputable sites, you should ask why not. If they aren't advertising their business, perhaps they don't have a good reputation or worse yet – they don't have the money to invest in their own company. You might be thinking "So what if they aren't spending money on advertising themselves" but we would instead ask "if they don't have the funds to properly advertise their product then who's to say that they will still be in business by the time your wedding arrives." We have actually had a few clients in the past come to us needing a last minute booking because they originally booked with a cheap fly-by-night company that ended going out of business before their wedding date. So do your due-diligence and speak with event coordinators, wedding planners, venues, friends, and family to investigate their experiences with the company in question.
How many events have they done?
Many companies claim to have been in business for many years or stick a copyright on their website that makes it seem like they have been online for a long time. But how many events have they really done? How much experience do they have with working in the event industry. Are they going to work well with the rest of your vendors and the venue? Another logical question here is "if they have been in the industry for a long time shouldn't they have a fairly large portfolio of legitimate clients and samples of their work?" When we refer to a portfolio, we mean more than just the same sample print design in 10 different colors with a few different fonts. Make sure to ask to see their portfolio.
2. Make Sure Those Photos Will Last
What equipment are they using?
What type of cameras do they use? Many companies would have you believe that the bigger the mega-pixel the better the quality. On paper this would seem to be the case, especially if you want to blow up that photo booth mugshot onto a gargantuan canvas, but the reality is that no matter what the mega-pixels are most photo booths are designed to take advantage of space constraints and a limited depth of field, so proper lighting and the printer's DPI (dots per inch) are much more important factors to consider. Therefore, a more important question to ask if whether or not the company can deliver professional lab quality photos? How fast is their printing process? Some companies use store bought ink jet printers which give sub standard print quality and are likely to fade, smear or do not last. These type of companies may not be inclined to mail you sample prints either. If possible, you should ask to test the photo booth out for yourself and see how long it takes to print and what type of printers they are using.
3. Not All Photo Booths are Created Equal
Does the Company have a professional photo booth?
Some companies don't tend to show good quality pictures of their photo booths online or don't seem to offer any way for you to test their booths prior to the event. We ask why not? Are there issues with the booth that they don't want you to see? Do they not have the resources to present and promote their product effectively? Even worse are the companies that do not even offer a true photo booth to begin with and instead simply try to capitalize on the idea of a photo booth such as the portable portrait studios with tripod mounted cameras and portable backdrops. These 'quick-buck' scam artists are not helping anyone including themselves. The client is not getting what they want and deserve, thus they will never book with these companies again, and the photo booth industry is also being tarnished by poor quality attempts at photo booths. One client told us that a photographer had buried a clause in the fine print of their contract that stipulated the client could not use any other vendors if their own company offered a competitive product. Their idea of a competitive photo booth offering turned out to be a camera on a tripod with a clicker and a laptop with a printer sitting on a table. Hardly a real photo booth and a very shady tactic at forcing their client into a substandard package offering.
Remember, you and your guests will see, use and remember the photo booth for years to come. Make sure your memories of the photo booth experience (including the photo quality, the booth quality, the customizations, and the attendant) are all good ones. Does the booth look and function as good in person as it does on paper? Is it manufactured of professional and high quality materials? Will it complement your event or stick out like a sore thumb?
4. Personalize Your Photo Booth Experience
Why Only Plain Print Layouts with Black Backgrounds?
Does the company offer true customizations? Do they provide truly custom designed print graphics or just simple name and date captions at the bottom of the photostrip? Don't be fooled by companies that claim they do custom graphics and then show you simple captions on a photo strip. They either do not have in-house graphic designers or they do not use professional software. Some companies use cheap tent and pole tripod setups that do not provide anything but the black background from the inside of the tent. Is coordinating the colors of the curtains a important factor for you? Are professional graphics and matching thematic elements a deal breaker or a deal maker for your event?
5. You Get What You Pay For
What is the Real Cost?
Everyone knows that price may be a factor in your event planning, but if price is your only consideration then you may just get what you pay for (or didn't pay for).
You should ask yourself not just what are you paying for, but what are you missing out on. What are your must-haves and priorities with your photo booth vendor? What are your expectations of your photo booth rental? You need to check what is included in any price quote and what is not included as well. How long is the true rental period? Do you have to pay extra for options such as a live photo slide-shows, captions or other standard customizations? Is there a setup and break-down fee? Are there any hidden fees?
Some companies offer very confusing pricing structures that make it difficult to compare their features and options against other photo booth companies. They purposely advertise low pricing with hours and options that don't match other companies and then try to up-sell you after-the-fact. These tactics may end up costing you more than you expected. Some companies tell you they will match any price, but are they matching the quality, service and reputation of their competitors as well? Do they have the experience in the event industry to guarantee your event will be treated as the Platinum event it should be? The reality is that it is hardly ever apples-to-apples comparisons and quite often turns into asking your prospective vendor to give you a Ferrari based on the sticker price of the Ford next store.
Article Submitted by:
www.snapshotzphotobooth.com
Free Wedding
Giveaways + Sweepstakes
Enter sweepstakes & giveaways and enter to win a free honeymoon when you join. New winners are announced every week!