It's harvest time, leaves are changing and the season kicks-off with pumpkin ideas that open the door to the holidays.
Someone's in the Kitchen catered an elaborate autumn wedding in Pebble Beach, California. The bride requested that pumpkin recipes be used in the menu since it is her favorite fall food.
Our Executive Chef designed the menu offerings, including two delicious dishes that were creatively presented using pumpkins.
The first course served to the guests was an individual pumpkin filled with Savory Pumpkin Ravioli. The tops of the pumpkins were choreographed to be removed by the servers, all at the same moment. (See recipe below, photo attached)
The Pumpkin-A-Go-Go featured mini "Elvis Lolli-Pies," and other scrumptious flavors, handcrafted in flaky dough and skewered onto sticks that were placed atop large pumpkins.
The guests enjoyed every bite and came back for more! (See recipe below, photo attached)
~ ~ ~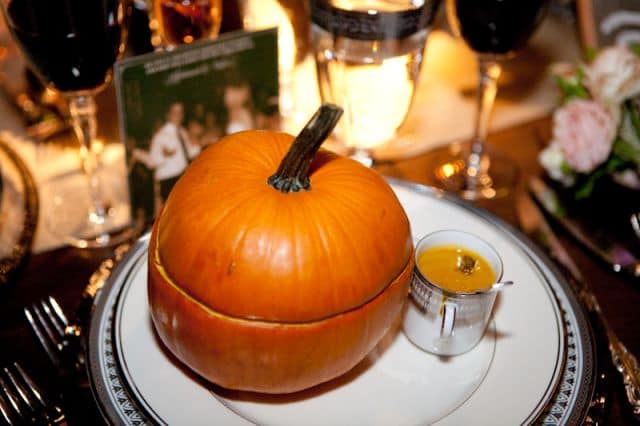 Savory Pumpkin Ravioli (Serves 6)
Bowls:
six (6) 3-4 lb medium pie pumpkins
Pasta:
2-1/2 to 3 cups all-purpose flour
five (5) eggs
1 tbsp olive oil
Filling:
one (1) 2-1/4 lb small pie pumpkin, peeled and cut into 1″ cubes
4 tsp chopped shallot
1/3 cup butter, cubed
2 tsp minced fresh sage
¾ tsp minced fresh thyme
¼ tsp salt
¼ tsp pepper
2/3 cup heavy whipping cream
one (1) egg, slightly beaten
Sauce:
1 cup heavy whipping cream
3 tbsp butter
2 tsp minced fresh sage
Cut tops off 6 pumpkins about half way down the side at a slight angle and scoop out the insides with a spoon and reserve the seeds for a later use. (The pumpkin should look like a bowl with a lid on it.) Set aside.
Place 2-1/2 cups flour in a large bowl, make well in the center. Beat eggs and oil, pour into well. Stir together, forming a ball. Turn onto a floured surface; knead until smooth and elastic, about 8-10 minutes, adding flour as needed to keep dough from sticking. Cover and let rest for at least 30 minutes.
Sauté pumpkin cubes and shallot in butter until tender, then add sage, thyme, salt and pepper. Transfer mixture into a food processor, cover and process until blended. Return to the pan and stir in cream. Bring to a boil, stirring constantly. Reduce heat and simmer uncovered for 15-20 minutes or until thickened.
Divide pasta dough into fourths and roll one portion to approx 1/16″ thickness; keep remaining dough covered and cool until ready to use. Working quickly, distribute rounded teaspoonfuls of filling 1″ apart across half the pasta sheet. Brush egg wash around filling, fold pasta sheet over and press down to seal. Cut ravioli into squares with pastry wheel. Repeat with remaining dough and filling.
Bring stock pot of salted water to a boil and add ravioli. Reduce heat to gentle simmer; cook for 1-2 minutes or until ravioli float to the top and are tender. Drain and keep warm.
Bring cream to a boil in small saucepan and cook, uncovered, until reduced by half. Stir in butter and sage. Remove from heat and fold in ravioli to gently coat the pasta with sauce.
Place 4 ravioli in each of the 6 pumpkins and garnish with a few pieces of shaved parmesan cheese (optional). Place lids on the pumpkins and serve.
~ ~ ~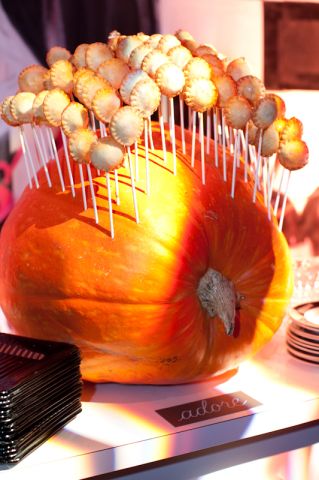 "Elvis" Lollipies (Makes 12 pops)
two (2) pie dough sheets, 9″ round
2             bananas, cut into 12 ½ inch slices
36            chocolate chips
3 tsp            creamy peanut butter
8 oz            egg whites
4 oz            sugar
12            white lollipop sticks
Punch out 24 2″ rounds out of the pie dough sheets. Line 12 rounds about 2″ apart on a parchment lined sheet pan. Place one stick in the middle of each pop.
Place ¼ tsp peanut butter in the middle of each round. Top peanut butter with 3 chocolate chips per pop and then push on banana slice down into the peanut butter and chocolate.
Add 2 oz of sugar to the egg whites and brush the edge of each pop. Place the other 12 dough circles on top to complete the pops. Use another lollipop stick to crimp the edges of the pop and seal the filling.
Brush each Lollipie with egg wash and sprinkle with sugar. Refrigerate for 30 minutes. Preheat oven to 350 degrees.
Bake at 350 degrees for 10-15 minutes until golden brown and flakey. Cool before removing from sheet tray.
Note: Any pie filling you enjoy using can be used for this recipe!
Joann Roth-Oseary is owner of one of the nation's top catering and event companies, Someone's in the Kitchen, located in Tarzana, California. As the company's guiding force, Roth-Oseary has led her talented team to win multiple industry awards as well as national media attention for the high-profile and innovative events they have catered, designed, planned and produced over the last 30 years. Leading by example, Roth-Oseary has built a company that has her heart and soul; a passion to be the best; a sense of humor; and a warm charm that makes keeps clients returning to Someone's in the Kitchen year after year.
Article contributed by Someone's in the Kitchen.
Someone's in the Kitchen   www.sitk.com tel: 818-343-5151,  ext. 107  /  fax: 818-343-1140
Tammie Richards [email protected]
Free Wedding
Giveaways + Sweepstakes
Enter sweepstakes & giveaways and enter to win a free honeymoon when you join. New winners are announced every week!