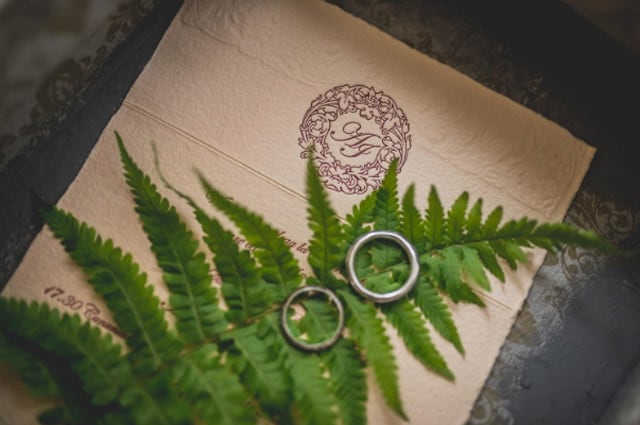 When you announce your special day to all your family and friends, the process then begins to make every detail of your wedding one that both of you and your guests will remember for years to come. In order to make that happen, there has to be attention to every detail, including your invitations.
The wedding invitation is not only an integral part of the celebration itself, but creating a paper invitation that everyone receives gives a special value to your important day that you and others can save and even frame for generations to come as a tangible symbol of your love for one another. They also set the theme for the wedding, so they not only tell your guests the time and place of the event, but they give them your vision of how you want to celebrate it.
Consider some of the following ways you can customize your paper wedding invitation to give it the unique qualities you are looking for.
Multiple-Patterned Design
Distinct envelope liners that display a trio of patterns in the same hue give a layered and unique look to any wedding invitation. It will also represent all the colors of your wedding if you decided on a variety of shades of the same color, then this customization will work for you.
Whimsical Symbols of Love
This type of design gives your wedding invitations a more contemporary feel, and it also says "We are really enjoying our moment to celebrate this love we have for each other." An example would be the shape of red lips printed onto the envelope as if you personally kissed each invitation to seal it. Inside, the guest will find a full page of multicolored lips in a heart shape with your and your beloved's name beneath this playful symbol of your love.
Confetti Pattern and Paper Accessories
This may be a common practice for many wedding invitations, but you can put an original twist on it with the actual confetti design printed on the invitations. This can then be accessorized with pieces of actual confetti in the envelopes that match the printed design.
Floral Matching
Your guests will appreciate your attention to detail if you choose an invitation that matches your choice of flowers for the ceremony, which also gives an elegant twist to the invitation theme. You can print singular flowers on each part of the invite and envelope, or you can create a bouquet that matches the one you will be carrying down the aisle.
Lace Fringing
Framing each invitation in delicate vintage lace tells your guests that this is an elegant event and that they should wear their very finest wardrobe to attend. You can opt to put the lace design in one of the colors you have chosen for the wedding, or you can go with a more traditional ivory or white embossed design over each part of your wedding invitation suite.
Wallpaper Design
Considering a bolder statement for your invitation, this design says that you truly want to stand out from all the other wedding invitations your guests will ever receive. You can create your own artistic interpretations and then have them transferred to the paper and then choose your color scheme for a definite wow factor.
Play with Fonts and Colors
You can create something that has a modern but playful feel to it with a mix of different colors as well as a variety of fonts. Change up the font and color with each component of the invitation, and keep the inside of the envelopes a consistent color. Add the vellum inserts so that the color displays are not hidden when you use a traditional tissue insert in order to get the full effect of every color and font.
Calligraphy with Wrap-Around Address Labels
Even though this form of wedding invitation can be fairly common, the inclusion of the unique wrap-around labels printed in a calligraphy design gives an added originality to a mostly traditional look. You can choose a neutral color for your envelope and wedding invite suite and then set it off with a more pastel-colored address label.
Photography Design
You can go very personal with your invitation and present yourself as a couple on the front of your invitation in a photographic display. Choose your engagement portrait, favorite vacation photo, or any other meaningful picture that can be displayed on the announcement portion of your wedding invitation. Then, you can complement it with the colors you have chosen for your wedding as well as accentuate it with any special theme or background.
Family Crests or Symbols
If you are looking for a design that best represents both you and your soon-to-be spouse, then you may want to consider a wedding invitation that includes your respective family crests or any other tasteful symbol of your family history and traditions. Both can be embossed on the major announcement portion of the wedding invitation suite and then intertwined symbolically on each of the other components, including the envelope.
Any of these customized designs should be considered with the addition of translucent vellum sheets that layer the look and lend an elegant accessory to each invitation no matter if you have chosen a vintage, whimsical, or contemporary design.
With this addition to each invitation, it serves not only to add a bit of tradition to an invitation, but it separates each component of your wedding invitation so that the person receiving it can literally see the content as it is meant to be read without removing tissue to separate each one, while always keeping wedding invitation etiquette in mind.
Considering any one of these designs and understanding all the elements that you need for your wedding invitation suite will create the most unique wedding invitation you can possibly envision to announce your wedding celebration.
Photo URL: https://unsplash.com/photos/0FCHGRqHAjk
Free Wedding
Giveaways + Sweepstakes
Enter sweepstakes & giveaways and enter to win a free honeymoon when you join. New winners are announced every week!