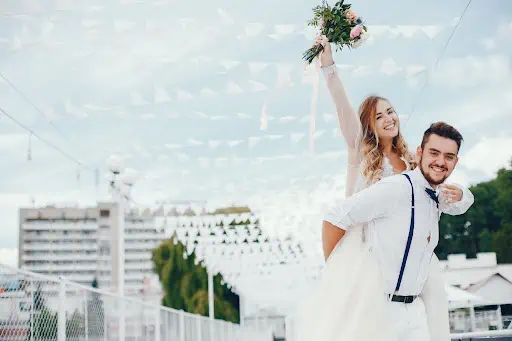 The wedding day of the loving couple is undeniably one of the most significant and cherished moments in their lives. The memories, photographs, and videos are all that remain to commemorate this special day, as a wedding videographer, your mission is to capture the essence of this occasion with the utmost precision. In this article, we present a comprehensive guide featuring invaluable tips to help you create an extraordinary cinematic wedding video. Let's delve into the world of wedding videography.
Cinematic wedding videos are shot and edited in a way that is similar to feature films. They use a variety of techniques, such as slow motion, drone footage, and creative editing, to create a video that is both visually stunning and emotionally resonant.
How to prepare for shooting such an event to create a memorable video that will make the couple happy, you might ask. Let's go over the key points because a wedding celebration is a one-time event, and your job as a videographer is not to mess anything up.
1. Effective communication it is foundation
Communication is the cornerstone of your work. In order to capture all the most beautiful moments of the wedding, it's important for the videographer to discuss all of the couple's plans for the day.
In the lead-up to the big day, arrange a meeting with the engaged couple to discuss their expectations and vision for the video. What are their specific requirements and must-have shots? Are there any spontaneous moments they wish to capture? By asking these questions, you can tailor your approach to meet and exceed their expectations.
2. Compiling the "Must-Have" Shot List
After meeting with the couple, you'll have a better understanding of their desires and the shots they consider essential. Wedding cinematography is a blend of capturing candid moments and ensuring you secure the "must-have" shots.
Moments like the first kiss, the bride's entrance, first dance and the groom's reactions are indispensable and should be documented.
Create a list of important shots for yourself, and we also recommend specifying the time to begin capturing them. Even if you don't consult the shot list on the wedding day, having it as a reference can be invaluable, helping you visualize and remember the essential shots you need to capture.
3. Crafting a Love Story
Approach the creation of a wedding video as if you're telling a love story. Emotions and key moments will give your video structure and depth, making it engaging and touching. Study the most romantic scenes in the history of cinema to understand what aesthetic and emotional moments leave an impression.
Even if you plan to outsource wedding video editing, it's still essential to capture as many shots as possible. This way, you won't miss out on the most precious moments, and the editing team can not only create a cinematic wedding film but also effortlessly convey the essence and mood of this special day.
4. Adapting to Varied Lighting Conditions
Being prepared for diverse lighting conditions is crucial for wedding videography. Daytime shoots may involve harsh outdoor lighting, while indoor venues may have suboptimal lighting for cinematic purposes. Using ND filters to control light can help maintain a shallow depth of field and create a more cinematic look.
As the day progresses and light diminishes, especially in outdoor settings, familiarity with your camera's low-light capabilities is essential. Employing lenses with wide apertures can enhance your performance in low-light situations. Consider using LED light kits or other video lights to supplement natural light. However, use them judiciously to avoid disrupting the event's ambiance. Creativity in working with existing lighting or silhouettes can also yield cinematic results.
5. Agility and Efficiency
Weddings are fast-paced events with numerous special moments unfolding simultaneously. While it's impossible to be everywhere at once, you can certainly strive for it. To be efficient and mobile, it's advisable to keep your equipment lightweight.
Carrying a variety of prime lenses is a good practice, but changing lenses during the event is often impractical. A quality zoom lens can reduce your load and make you a more agile videographer.
6. Be Like a Ninja
When it comes to the world of wedding videography, envision yourself as a ninja – silently and skillfully capturing every moment without interrupting the solemn ceremony. The most challenging part of videography is, indeed, the ceremony.
Just as a ninja's weapons are silent, your camera equipment should be noiseless too. Invest in equipment and lenses that don't produce distracting sounds when focusing and shooting. This way, you can seamlessly blend into the background and remain unnoticed during the wedding ceremony.
7. Embracing Candid Moments
Some of the most cherished shots in a wedding video are candid moments. Encourage natural interaction between the couple during posing, as love is impossible to hide behind nerves.
8. Elevate Your Wedding Video with Enriching Audio
Crafting a memorable wedding video requires attention to detail, and one often underestimated aspect of this art form is audio.
Cinematic wedding video is like a full-fledged movie in which touching wedding vow dialogues, thunderous applause, and the infectious laughter of the crowd are equally important. Professional wedding videography should seamlessly combine high-quality video and sound, allowing you to bring the film to life and fill it with emotions.
In conclusion, filming a wedding is a challenging endeavor. These tips are your stepping stones to success in the world of wedding videography. Practice, preparation, and patience are your allies in developing your own unique style and skill set. With dedication, you will undoubtedly witness your wedding cinematography skills evolve and flourish.
Free Wedding
Giveaways + Sweepstakes
Enter sweepstakes & giveaways and enter to win a free honeymoon when you join. New winners are announced every week!