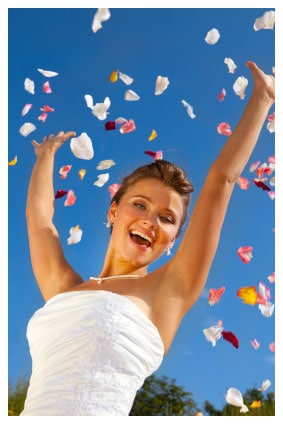 Wedding contests and giveaways are a great way to save money and get fun stuff for your big day!  You can win anything from the postage stamps that go on your invites, to a free honeymoon in Hawaii! There are lots of places where you can go online and register for free giveaways, but it can be very time consuming filling out all those forms…
TheWV.com has made it easy to register for lots of free wedding giveaways all in one place!  We bring the contests and giveaways right to you! If you are a member of TheWV.com you have access to our new "Wedding Giveaways" page.  Registering for LOTS of giveaways is as easy as 123…
Log in to your account with TheWV.com (or register with us)
Go to the giveaways page
Click enter on any or ALL of the free giveaways you would like to enter!
No forms asking you a million questions, just a simple click and you are entered!
We add new giveaways weekly courtesy of the vendors listed on TheWV.com!
Right now we have some great wedding giveaways going:
Win a free honeymoon in Hawaii
Win a custom cake card box
Win a custom made-for-you gift basket
Win perfect postage stamps with beautiful wedding designs
Win a free name change service for after you are married
There are more contests being added each week!
If you are not already, Register with TheWV.com and go to the Giveaways page so you can enter all of our wedding contests!
Free Wedding
Giveaways + Sweepstakes
Enter sweepstakes & giveaways and enter to win a free honeymoon when you join. New winners are announced every week!