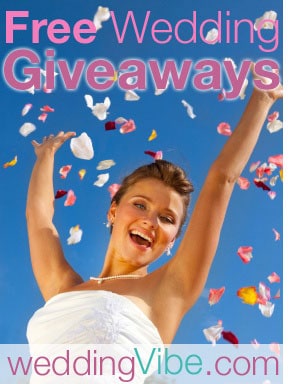 Win free wedding stuff on WeddingVibe.com! Winners are picked twice a week! Win a honeymoon, invitations, flowers, cake toppers, DJ service,  and much more in any of our wedding contests!
Become a member of WeddingVibe.com and you will have easy access to our giveaways page where you can enter any or all of our free wedding contests with one simple click! We are always updating our giveaways page, so you can come back and try to win as many items as we have to offer! Join our fun wedding contests and wedding sweepstakes for FREE right now! It's simple and easy to win tons of wedding stuff!
Click here to enter our wedding giveaways!
Free Wedding
Giveaways + Sweepstakes
Enter sweepstakes & giveaways and enter to win a free honeymoon when you join. New winners are announced every week!