Nestled in the Southern Caribbean, the beautiful island of Curacao is where natural and cultural wonders connect to create a beautiful mélange unseen anywhere else. The brand-new Sandals Royal Curacao Resort is something out of a fairytale. Our founders had a chance to see, taste, smell, hear, and feel this remarkable resort firsthand for the grand opening and they had so much to say about it.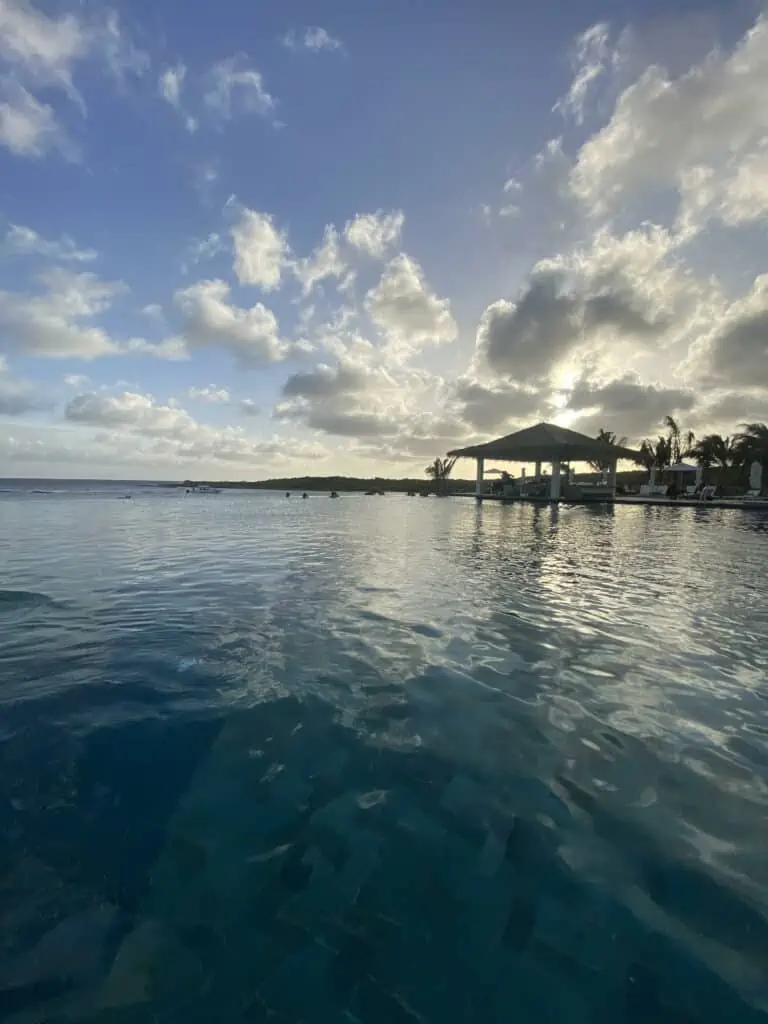 Here is what Trish and Adam had to say:
"We were lucky enough to be invited to Sandals Royal Curacao for the Grand Opening of this resort in June and let us tell you – it was spectacular! This resort has so much to offer, and we are so excited it's finally open! We have an expert team of Travel Agents, that can help you plan the most perfect honeymoon! We've been to all the Sandals resorts and can help you every step of the way!
The Grand Opening of Royal Curacao was SO fun– There were aerial dancers, amazing musicians, and the Blue Man Group (we got to chat with them after the show and it was fun to hear where they all lived and what they had to do for their auditions). We even met Val and Jenna from Dancing with the Stars!
The resort wow-ed us from the minute we pulled up. We walked into the main lobby and were blown away with picturesque views, tasty cocktails and great nightly entertainment. We loved the culture and the vibe in Curacao; the staff and locals are so kind and genuine.
The resort is expansive with beach bikes that you can cruise the resort with -they definitely added an element of fun! The beach was so calm and enjoyable, and the temperature of the water was absolutely perfect!
The Dos Awa infinity pool was the place to be for the views and fun. The pool had great daily entertainment and the sunset was absolutely spectacular from here! The beach was serene and relaxing, and there were plenty of beach spots everywhere! There are a few other quieter pool and spa areas as well.
The food is always so good at Sandals, and it was definitely just as awesome here! There's such a great variety at all times of the day! When we first arrived, we headed over to the food trucks and sampled a bit from each – so yummy! Sushi lovers must try Gatsu Gatsu! We enjoyed Zuka the most- a new concept for Sandals! It was so flavorful, and the bartender was so fantastic!
We even got to partake in an e-bike tour of the city, Willemstad. It felt like we were in Europe. The city was so full of life and color, and it was truly so enjoyable. We can't wait to go back and spend more time there!"
xoxo, Trish & Adam 
Free Wedding
Giveaways + Sweepstakes
Enter sweepstakes & giveaways and enter to win a free honeymoon when you join. New winners are announced every week!