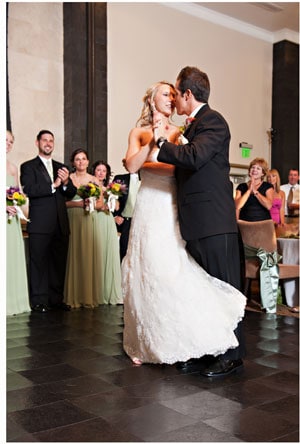 A wedding has two phases – the ceremony and the reception – and they can both be significantly enhanced by carefully chosen music. The environment for the reception is often quite different than the ceremony and may dictate a different set of musicians; however, it's sometimes possible to utilize some of the same musicians for both and save money.
The Ceremony:
The musicians usually start by playing music 15 to 20 minutes before the ceremony begins, while guests are being seated. This is a great way to help relax both your guests and the bridal party and set the mood of the occasion. In a formal wedding the musicians will then play one theme for the entrance of the men in the bridal party (groom and best man, etc.), another for the bridesmaids, then the centerpiece theme for the bride escorted by her father (or alternate). The familiar choice is Here Comes the Bride, but there are other possibilities, such as Pacabel's Canon. If the wedding party requests it, there may be another featured piece of music in the middle of the ceremony, but more often than not the musicians don't play again until the end. They play another theme as the wedding party departs. This is usually the end of music if the guests are off to another location for the reception. If the reception follows in the same area it's possible to arrange to have the musicians keep playing background music. At this point the guests will be more interested in talking to each other than in paying much attention to the music so the music should be subdued.
The usual music instrument choices for a wedding ceremony are:
Solo piano, pipe organ (if held in a church), solo acoustic guitar (usually classical), string quartet, brass quintet, and vocalist accompanied by piano.
Considerations of each:
Solo Piano – if indoors, a fine quality grand piano is best. Grands come in many sizes from under 5 feet long (baby grands) to 9 feet (concert hall grand). A 6 or 7 foot grand is the instrument of choice for most professionals and realistically what you'll find in a hotel or church. It's important that an acoustic piano be maintained in tune, especially for an important event like a wedding.
Many keyboard players also own an electric piano which they can bring to a location which does not have a quality acoustic piano. This may also work for an outdoor wedding if power and a stable platform to set up on are conveniently available.
A wide variety of music styles are possible on piano – classical is the traditional route, but nowadays it's not uncommon to ask for jazz, new age, or original music.
Pipe Organ – a great choice if you like organ music and are having your ceremony in a church which has one. The church organist who normally plays the organ is usually your best bet – he or she will probably be most familiar with the instrument. Some churches would not be comfortable with a guest organist.
Solo Acoustic Guitar – This is the most portable instument and doesn't require power. This is a great choice if your dream location is not very accessable. Keep in mind that unamplified guitar is not very loud, so the environment needs to be fairly quiet – intimate settings are best. A babbling brook nearby could drown out acoustic guitar. That said, however, some acoustic guitarists have a small battery powered portable amplifier that will overcome this obstacle. And where there's power, a regular amplifier will work. Musically, this instrument lends itself to classical or folk music.
String Quartet – very popular these days – very elegant. This is a traditional approach for a wedding ceremony and usually features classical music. Disadvantages: string instruments have zero tolerance for rain – if your wedding is outdoors string groups will insist on a tent if there's even the slightest chance of rain, although they may have their own that they can bring. They typically charge extra for outdoor weddings. Louder than an acoustic guitar, but can still be drowned out in a noisy environment. If the weather or the lack of volume is a problem a creative alternative is to hire a brass quintet. More about them next…
Brass Quintet – No musicians can play for long in the rain, but a few scattered raindrops won't hurt a brass instrument. A brass quintet can play pretty much the same classical repertoire as a string quartet but a couple notches louder when needed. In addition, a brass quintet can do a great job on ragtime jazz, dixieland, a Sousa march, or even a polka.
Vocalist accompanied by Piano – if you have a favorite vocal piece (or a favorite vocalist) this can really add a personal touch to a ceremony. It's possible to have the pianist play the majority of the ceremony solo but add the vocalist for one or two features.
Harp – very elegant and soothing. Harp players tend to be the most expensive of solo instrumentalists. They play a costly and difficult to move instrument.
Now, before I move on to the reception, let me say a few words that apply to music for both the ceremony and the reception. It makes sense to think not only about what kind of music you like, but what kind of music you think your guests and relatives will like as well. Also about the volume level that will be most appropriate. Sometimes these issues require a compromise, sometimes not. Or you may try to cater to the musical taste of one group of people for the ceremony and another for the reception. These are things you should definitely think about in advance.
The Reception:
There are usually three phases to the reception – receiving line/cocktail hour, dinner, and after dinner. At the beginning of a reception the bridal party will be busy welcoming the guests, whether informally or in the form of a receiving line. Once guests are through the receiving line they are basically in cocktail party mode until the bridal party has greeted all the guests and is ready for dinner. Before, during, and after dinner there may be toasts presented by the relatives or friends of the wedding couple. After dinner, the new bride and groom will dance the first official dance together. They will usually dance with their parents or in-law parents next before inviting all the guests to dance. Traditionally, the band will play a waltz or slow tune as a first dance, but there are other possibilities also. At some point there will be a break to cut the wedding cake. Another optional tradition is the throwing of the bouquet by the bride to the unmarried women. There may also be the removal of the garter, which the groom may throw to the bachelor men.
A live band is great entertainment for after dinner, but their music must be subdued if played during the cocktail or dinner portion of the reception. Not all bands have this capability. If your favorite band is too loud or obtrusive to play for dinner, you can consider the possibility of having solo piano or guitar for this portion; or an instrumental jazz duo, trio, or quartet. As a general rule, music with vocals demands more attention from the guests than instrumental music.
Article Submitted By:
This text was written by Jack Jackson of Alaska's Best Bands. We feature Anchorage's finest musicians and try hard to get the best band or soloist for the customer's budget and musical taste.
Copyright © 2003 Jack Jackson – Request permission before using or reproducing any part of this text.
Photo Submitted By:
Emindee Images
Free Wedding
Giveaways + Sweepstakes
Enter sweepstakes & giveaways and enter to win a free honeymoon when you join. New winners are announced every week!