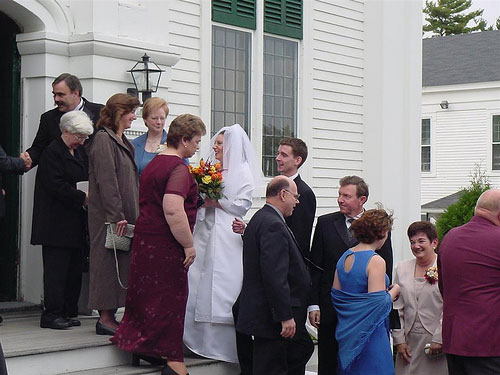 Ahhh…The question of "should we have a receiving line, or not?" For many guests and for some cultures, the receiving line is traditional, offering a formal opportunity for you to greet and thank your guests. Whatever you decide, keep in mind that as the "hosts" or your wedding day, it is proper etiquette and good manners to personally thank and acknowledge your guests at some point throughout the day. For planning purposes, allot about 30-40 minutes per 100 guests.
Who Stands In The Receiving Line and Where?
The easiest way to shorten the time greeting in line?…Shorten the amount of people partaking in the line! If you are following tradition, then the couple, their parents and the maid of honor would be the ones to stand in the line. However, at the bare minimum, it should be the Bride and Groom, Bride's Mother (or whoever is hosting/paying), Groom's Mother, and Maid/Matron of Honor. The fathers, best man, and bridal party are optional. Ushers, flower girls, ring bearers, and siblings of non-wedding party members do not participate.
The order of the line-up is the following:
1. The wedding hosts (usually the bride's parents, the mother first)
2. The groom's mother and father
3. The bride and groom
4. The maid/matron of honor
5. The bridesmaids and best man – optional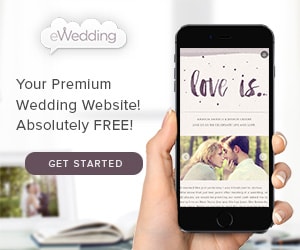 Military Wedding
For a groom in the military, it is protocol for him to be in uniform and if wearing a cutlass/saber, then the bride would then stand to his right (instead of the traditional "left" for non-military weddings).
Divorced Parents
Divorced parents do not stand in the line together. Usually, the parent and step-parent who are hosting or that are closest to the bride stand in the line. If the divorced parents are amicable and friendly with each other, then it acceptable to have the bride's mother stand in the line first—regardless of whether she is paying or not. If there is serious discord among family members, then it may be wise to forgo the formality of the receiving line entirely. To avoid a very lengthy line with parents and step-parents, consider having the fathers circulate among guests instead of standing in the line. Otherwise the line up with remarried parents would look like this:
1. Bride's mother and step-father
2. Groom's mother and step-father
3. Bride's stepmother and father
4. Groom's stepmother and father
5. Bride and groom
Alternatives:
By far, the most popular alternative to the formal receiving line, is to greet guests at each table over their meal. You may also incorporate having your photographer (or someone else) take photos of you with each table. I have also seen couples hand-give their favors to each guest/couple at this time, too
For a church ceremony, have the priest/pastor ask that everyone remain seated, and then have the bride and groom "dismiss" each row (meet and greet by row)
Meet and greet with your guests during the cocktail hour. Travel around with the groom only, or add your Mothers too. You may also ask your MOH to join you (she'll be great at keeping you moving through the crowd)
Hold your receiving line prior to the entrance of where your guests will be mingling for cocktail hour (this is perfect for couples who plan to do photos ahead of time, and want to gather with guests during their cocktail hour)
Greet guests as they sign the guest book (parents/bridal party can join you too)
Do a receiving line as you exit the night: Have guests line up on either side (making an aisle for you) and say "farewell" as you make your exit. This option can work at your ceremony, too.
Have your parents meet and greet guests as they arrive, and together as husband and wife, you can greet them on the way out
"Man" the photo booth together and greet guests as they're in line to take pictures (then join them in the booth afterwards!)
Things to Consider:
Do you liked to be "touched"? (hugged, kissed, hand-shaking)
Taking your photos ahead of time so you don't keep guests waiting longer
A receiving line is a great "filler" if you have a gap to fill between the ceremony or reception. If not, you may be cutting into your reception time (remember you only have a 4-5 hour reception time!)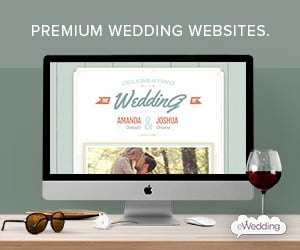 Do's and Don'ts
Don't engage in lengthy conversation. This isn't the time to get completely caught-up in the "oh my goodness! It's been forever since we've seen each other" moment. Offer a pleasant "I can't wait to hear more about it when we have cocktails (on the dance floor, etc."
Do be mindful of your guests who may be juggling drinks, plates, etc. (ever try to shake someone's hand while holding a drink and your plate?), and offer tables nearby where they can put them down
Don't keep guests (and yourself!) in the heat for long periods—consider a location with shade (and possibly a cool beverage)
Do study your guest-list ahead of time so there are no awkward introduction moments (or create a cue that your Groom/Mother knows to jump-in with the names)

Article Submitted By:
Creative Director/Owner Christine Ringuette
Down The Aisle, Wedding Planning & Consulting
www.downtheaislect.com
Read about Bridesmaid Dress Ideas