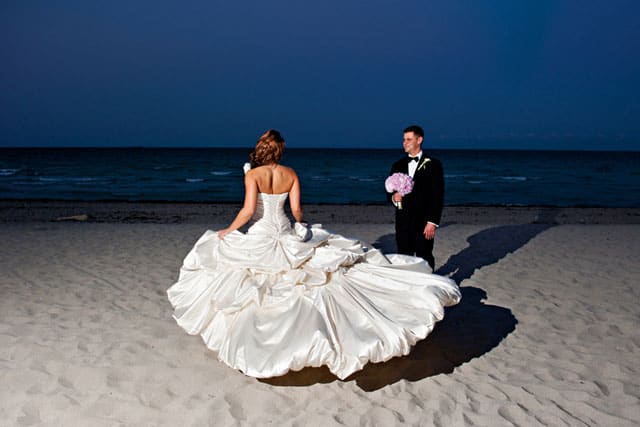 Romance, Spontaneity and Individuality
Gone are the days when a young man propped a ladder up to his beloved's window and  burst forth in a poetic soliloquy before whisking her off to elope. However, even today, there's something to be said for the romance, secrecy, and spontaneity of elopement. Elopement remains popular for older and second marriage couples for a variety of reasons. With the rising cost of weddings, elopement is also gaining in popularity among younger people.
Elopements have undeniable elements of surprise and romance, but each couple needs to decide if elopement is right for them. Would the family be disappointed if the couple chose not to have a large, elaborate wedding? Young, first-time brides should consider that this is the time for their traditional wedding. Couples who disagree on whether to have a traditional wedding or elopement, should sit down together and discuss the issue. Chances are good that there is a satisfactory compromise. However, if you come up with a mutually appealing elopement plan, go for it!
The budget factor
An aspect of elopement that appeals to many couples is the opportunity to save money. When option exists to limit persons in attendance to an officiant and witnesses, there is no need for printed invitations, no rehearsal dinner and no costs associated with a church ceremony or formal wedding transportation. Music and flowers are kept to a minimum and the less formal event calls for simpler wedding wear for the bride and groom.
Some couples will invite only the immediate family, godparents and grandparents. Others will extend invitations to very close friends, aunts and uncles. Generally, an elopement-type wedding involves telephone invitations and the simplified ceremony and reception are hosted fully by the bride and groom. Invited guests or witnesses to elopement weddings are considered intimates, so this type of wedding invitation is a special honor.
Get up and go
For couples who like the spontaneity of elopement, many locales do not require waiting periods on marriage licenses. In Las Vegas you can fly in and get married a nice hotel or chapel over the weekend and fly home. Elevating the aspect of romance is a reason why many elopements become destination weddings. The Northern California Wine Country, where couples can marry amid scenic vineyards, is a favorite spot. Many couples marry on the beach in Hawaii.
In the case of destination elopements, the bridal couple is not expected to pay for guest hotel rooms or travel expenses, but it is a nice thing to do for a small group if it can be afforded. It is important to make clear at the time of the invitation which expenses will be borne by the guests.
Simplicity and individuality
Even the simplest elopement can create wonderful memories for the bridal couple. Some couples choose to be joined only by an officiant and required witnesses in a public park setting. Or, they return to a favorite place, such as where they first met. When using a public site, be prepared to share the area with others. A public place is not where you should marry if other park activities, for example, will be disruptive and annoying to you.
Some couples mix things up with an informal reception hosted by themselves or their parents following their very private elopement. Others opt out of the large celebration altogether to use the money saved as a down-payment on a first home. Whether you choose a big wedding, an elopement, or something in between, plan to start your life together in the way that works best for you and the memories you want to carry through life together.
Article Submitted By:
Robbin Montero
"Stress Free, Leave the Details to Me" is the tried and true philosophy of Robbin Montero, California Wine Country wedding planning expert and owner of A Dream Wedding. Robbin is the premier wedding planner in the Northern California Wine Country, transforming any vision into the perfectly designed wedding creation. Robbin and her weddings have been featured in The Knot, Brides, LA Times, Grace Ormonde, Elite Magazine, Style Me Pretty, Your Wedding Day and Vine Napa/Sonoma magazines, and ImportantOccasions.com. Travel & Leisure magazine calls Robbin, "The expert wedding planner in the California Wine Country." www.a-dreamwedding.com
©2011 Robbin Montero
707-579-5886
This article cannot be reprinted without Robbin Montero's expressed written permission.
Photo Submitted By:
Emindee Images
Free Wedding
Giveaways + Sweepstakes
Enter sweepstakes & giveaways and enter to win a free honeymoon when you join. New winners are announced every week!