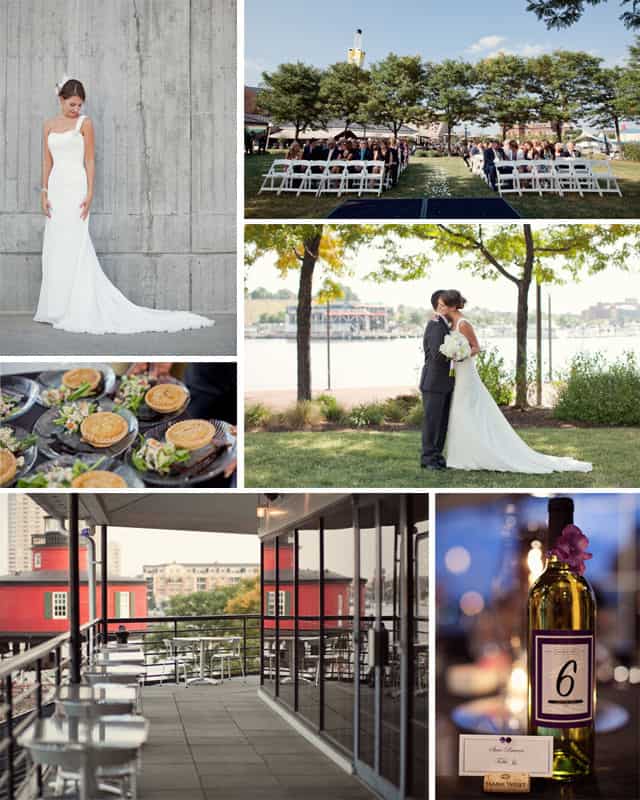 The bride, Caitlin, shared her story with us:
"Scotty and I first locked eyes across the pool deck of a cruise ship in August 2006. We literally experienced that cliche "Love at first sight" moment. Neither of us could keep our eyes off the other. We shared a moment; a connection that couldn't be described by words. I knew then that I had fallen for someone special. Sadly, our vacation ended and Scotty had to return to San Diego, CA and I had to return to college in Towson, MD. Despite being on opposite ends of the country, it was impossible to forget one another. We ended every evening talking on the phone for several hours. Two months went by and our connection to one another grew stronger. We took a leap of faith to see one another again and fell in love on our first real date at Baltimore's Downtown Inner Harbor.
From that moment on, Scotty and I were inseperable. Our connection was real and intense from thousands of miles away and right next to each other. Because of Scotty's job as an entertainer, we enjoyed an adventurous relationship with first dates that took us cruising to Sicily,Greece, Canada, up and down the California coastline, and to countless beaches in the Virgin Islands. Despite all of these romantic destinations, we always found that the best moments were the simple ones enjoyed together. We are a couple that finds joy and romance in the night sky. We are each others best friend.
Four years and a college graduation later, Scotty proposed at sunset on a lake by our home. It was so simple, yet perfectly us. The next chapter to our lives begins with our perfect dream wedding at Pier 5 in Baltimore's Downtown Inner Harbor. Every anniversary celebrating our union as husband and wife will be tied to the romantic location of where we first fell in love.
Love found a way to tell us it was right, that it was our destiny to be together. We were two people from opposite coasts brought together by a chance encounter on a ship. We now look forward to spending the rest of our lives together, as one."
Scotty and Caitlin decided to tie the knot at the Pier 5 Hotel's Lighthouse garden.  It was an absolutely gorgeous day and a perfect place to celebrate such a wonderful unity.  Following the ceremony friends and family gathered for an intimate gathering in the Harbor Club of the Pier 5 Hotel. It truly was an incredible ending to the best day of their life.
CREDITS:
Venue: The Pier 5 Hotel, A Harbor Magic Hotel
Catering: Harbor Magic Catering
Photographer: Theresa Choi Photography
Free Wedding
Giveaways + Sweepstakes
Enter sweepstakes & giveaways and enter to win a free honeymoon when you join. New winners are announced every week!