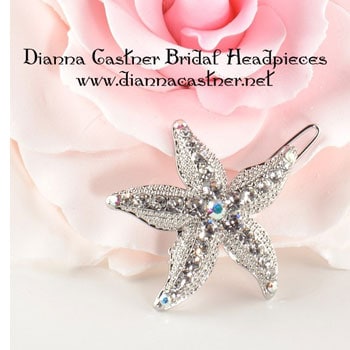 Brides who have fond memories of childhood summers at the beach and those who are simply in love with the sun and sand sometimes choose to tie the knot at their favorite seaside resort.  Couples who are planning to exchange vows at or near a beautiful ocean setting might consider choosing accessories and accents that reflect the tropical ambiance of their picture-perfect location.
Research the popular local flowers that are native to your chosen location.  Find out if the flower is readily available in the quantities you would need at the time of your wedding and reception.  Sometimes just seeing a flower can open your eyes to color palettes that you may never have thought of using.  Check to see if the flowers are fragrant.  If so, make sure they are not too strong for centerpieces or used as bouquets.  A simple blossom in the bride's and/or bridesmaids' updos can be just enough to bring in a tropical and local flavor.  If the flowers are not too pungent and you love the appearance, go ahead and use them in as many ways as you can.  Make a bridal path on the beach using local flowers or make a heart for the bride and groom to stand in as they become Mr. and Mrs.  Use native flowers as boutonnieres, tied to ribbons and used as wristlets, or made into hair garlands.
When selecting jewelry or hair accessories, think mother-of-pearl.  Look for gems that have a pearly or opalescent luster.  Gems with a milky iridescence evoke a tropical, lush climate.  Consider using a gorgeous pearl or opalescent necklace as a headband.  Choose a necklace that is filled with beautiful beads, cabochons or stones that you can wear with your hair down or weaved into an updo.  You can replace the clasps of the necklace with gorgeous silk ribbons to use as a tie.  If you find a stunning mother of pearl brooch consider pinning it into your updo to use as your hair accessory.
Article Submitted By:
Dianna Castner Bridal Headpieces
www.diannacastner.net
Dianna Castner is the owner of Dianna Castner Bridal Headpieces located in the greater Philadelphia area. Dianna's pieces have been featured in Brides Magazine, Modern Bride, Bridal Guide, Profiles 98 Wedding Issue, Brides.com, New Jersey Brides, Modern Luxury Brides Issue, Munaluchi Bridal and The Knot. Dianna has authored articles related to the wedding industry and bridal wear.
Free Wedding
Giveaways + Sweepstakes
Enter sweepstakes & giveaways and enter to win a free honeymoon when you join. New winners are announced every week!