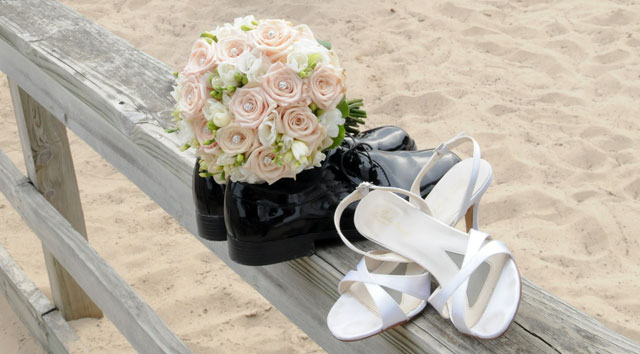 The word "wed" is derived from the ancient Greek word for "pledge." And that's exactly what a wedding is, no matter what country it takes place in, no matter what culture it's part of. To wed is to pledge yourself to another. There are few acts we perform that are more pure or more beautiful than the act of marriage.
Marriage is the most solemn pledge we make in our lifetimes. Traditionally the wedding pledge is made in front of family and friends who come to support and witness our pledge.  However, the words spoken carry the same weight and importance whether recited in front of a large gathering or in small, intimate surroundings. In Wyoming two witnesses are required for a wedding to be legal; other than that, it can be just the bride, groom and officiant. The marriage vows are the most solemn of promises, but also embodies the potential for the greatest joy of human existence – the pure joy that flows from two hearts beating as one. We even have a term for it: soul mates.
Marriage is a bringing together. It has been a bringing together of two people, of two families, or two tribes, or two villages, or even two countries. Marriage is that powerful and not something to be entered into lightly. Marriage is a pledge meant to last a lifetime. Yet it is one of the unceasing marvels that we are able to express something as basic as love and marriage in so many wonderful and touching ways. The ceremonies and the traditions may be different, they may seem strange or outlandish or they may touch feelings in us that we never knew we had, but there is something about marriage that is instantly recognizable no matter what the language or tradition.
In almost all cultures the marriage ceremony ends with the bride and groom exchanging a kiss. The wedding kiss transcends cultures, it bridges tribes, it is one of the very few things that bind all of us together as human being. From ancient times to the modern day, from the deepest jungles to the tallest skyscrapers, the wedding kiss symbolizes for all people everywhere the physical uniting of two souls.
The United States has few wedding traditions that are totally unique to the U.S., although I do often have couples request some Native American traditions in their ceremony, such as the merging of sand. Since the United States was originally populated by immigrants from many lands, it is easy to understand that many cultural and ethnic traditions were brought with them and have evolved into modern wedding ceremonies.
The tradition of tying old shoes to the back of the couple's car, for example, stems from Tudor times when guests would throw shoes at the bride and groom, with great luck being bestowed on them if they or their carriage were hit.
Something old, something new, something borrowed, something blue and a silver sixpence in her shoe. This rhyme originated in Victorian times. 'Something Old' signifies that the couple's friends will stay with them. In one version of the tradition the 'Something Old' was an old garter which was given tot he bride by a happily married woman so that the new bride would also enjoy a happy marriage. "Something New' looks to the future for health, happiness and success.
'Something Borrowed' is an opportunity for the bride's family to give her something as a token of their love (it must be returned to ensure Good Luck), and 'Something Blue" is thought lucky because blue represents fidelity and constancy. A sixpence was placed in the shoe to bring the couple wealth in their married life. Some brides still place a penny in their shoe during the marriage ceremony.
U.S. wedding ceremonies and wedding customs are among the most flexible in all the world. I tell all my couples, "there is no right or wrong way to get married."  I also tell them not to worry about the day running smoothly because, when everyone's heart is in the right place, there is nothing that can happen that can spoil the beauty and magic of this special day.
Article Submitted By:
Dr. Dick Caldwell
www.westernslopeweddings.com
Free Wedding
Giveaways + Sweepstakes
Enter sweepstakes & giveaways and enter to win a free honeymoon when you join. New winners are announced every week!