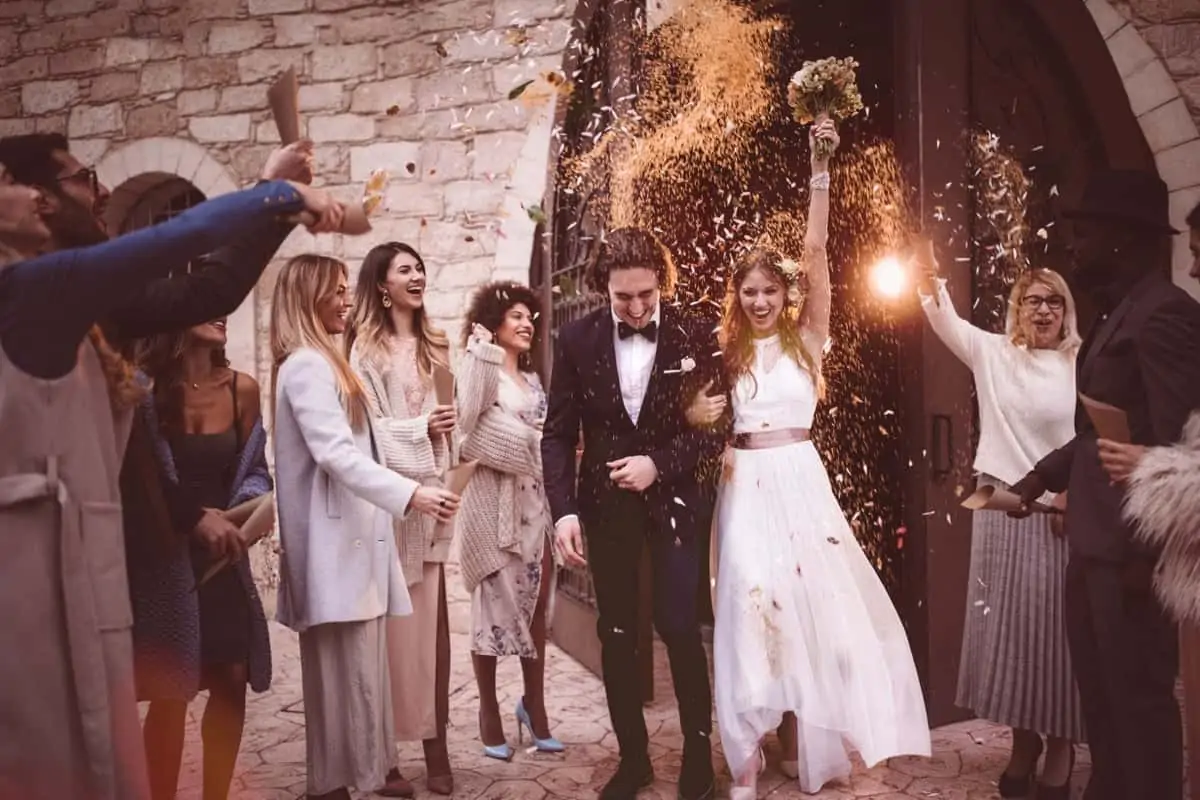 Although the entire UK is only the size of the state of Oregon, it offers SO many exciting city wedding destinations to get hitched in — 69 to be exact. That's right, this tiny tea-drinking scone-eating island is jam-packed with wedding-worthy city destinations, including four capitals: Edinburgh, Cardiff, Belfast, and, of course, London. And for the Friends fans out there, we can confirm Ross and Emily's disaster London wedding has not set the tone for the city's future brides and grooms, but for the love of marriage, please remember your spouse's name at the altar, ok? Ok. While the UK's capital cities all promise elegant venues and cool photo backdrops, we are going to open your eyes to some of its best alternatives. From historic and quaint to urban and trendy, take your pick.
Birmingham
England's 'Second City', Birmingham, is a cool, urban city with a striking industrial style. Think repurposed factories with exposed brick and Peaky Blinders swag. This is the city for couples who want to scrap elegance and tradition and replace it with something modern, edgy, and artistic. That said, the city also has its fair share of classic estates, medieval manors, and Edwardian halls hidden within its countryside too which you can browse here.
York
If you want historic, York will give it to you. With most of its city wall still intact and an incredible cathedral at its centre, York is by far the UK's best-kept medieval city. Its streets are cobbled and narrow, its buildings are timber-framed, and its historic charm is truly endless. Whether you tie the knot in York Cathedral itself or opt for a more modest affair in a quintessential medieval pub, your special day will be filled with a magical sense of history.
Inverness
Whether you have Scottish ancestry, love the Scottish scenery, or just really really want to see your future husband in a kilt, Inverness is the perfect northern city to marry in. Overlooked by Inverness Castle, the city itself is small, historic and full of Scottish character. However, it's the views over the Highlands that really do this city the most justice. Imagine marrying the love of your life in a Scottish country estate on Loch Ness surrounded by the rugged rural landscape that Scotland is so well-known for.
Derry–Londonderry
Situated on Northern Ireland's north coast, Derry-Londonderry often gets overshadowed by its big sister, Belfast. However, this gritty northern city is arguably a better wedding destination. Protected by 17th-century walls, Derry-Londonderry is quite literally surrounded by centuries of history which makes for the perfect rustic wedding. Meanwhile, its nearby beaches backed by tall cliffs carpeted in grass provide a dramatic wedding backdrop that you can only find on this unique island.
Free Wedding
Giveaways + Sweepstakes
Enter sweepstakes & giveaways and enter to win a free honeymoon when you join. New winners are announced every week!