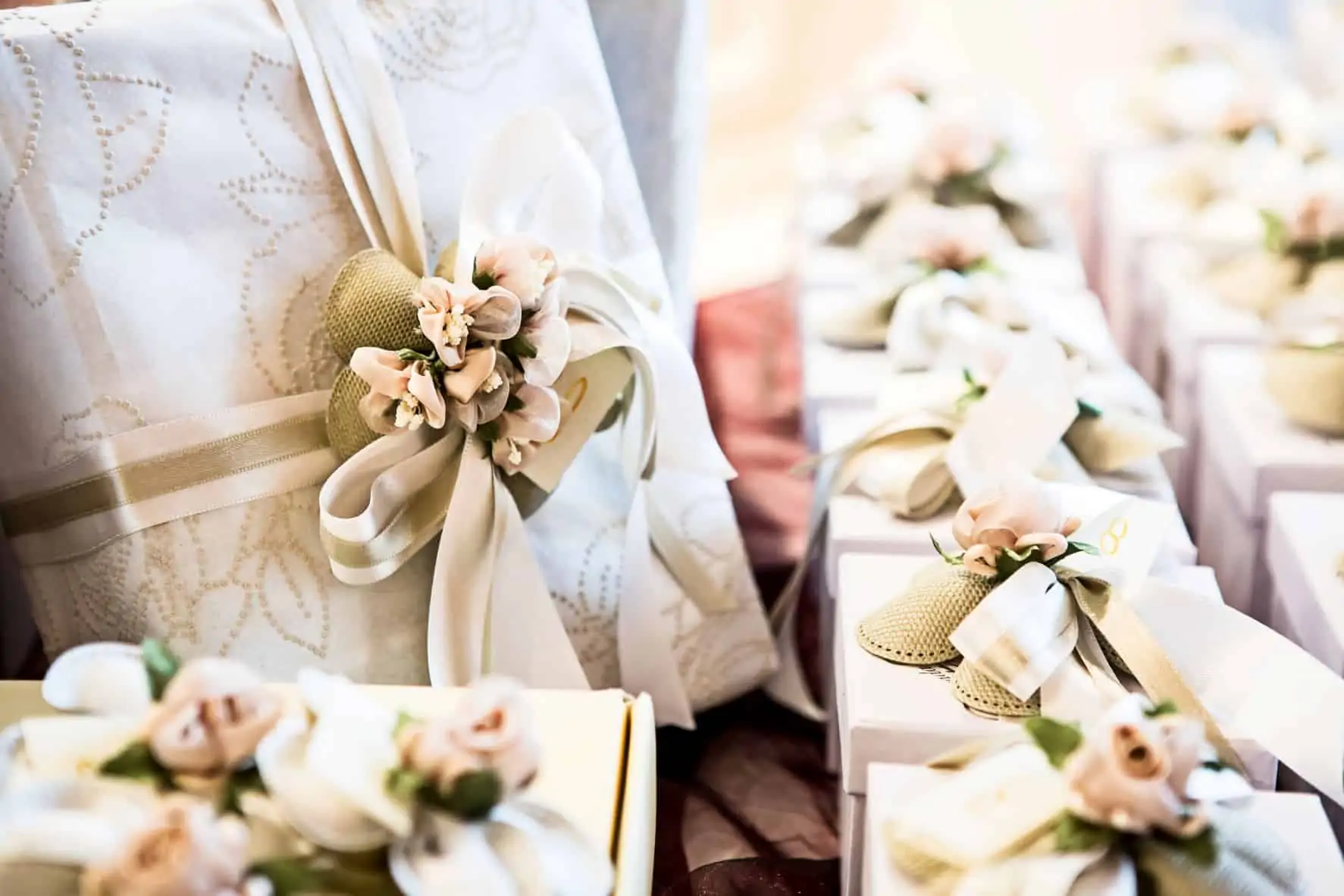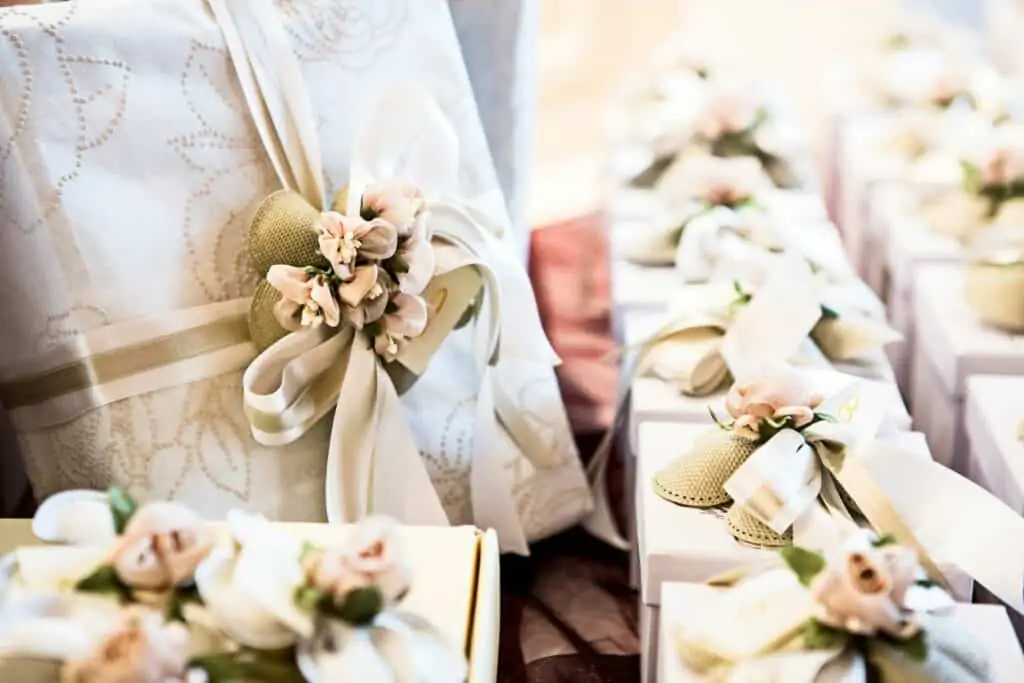 Many people assume that a wedding ceremony is planned by the couple alone. But in reality, it often involves their family and friends, or what you may call the wedding entourage.  
These individuals not only play special roles in the wedding, but they also provide both emotional and tangible support to the couple. This can be from planning the ceremony to preparing the bride's dress and the groom's suit. So if you're getting married, it's only fitting that you and your partner get them gifts to show your appreciation of their presence and support.  
However, choosing just about any gift isn't enough. If you're having a hard time choosing a memorable gift for your wedding entourage, the following tips might come in quite handy.  
   1. Do some detective work during the pre-wedding party  
Before you start with your hunt for gifts, you should first have a general idea of what the members of your wedding entourage will like. While you're probably already familiar with the preferences of your closest friends, like the Best Man or Maid of Honor, it's also crucial that you don't forget about your groomsmen and bridesmaid. For that reason, an excellent first step to choosing memorable gifts is to learn about their personal preferences before anything else.  
But of course, it's not every day that you get to learn about your friends. So, during your bachelor or bachelorette party, you can take the opportunity to do some detective work.  
Here's a list of questions you can ask your friends to come up with the perfect gift ideas: 
What's your favorite wine or beverage? 

 

Is there a movie or TV show you've watched over and over again? 

 

Who's your favorite actor? 

 

Have you ever tried collecting things? If so, what are they? 

 

What's something you can't live without? (1) 

 
When asking these questions, make sure you do it subtly so as not to raise suspicions. Perhaps you can make it look like a game. But considering what usually happens during these types of parties, such behavior isn't all too strange.  
    2. Get a gift that commemorates their milestone  
During the party, you may also learn of the recent events in your friends' lives. These may include milestones that will probably become a long-lasting memory to them.  
Since your goal is to find a memorable gift, these milestones can be the perfect way to ensure your wedding entourage remembers your gift. You can do that by connecting the memory of that milestone to the gift. For example, if your friend has recently become a father, you can get them a mug that says "World's Best Dad." It might be a bit cliché, but it's certainly memorable.  
   3. Take a look at specialty stores 
Visiting a specialty store is an excellent way to get more creative ideas on what to get as a gift for your wedding entourage. For your information, a specialty store is a shop that offers products within a specific category only (e.g., clothing, beauty products, etc.). An example of a specialty store that can help you with your purpose is a gift shop. (2)  
Browsing through various specialty stores will give you ideas, if not, inspirations as to what gifts to get for your wedding entourage. Other examples of specialty stores that do the same include:  
Wedding stores 

 

Groom-themed shops 

 

Bridal shops 

 
But before you head to specialty stores, make sure you bring a piece of paper or your smartphone so you can take note of any idea you may get while window-shopping.  
   4. Don't be afraid to get practical  
When people talk about "memorable gifts," you'll often think of prioritizing sentiment over practicality. However, it's also a good idea to get a practical gift that your entourage can actually use. These may include essentials like hand towels, blankets, cardholders, or a wallet. But you might be thinking, "Wouldn't it be too bland and not memorable at all?" (3)  
Well, not if you personalize these gifts. For instance, you can embroider your groomsmen's names on the hand towel or put their names on a mug. If you do that, they'll most likely remember your wedding ceremony and their role in it whenever they see your gift.  
Wrapping up  
Much like how you and your partner handpicked each member of your wedding entourage, you must also take your time choosing what gifts to get them. It may not be the most practical or luxurious gift, but they will undoubtedly see your sincerity and gratitude through the gifts you chose after putting in a lot of effort. Also, remember to include a thank you note on each gift. It's a simple practice, but it goes a long way in showing your thoughtfulness. 
References: 
"Secret Santa Questions and Printables for Better Gift Giving," Source: 

https://www.gifts.com/blog/secret-santa-questions

 

"What is a Specialty Store?," Source: 

https://www.smartcapitalmind.com/what-is-a-specialty-store.htm

 

"28 Practical Gifts That Are Perfect for Everyone on Your List," Source: 

https://www.housebeautiful.com/entertaining/holidays-celebrations/g34417015/practical-gifts/

 
Free Wedding
Giveaways + Sweepstakes
Enter sweepstakes & giveaways and enter to win a free honeymoon when you join. New winners are announced every week!