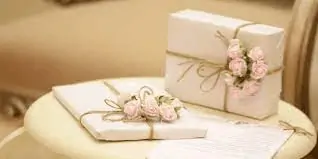 It's the most important day of your life. All of your people will be heading to your wedding. And with this, you can expect to be gifted with many wedding presents. One of the best and most important features of weddings is the traditional exchange that occurs when it comes to gift giving. The joyous couple is on both ends of this experience, but most people don't even realize this. The bride and groom must show their appreciation for all of the time and effort their loved ones have given throughout the years by giving thank you gifts.
There are a variety of loved ones who deserve to be honored and thanked on this special occasion. You definitely didn't make it to the altar all by yourself. Even the best of us needed help along the way. Stay organized and give a second to write down the names of the people you should buy for. It keeps you from forgetting and having a few names slip through the cracks.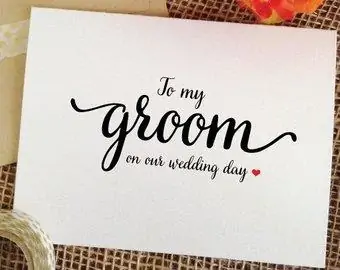 Gifts for the Groom
The first gift you should focus on is the one for the man you will be spending the rest of your days with. The bride and groom certainly shouldn't forget about each other on this day!  It's been an adventure together getting to your big day, and you can't forget that you did it as a pair.  You can simply gift the groom with a personal note that expresses how much you're looking forward to your journey. Make sure you accompany your message with a meaningful gift.  The ideal offerings are special and come from the heart, focusing on how unique he is to your life. 
You don't have to break the bank either!  This token can be inexpensive but you know how much he'll appreciate it.  Book a weekend trip by grabbing him tickets to go see his favorite band or sports team, or jump on the Web and find him a cool guy gift.  When it comes to shopping for men, there are endless possibilities. Depending on the man, a watch, drinkware, or cigars would make cool gifts.  You can even send him off on a golf weekend with friends, as I'm sure he'll love that!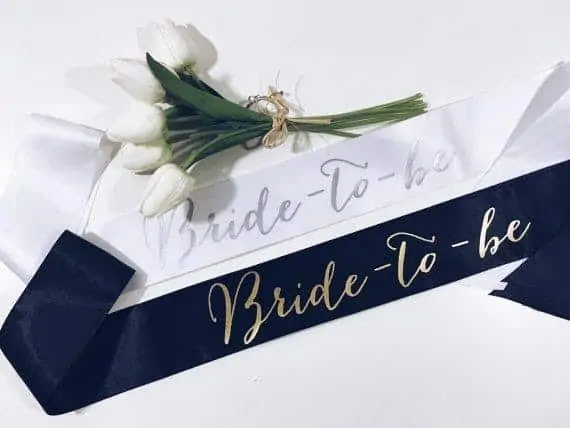 Gifts for the Bride
For your beautiful bride, a pair of sparkly earrings or a gorgeous necklace should bring a smile to her face. Or you can get creative and leave a loving message somewhere in her room to surprise her on the morning of your wedding day.  Really anything that says "Mrs." or "Wifey" would be a cute offering that she will appreciate.  Gestures that let her know you're thinking of her on your wedding day is really what we're after here.  Your bride has done so much to prepare for the wedding.  She deserves the biggest of thank yous!  Be the one that gives it to her with a thoughtful gift.  Think of all the things she loves and tap into her favorite hobbies and interests.  One thing that I know is all women love bags!  Based on her taste, get her one she will cherish forever.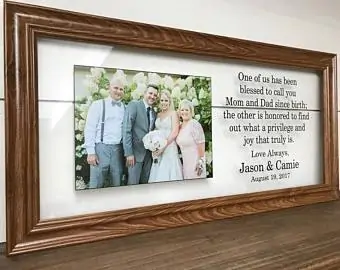 Gifts for Your Parents
Next up, think of a gift for your loving parents. I'm sure they were overjoyed when you told them you found the love of your life, to spend your journey with. The special moment you announced this news will be stamped as one of the favorite life long memories. And I'm certain, they have spent an abundance of time and money to assist in your big day. This is exactly why a thank you gift is the least you can give. For the moms, an embroidered cosmetic bag would be cute, or a beautiful satin robe paired with her favorite colored stemless wine cup. For the dads, a new set of shiny cufflinks, some engraved drinkware, or a personalized tie perhaps.  You don't have to empty your wallet, just target what you know they love and gift away!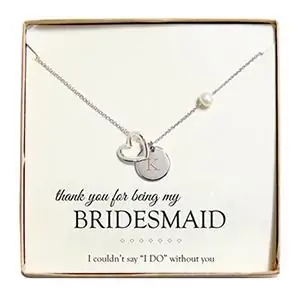 Gifts for Your Maid of Honor and Bridesmaids
The besties!  Your maid of honor and bridesmaids, the women who have been there from the beginning, deserve nothing but the best.  Gifting them a token of appreciation and in remembrance of your wedding would be a fantastic start in the thank you process. The special present for your maid of honor should be a little more meaningful and over the amount spent on the bridesmaids gifts. There are several options as to the items you can give for women. Grab them a personalized bag, drinkware, jewelry, gift boxes and sets, robes, and a lot more. Think of buying items you can all use while getting ready the morning of your big day – satin robes, mimosa glasses, fuzzy slippers.  Monogrammed clothes and matching jewelry for your bachelorette party or wedding morning would be a creative way to say thanks for it all.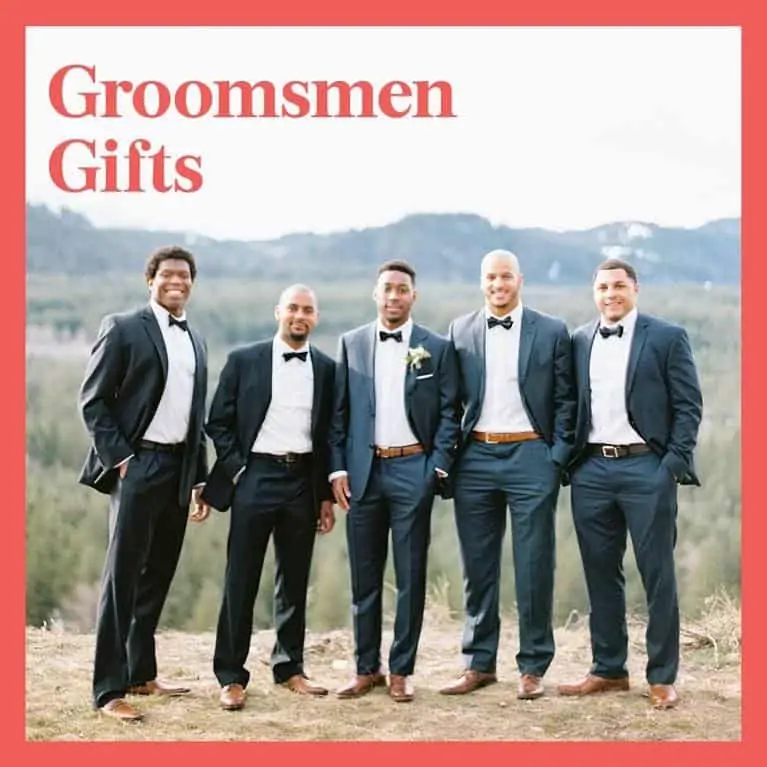 Gifts for Your Best Man and Groomsmen
Your best man and groomsmen certainly don't expect anything, as it's probably the last thing on their minds heading into your wedding day.  But since there are so many cool gifts for guys out there they will love, you just have to do it!  Just like the offering for the maid of honor, your gift for your best man should be significantly more special than that of the groomsmen. The memories you share with these men will surely make your wedding day extra special and a gift given to them simply expresses your gratitude for all those fun times. Make your present count by making it something they will cherish for years to come. You can choose from personalized flasks, decanters, cigars and lighters, barware, travel bags, and the like.  There are countless options for you to select from.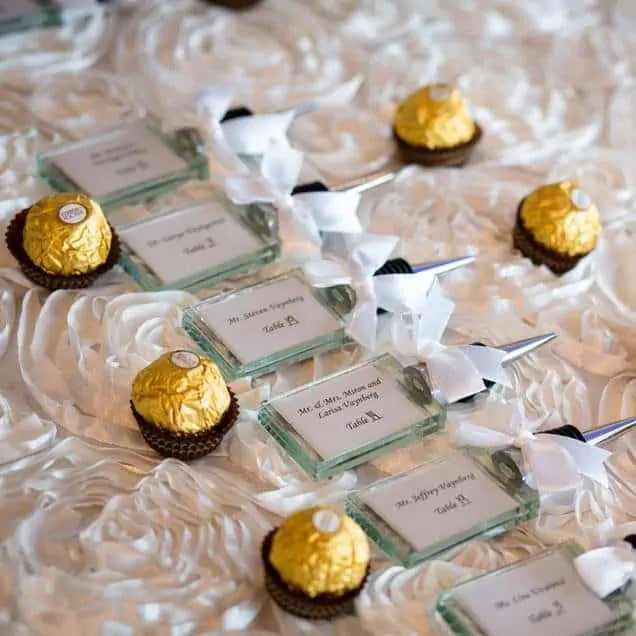 Wedding Day Table Gifts
The wedding favors you hand out are your way of thanking your guests who took the time to travel to your ceremony. Many of these guests may have come from afar and put in time and resources just to make it to your wedding. Make sure they leave feeling loved and valued for being part of your special occasion. For these gifts, choose from a wide variety of favors like wine bottle stoppers, glass containers, bottle openers, creative salt and pepper shakers, and the like.  Look to match the gift with your wedding theme.  And remember, these are gifts that will be household trinkets that will be used and bring a smile to the face of your loved ones for many years to come.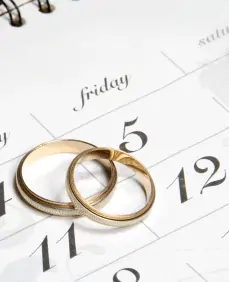 When to Buy Gifts
There is a laundry list of things to do to prepare for a wedding.  I get it!  Buying gifts for loved ones is important, but not top priority.  That said, the sooner you can prepare for these gifts the better. Get it off your list as soon as possible.  A more specific goal would be one to two months before your wedding date. This way you won't have to rush around during crunch time. Make sure that you begin to shop months before your wedding so you can take advantage of fabulous deals both online and in stores. You'd be surprised how a great off-season sale can save you, or how stumbling upon the perfect gifts may happen while doing other life errands.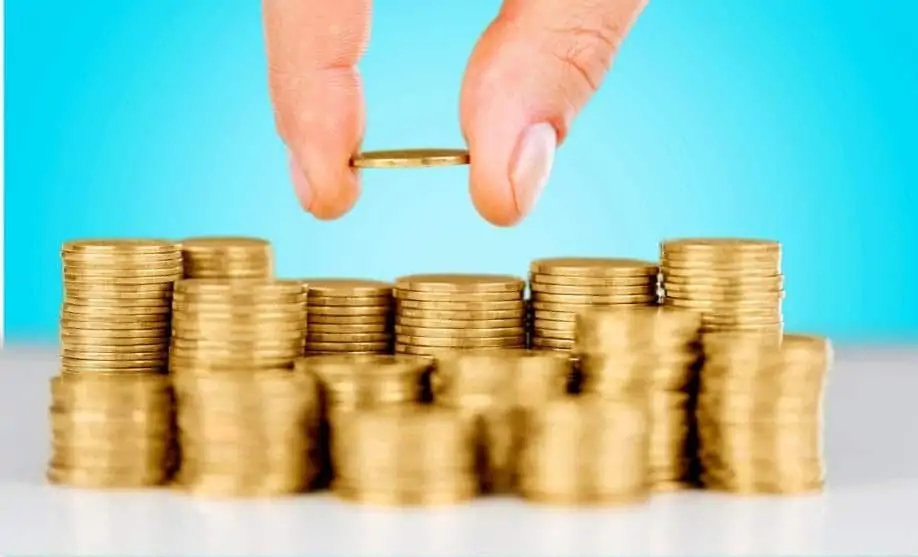 How Much Should You Spend?
Calculating the amount you should spend on each gift should really depend on your overall wedding budget. However, considering the amount they dished out for your wedding, you may want to put in a more significant amount on the gifts for your parents, maid of honor and bridesmaids, best man and groomsmen. Think of what they have already spent a great deal on: hotel room, attire, your bridal shower, bachelor/bachelorette party, wedding and shower gifts, and such. A range from $75 to $150 should suffice. The general rule is to spend a little more for the maid of honor and best man, and a little less for the flower girls and junior bridesmaids. You can simply break it down as to, spend more if they've spent more.  Who has the more important wedding role gets the more significant gift.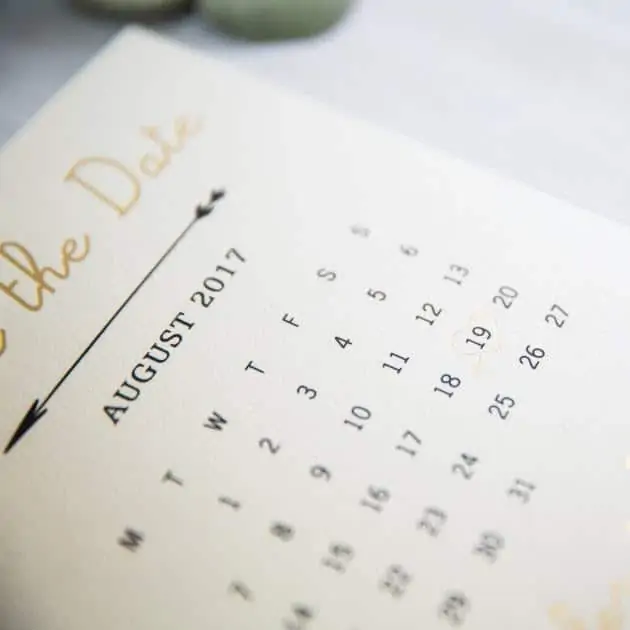 When to Give the Gifts
In life, timing is everything! When to give the gifts should be thought of well in advance. The item for your spouse may be given hours leading up to your ceremony, as it's a special gift for the special day.  Take a quiet moment away from the hustle and bustle of your wedding day to say "I love you."  Always remember, this day is for the two of you!  Share an intimate moment together to trade gifts, or ask someone from your wedding party to help you set up a gift swap if you didn't plan to see each other before the ceremony. Some couples do it the night before the wedding. What's important is to be on the same page as your spouse and enjoy a special moment together before the craziness ensues.   
Your parent's gifts may be given a few days prior to the wedding. Maybe over an intimate lunch or dinner. They can also be given during the rehearsal dinner or on the morning of your wedding. The gifts may be given to both sets of parents together, or in separate moments individually. I guess that all depends on how close they are. As for your wedding party, gifts may be given at the rehearsal dinner or on the day of your wedding over brunch, lunch, or while preparing together for the big day. They may also be given a few days before your wedding over a separate meal. If your gift is something you need them to wear on your wedding day like a shawl or scarf, jewelry, or cuff links, you may give this while you're getting ready. By doing this, you lessen the risk of your wedding party forgetting your gift at their hotel room or even misplacing it. And maybe it's a trip, like a golf outing. If that's the case, set the date and enjoy!
For the young attendees, like your flower girl or ring bearer, the gifts may be given during the rehearsal dinner as well. However, this will depend on what kind of gift you have and their age. Gifts that they need to use or wear during your ceremony should be handed to them on the day of your wedding, as they are young and forgetful.The wedding favors, which are intended for everyone, may be positioned at each place setting or even as part of the table centerpiece. If the wedding favor is to be given per couple, you may label them with the couple's family name and placed on a separate table where guests may pick them as they enter the reception area.
Your gifts mean everything, especially to the people closest to your world. Always personally hand them out or insert a personal message to express your heartfelt gratitude for all their love and support along the way. So many people have done so much for you leading up to the day, and this is your big chance to truly thank them properly.
Free Wedding
Giveaways + Sweepstakes
Enter sweepstakes & giveaways and enter to win a free honeymoon when you join. New winners are announced every week!