Do not TABLE this discussion….for a number of reasons! Table Numbers for Your Wedding
"Honey, did you get our place card?"
"Where do we sit?"
"What table are we at?"
"Hurry up, you are holding up the line."
"But I don't know where to sit?"
"Just sit anywhere, I'm sure it'll be fine……."
You've spent a year planning your wedding; making sure every detail is perfect.
You made sure the wedding party didn't stay out too long the night before so everyone would be on time.
You made sure to schedule the ceremony around the ring bearers nap time, and packed a snack for the flower girl so she doesn't get hangry…
You added directions to your wedding program so your guests could easily find the reception (if you followed last week's blog….)
You've come this far….don't let the train come off the tracks!
Table Cards are a simple, but important part of the reception.  All the hours you spent, sketching out the seating arrangements and deciding who sits next to who, can be completely derailed if it's not clear and easy for your guests to know where to sit.
The sooner they get to their seats, the sooner you can get on with the important things… like the hilarious speeches, adorable slideshow, kissing every time a glass is clinked (o la la)…..
Having clearly marked tables is an important factor in this.  But they don't have to be sterile, boring or tedious.
Table Numbers can be like your favorite pair of flats; functional AND adorable.  So why not make them part of your motif?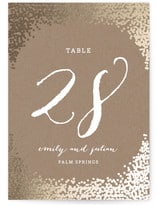 Sound too complicated and time consuming?  Not good with numbers?  (Don't worry, 6 out of 5 people have difficulty with numbers)
If you've read any of our blog articles, you know that I like to keep it easy like Young Jeezy.
We are living in the greatest technologically advanced period in history, why not take advantage of it?!
You can see oodles of options for customizable Table Cards by simply clicking here:
They have a multitude of templates to choose from.  Then you can customize to your liking; color, font, style, theme, etc.
And they are conveniently sent right to your home.  Waiting for them to arrive is the hardest part!
Keep your reception on track.  Your custom Table Cards will make finding their seats easier than finding a Squirtle (another Pokemon Go reference?  Doesn't this guy do anything besides fill his Pokedex?).
To see the full line of customizable table cards, click here:

Free Wedding
Giveaways + Sweepstakes
Enter sweepstakes & giveaways and enter to win a free honeymoon when you join. New winners are announced every week!