Is it time to adDRESS what your bridesmaids will wear? Bridesmaid Dress Idea
Full disclosure; I've never worn a bridesmaid dress (except for that one time in college….and I think it was technically an old prom dress…either way, I rocked it…but I digress)
Nevertheless, I have oogled my fair share of bridesmaid dresses (not in a creepy way).
My wife is the kindest, friendliest, most caring person I know.
Because of that, she has a LOT of friends (situational hazard).
And when those friends get married, guess who always gets asked to be a bridesmaid?!
So I have seen BUNCHES of bridesmaids dresses, and subsequently been asked a plethora of questions about them:
"Is this one too short?"
"Is this one too long?"
"Does this one show too much boob?" (There is no such thing, says every man ever)
"Does this make my arm look skinnier if I hold it up, back and at an extremely unnatural angle?"
For the most recent wedding my wife was in, I began preparing for the long day(s) of torture watching the kids while she dress shops, then has the dress altered (and has the cash "altered" from my wallet as well).
Then, something strange happened.  Something marvelously bizarre.  She didn't leave me alone for hours on end with the screaming mimis little angels.
She didn't leave at all, in fact.  This neatly packaged parcel arrived on our front door one day.
In it, was one of the coolest and most innovative dresses I had seen in all of my bridesmaid experience.
The fabric had a wonderful feel, and it traveled extremely well in the mail.  (If it can travel that well getting drop kicked around by common carrier, I'm assuming it will travel even better in a suitcase for those out-of-town weddings.)

The most impressive part was, that with a few twists, the look of the dress could be changed.  (there are good instructions.)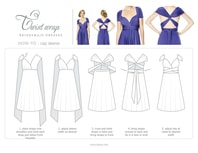 You can see all of the different looks by clicking here:
With a couple of tugs and a few rolls, you can change the dress based on personal taste.  Sleeves, one shoulder, backless, halter, twist front…the list goes on and on.
These twist dresses offer uniformity in all of the season's most popular colors, while still allowing each bridesmaid to customize it to her own personal taste, WITHOUT a bunch of costly trips to the alteration shop.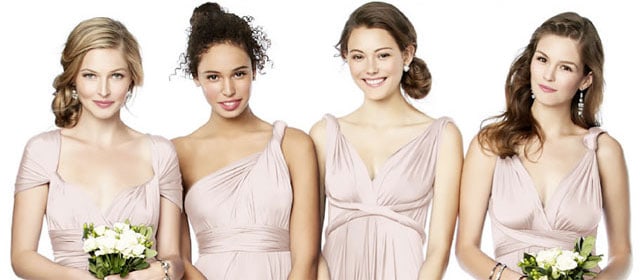 And best of all (for me) these dresses are a very good value.
But don't have to take my word for it, (even though I consider myself a bridesmaid aficionado)
You can see and feel for yourself by ordering a FREE set of sample swatches by clicking here:                             Just pay shipping.
Your bridesmaids are always there for you, and will give you all of their love and support on your special day.  Why not reciprocate by enlightening them to the dress that allows them to feel their best? Plus, you could choose discount bridesmaid dresses.
To see the full line of available twist dresses, click here: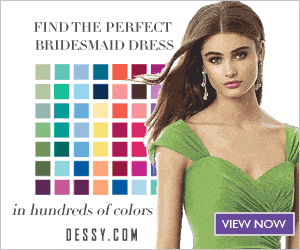 Free Wedding
Giveaways + Sweepstakes
Enter sweepstakes & giveaways and enter to win a free honeymoon when you join. New winners are announced every week!