Make your guests go bananas….and thank them a bunch. Thank you cards
I'd like to think you and I have good chemistry.
I'm not afraid to use puns in my blog, because I know you'll have a good reaction….
One thing that's not a laughing matter however, is making sure you send your guests a proper thank you card in a timely fashion.
You love (most of) your guests.
They took the time out of their schedule, and some traveled a good bit, to share in your special day.
And the gifts!  (most) of your guests ushered you into your new life with your new spouse with a gift.
The best Some gifts came in an envelope.  Others came in boxes.  Most came from your registry, so they weren't really a surprise. (You acted surprised anyway)
However, some relatives think they know you better than you know yourself, and bought you something that wasn't on your registry…(no acting necessary for those).
Regardless of what the gifts were, they were a symbol of love.  Most of all, they were generous.
And the best way to let those guests you know you appreciate their generosity and thoughtfulness is by being expeditious with your thank you cards.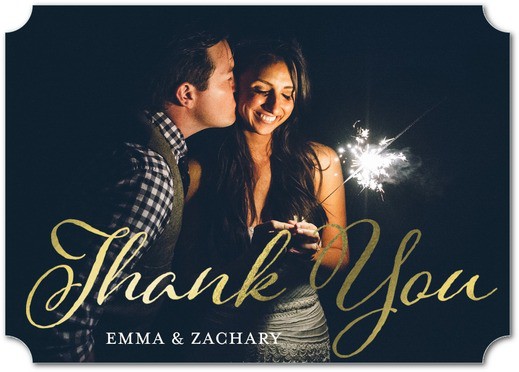 When I attend someone's wedding, and I receive a prompt thank you card, it makes me feel like I was recognized and appreciated.  It makes me feel like I was more than a seat filler, and I mean that in the literal sense….(the only gym I've seen in months has been used to catch Squirtels in Pokemon Go…)
And, frankly, thank you cards are fun!  They are like one last wedding task, to check of your list (crossing things off the list feels sooooo good).  One last chance to show off how good you looked in that tux or dress (if you choose a thank you card with pictures like this one here):
It's not always easy to do thank you cards.  Writers block is a real thing.  Sometimes, even the best of us can stare at a blank canvas for hours, and not know what to write (fortunately I get paid by the hour, not the word).
So if you don't know what to say, don't stress!  You can see all kinds of thank you card wording examples by clicking here:  
There are soooo many different options for thank you cards!  Traditional,chic, modern, personalize.   You can see all kinds of different thank you card options by clicking here:
Pick a good one!  It may be the last chance you'll have to plaster pictures of yourself on your friends' and families' fridges and bulletin boards for a while!
Shop prom and cocktail dresses.

Free Wedding
Giveaways + Sweepstakes
Enter sweepstakes & giveaways and enter to win a free honeymoon when you join. New winners are announced every week!