That's what friends are for….(telling you about the latest wedding trends and discounts!)
You and I are friends, right?
Not in the Courtney Cox and Jennifer Aniston kinda way, but friends none the less.
We message each other on social media, we laugh together…(hopefully with me,… not AT me, right?
Because sometimes I feel like a baseball player hitting a sacrifice fly, and I'm putting myself out there).
Most importantly, we share.
We trade stories, tips, advice and most anything related to weddings.
Because weddings are all we do.  We are immersed in them.
And we pick up a lot of good info along the way.
Whenever we see something new, unique and/or something we think would be useful to our Wedding Vibe community, we like to share it with you.
One of our favorite shares is when we find things that are wonderful AND on sale/a good value!
Our ear is so close to the proverbial wedding ground, that we hear about tips and deals that you might have not ever known about.
We are constantly inundated with deals, promotions and coupon codes.  We pride ourselves on our ability to sift through them all to find the best and most useful tips and deals, and then share them with our Wedding Vibe members.
Some of them are FREE!  Like the fantastical FREE WEDDING WEBSITE builder that you demo by clicking here:
Others involving saving MONEY!   "Coupon" and "Code" are my two favorite words in the English language.

The only thing more fun than shopping for adorable wedding favors like this, is saving money while doing it!
Call me Macklemore, but I love a bargain.
When you have a wedding, there are going to be certain essentials like Wedding Stationery that you have to have.  And if you can save money on the essential invitations, wedding programs, and thank you cards, it does two things:
A) puts money back in your pocket
B) allows you to apply those savings to wedding ring bands, or fun things like bobbleheads!  (I don't know why, but I am obsessed with seeing myself in bobblehead form)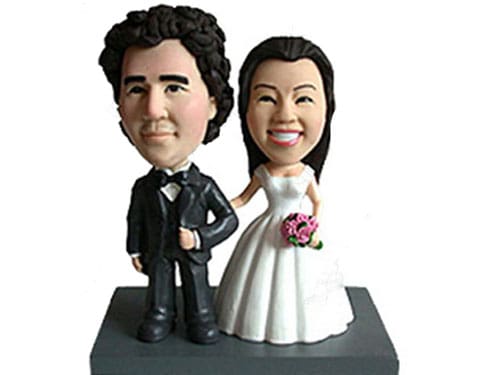 We are constantly posting new tips and deals on our Facebook, Twitter and Instagram, so make sure to check it out early and often.  (A lot of the coupon codes are time sensitive, so don't wait…my least two favorite words in the English language are "Coupon Expired").
And if you have any tips or deals that you'd like to share, we would love to hear from you!

Free Wedding
Giveaways + Sweepstakes
Enter sweepstakes & giveaways and enter to win a free honeymoon when you join. New winners are announced every week!