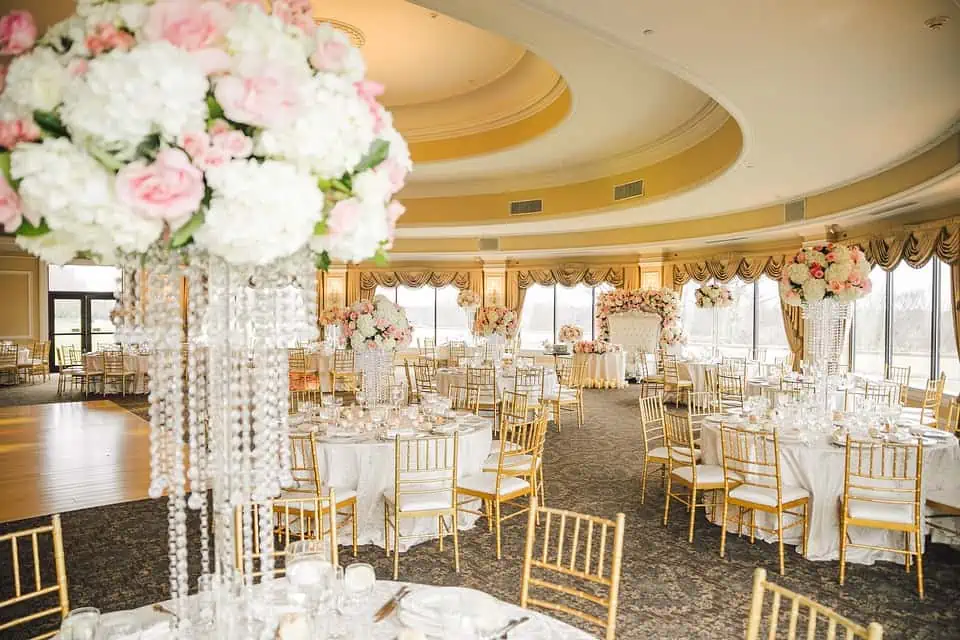 There are a variety of wedding locations available, each with unique features and services. Choosing the ideal wedding site is difficult; you must take into consideration factors like location, wedding style, guest list, and more. Don't be afraid to cross off probable locations from the list if they don't fit your criteria.
Things to Look for in a Wedding Venue
The Venue Size
You can use various ways to determine the size of the venue. A guest list is one of the things to consider. Ensure that you have a list of guests who will attend. Will the venue accommodate the number of guests you have? If there are many, choose a larger venue. The venue should also have enough space for the ceremony and reception. It is possible to find a venue that has good characteristics and services but cannot accommodate the number of your guests. In this case, you can change the venue or reduce the number of guests. For example, you can opt to invite only close people, such as family, friends, and a few work or business colleagues.
It is also crucial to know the cost of the venue. A large venue may be more expensive than a smaller venue. When you know the cost depending on the number of guests, you will know how much money you will set aside.
Availability
It is wise to consider the dates in the year you are getting married; it will help you pick your desired wedding date. The importance of checking the number of dates is to confirm with the venue management that there will be no other event on that day.
Price
It is important to consider the venue cost and other services. Those services include catering, rentals, and professional services. The main reason for considering the cost is to avoid unexpected costs that may stress you during your wedding. You will be able to choose a venue that fits your budget.
Things that can affect the cost of the venue are size and location. In addition, there are some venues where you will be forced to hire chairs, tables, and caterers. The best thing is to consider a venue that includes all those services to avoid extra costs.
The Location Of The Venue
Is it close? Or do you have to travel far to get there? If the venue is far, you must budget for transport. The location should be easily accessible and easy to direct your guests who are not familiar with the area. If your venue is out of town, arrange for accommodation options for your out-of-town guests. Are you comfortable with the surrounding area of your wedding venue? How many guests are commuting to the venue, and how much time will they spend there?
Also, you should ensure that the venue's general location is accessible to disabled people. You can also consider the traffic, especially on weekends, and plan how your guests will avoid it.
Style Of The Venue
Is it traditional, modern, rustic, or elegant? The different styles have different methods of decoration. You should ensure that the venue accommodates the style you prefer. Do you prefer getting married in a tent, indoors or outdoors? Do you want a classy venue? These are some of the vital questions you need to answer before finding a venue to avoid confusion. The style will also depend on the season, whether it's a winter or early spring wedding.
Parking Availability
You should be aware of the parking situation at the venue. Do they have a parking space? If they do, how will your guest's park on-site? Is there a nearby lot they can use if they don't have one? This will also affect your budget because you will have to pay for parking costs if there is no ample space for parking cars. If the venue is far away, you can reserve a parking space at a nearby hotel and arrange for a shuttle service for your guests. Choosing a wedding venue with a large parking space is important.
Also, consider your wedding vision, staff, amenities, décor, details, and backup options. Hiring a wedding planner will reduce stress, relax you and prepare you for your special wedding day. Planning a wedding is time-consuming and requires a lot of research, preparation, and agreement of ideas between you and your partner. With a wedding planner, you will not have to worry about these issues.
Wedding Venue Warning Signs To Look Out For
Vetting the perfect wedding venue for your big day can be daunting, but there are some telltale signs that should make you take notice. If any of these characteristics show up in a prospective location? Be on high alert and do plenty of research before signing anything!
Wedding Venues with Low Online Ratings
Venues that have many one-star ratings online may not be the best places to look for your dream wedding venue. These locations are often difficult and unresponsive, which can make planning an exhausting process. However, if you're willing to take a chance on this venue then at least ensure there is plenty of communication beforehand so everything goes smoothly from start to finish!
Wedding Venues with Complex Contracts
You don't want to end up in a situation where you are not sure what is expected of or required by your wedding location. Make sure that the wedding venue contract states all requirements upfront, so there aren't any surprises once it's time for signing.
Join the WeddingVibe
At WeddingVibe, we offer a list of wedding vendors who can assist you in taking care of everything you need to make your special day everything you've ever wished it would be.
We have the most innovative wedding planning concepts, wedding venue ideas, and special offers. We can also assist you in making travel and honeymoon arrangements. Visit our website right away for additional details on our offerings and to learn how to enter to win some free wedding giveaways and sweepstakes.
Free Wedding
Giveaways + Sweepstakes
Enter sweepstakes & giveaways and enter to win a free honeymoon when you join. New winners are announced every week!